Everything you need for a perfect selfie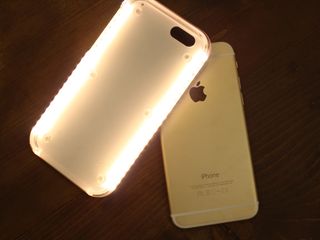 2014 was a big year for the the selfie. It was the year that the slang for taking a picture of oneself was added to the Oxford Dictionary. The year 2014 – in its entirety – was also fully dedicated to the popular self-portrait artform; aka, The Year of the Selfie. Big players like Kim K discussed their selfie tips and tricks, while bizarre tools like the Belfie blew up on social media.
Two years later, the selfie's popularity lives on – and if anything, it's evolved to be its own pop cultural entity. Chances are you can't walk past a colorful wall of graffiti, public washroom, or floor-length mirror without seeing someone extending their arm to snap a duck-lipped portrait.
But standing out with a solo, regular selfie on social media can be hard, and with over eight percent of Instagram's overall images shared being selfies, chances of being noticed for your selfie skillz (that's right – skills with a z) are slim to none.
We break down the ultimate selfie gear guide and tell you what you need to snap the most unique, vibrant, kick-ass self portraits, one set of ducklips at a time.
Camera shutter remote
Say goodbye to shaky selfie stick snaps, uncomfortable/awkward positions, and one-armed shots that showcase the tell-tale selfie angle (you know what we're talkin' about), and say hello to a selfie-taker's new BFF: a camera shutter remote.
Strangely enough, some of the best selfies are almost intentionally taken to look like candid shots. The subject may choose to pose and look away from the camera, or even take a selfie with a timer. While both seem fairly simple to execute, a camera shutter remote takes all the hassle out of posing with a timer or getting more organic, natural looking pictures.
With remotes like the Muku Shuttr, all you have to do is set up your phone, enable Bluetooth, and snap away from almost any distance. Plus there aren't any apps to download or any additional moving parts, so you can take your perfect selfie in a second.
Light source
There's a reason phone cases like the LuMee (opens in new tab) have blown up all over social media. It's not just because of the Kardashians/Jenners (plus, it's not like Lumee hasn't officially partnered with Kim K or anything), and it's not because it's a particularily phenomenal piece of equipment, but it's because of the unique LED light frame that illuminates a users face, transforming their selfies from subpar to something phenomenal.
Lighting can make or break a good photograph, and the same goes for selfies. You don't need to pick up a pricey case, either – investing in a small, external phone light like the RC Selfie Ring light (opens in new tab) or the Enfanr Portable Mini LED light (opens in new tab) can be inexpensive options for your self portraits that really make a difference.
Try using a light source that has its own battery so you don't have to keep it constantly attached to your phone in order for it to work. Using a stand-alone selfie light also means you can play around with lighting angles to see what works best, or get weird and creative with your lighting.
Mirrored screen protector
Remember the days when everyone had an adorable little compact mirror in their bag? Me neither – that's why a mirrored screen protector is a much better, much simpler solution.
Certain screen mirrors like the Glam Screen act as a mirror when the screen is dark or completely off, while functioning like a regular phone screen protector while it's in use. You can use the screen to check out your appearance, touch up your makeup, and practice your favorite poses before snapping your selfie.
Cliquefie aka NOT a selfie stick
I bet you were wondering, "Hey, where the heck is the selfie stick on this darn list?" to which I would respond by swooping in through your window and smacking you across the face with a Cliquefie, which resembles a selfie stick, but is absolutely, 100 bajillion times better.
One thing that's so awful about using a selfie stick is the way it looks. Typically they're bulky, neon and metal, have a few hanging wires and easy-to-break plastic bits that are supposed to secure your phone. The Cliquefie's is much more sleek and minimalistic, fitting into almost any bag or personal style.
While the Cliquefie's primary function is to be used like a classic selfie stick (barf), the device has plenty of hidden gems that prove it's much more. A wireless Bluetooth remote (that snaps onto to the device when you're done with it) allows you to set up your Cliquefie and shoot without causing shaking when you press the buttons, while tripod legs extend from the bottom of the Cliquefie to stabilize your perfect selfie.
Creative external lenses
If you're active on social media, chances are you've caught a glimpse of some selfies taken with external lenses. Typically these images are shot with wide angle, macro, or fisheye lenses (most bundles online will come with these three standard lenses), but there are plenty of other uncommon lenses that shoot in creative, strange ways.
Urban Outfitters recently rolled out some funky phone photography lenses including the Fly Eye Phone Lens (opens in new tab) which is made to warp and multiply certain portions of a picture. Made from sturdy aluminum, the Fly Eye simply clamps onto your phone's front or back camera to turn any selfie into something unique and crazy (Plus, you can use it on your MacBook and iPad, too!).
Just make sure when you're looking for external lenses specifically for selfies that you stay away from magnetic lenses. While these can be great for shooting landscapes or scenery, they have a hard time staying on if you're swinging your arm around for self portraits. It's better to get lenses that clamp or screw on with a case so you don't run the risk of breaking your gear.
Side note: Companies like Photojojo are always bringing in new and crazy phone photography tools and lenses, and we love creeping their wide selection for selfie goodies and gear.
Photo editing apps
From Afterlight (opens in new tab) and VSCO (opens in new tab), to A Color Story (opens in new tab) and good ol' Instagram (opens in new tab), there are hundreds of photo editing apps available to download. It just depends on what you're looking for!
It is important to find an app to edit your selfies with because it establishes style and tone for your social media. Do you prefer vibrant, details photos, or more of a 1920's, black and white detective film feel? Are you obsessed with adding in little stickers and emojis to your selfies, or you prefer a cleaner look? Do you love playing around with saturation, shadows, and fading, or do you prefer to slap a filter on it and go on your way?
Photo editing apps are a great way to get creative with your selfies, so creep the app store to see if there's anything you adore.
Get the best of iMore in in your inbox, every day!
Cella writes for iMore on social and photography. She's a true crime enthusiast, bestselling horror author, lipstick collector, buzzkill, and Sicilian. Follow her on Twitter and Instagram: @hellorousseau
Wow! What a shallow article.

i wouldve named the article "For the self loathing ******" almost did so as a fb post, but decided against it as ill be part of the problem. but does this comment/reply make us a part of it too? ask philosoraptor.

The mirrored screen protector actually sounds interesting, I typically use the front-facing camera to try and check for issues with my face while at work (yeah, yeah, have a laugh at my expense), if I can find a decent Chinese knock-off version on Amazon I'll give one a try.
Thank you for signing up to iMore. You will receive a verification email shortly.
There was a problem. Please refresh the page and try again.