Ex-Apple App Store reviewer gives insight on what it's like "sitting there looking at things that may or may not be d*cks all day long"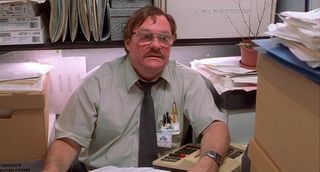 An ex-Apple employee that spent his time sifting through iOS App Store submissions talked a bit about what life was like at Apple in an interview. Mike Lee has, if nothing else, an interesting experience to relay.
App reviewers have tended to be demonized by developers that have been denied or pulled from the App Store, but cast in this light, it's easy to sympathize with their situation; after going through a giant pile of penises, Mike Lee admits that their team "may accidentally toss out the gem".
Source: BusinessInsider
Editor-at-very-large at Mobile Nations, gamer, giant.
This is hands down the worst story I have ever read on any website ever about anything Apple related.
I can not believe you even spent the time posting this and even worse I can not believe I spent the time reading it.
Slow slow slow slow slow slow slow day at imore,com

Rene always has the same reply.

No mate just a slow news day.

If you look - he cited another news site where he got the information. If you want to bit h about the article - don't shoot the messenger.

You're just mad you didn't get to see any dicks pics to go with the article. Relax the internet is you'r friend.

Are there really that many apps being submitted for review every single day that contain male genitalia?

I think this is funny, worth mentioning. I mean, look at how emphatic the subject was about dicks. It was meant to be comedick.

Doesn't sound like a bad job.

maybe if you are a chick..

I would think that most high school students could easily handle Level I dick spotting and escalate the rest to the specialists. Thru a few basic rules, you could cut down the amount of daily fray dramatically.
Apple's refusal to do this is their own problem I guess. Those dicks..

Nice point! Having a few seasoned specialists make something any unpaid intern could handle doesn't look sensible for me.

Attractive component to content. I simply stumbled upon your website and in accession capital to assert that I get in fact enjoyed account your blog posts. Anyway I'll be subscribing in your augment or even I achievement you get right of entry to consistently rapidly.

Darn it all. Your spam link got filtered out. :-(

Wtf??? We're you using googles translator? I'm lost!

Very insightful comment, Fargo!
I completely agree about "right of entry," but as to "consistently rapidly," I think you're way off base. It's more like perpendicular cantaloupe, wouldn't you say?
Goose socks to you, sir.

I've always known there were a lot of d*cks at Apple. I told some of you here there were. You believe me know don't you.

I am totally fine with the occasional story like this. Not only was the quote chuckle worthy, but the chosen picture was a masterful finishing touch. I recognized the humor in this post, and those that didn't could probably stand to lighten up. Besides, the great majority of Simon's posts are full of good, detailed news.
Thank you for signing up to iMore. You will receive a verification email shortly.
There was a problem. Please refresh the page and try again.