F1 2013 races on to the Mac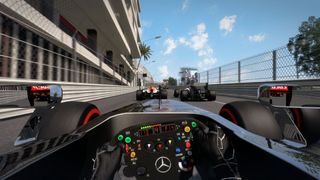 Feral Interactive announced Thursday the Mac release of F1 2013, a new version of the Formula 1 racing game. The game puts you in the driver's seat of high-speed Formula 1 race cars as you take to real-life tracks and against real-life drivers in a re-creation of the 2013 Formula 1 season.
Features include Career Mode, which recreates the 2013 season in whole, Grand Prix mode, which lets you create custom championships, and Scenario Mode - 20 challenges inspired by real Formula 1 racing situations. Multiplayer is supported as well (16 player cross-platform via SteamPlay, Mac App Store is limited to split-screen offline mode only).
The game is available in two variants: a Standard Edition and a "Classic Edition," which includes six 1990s-era cars from the Ferrari and Williams teams and legendary drivers Damon Hill and Michael Schumacher. Two additional tracks are included, as well: Imola (San Marino) and Estoril (Portugal).
The game is available through Steam, the Mac App Store and other services, and in box if you still buy your games like a caveman.
Get the best of iMore in your inbox, every day!
Thanks for sharing and great review! I love racing games. Sent from the iMore App

Sebastian Vettel should race against himself in career mode.

My word, I did not need to see this.
Here comes the sleepless nights nail biting late to work, leaving work early, honey you go on without me entire weekends in the den playing this series. Now I HAVE to update to Mavericks. Sent from my iPhone using iMore Forums Mobile App!

It's a great game. I've been running the PC version since it came out back in October, and the Mac version (which somehow is a SteamPlay title) is a solid, solid effort by Feral this year. It runs as good, if not better than the PC version. Of course, peripheral compatibility bites us Mac users again, as many wheels don't have drivers for the force feedback effects. If FFB isn't something you require and you're an F1 fan...buy this immediately. The 80s cars are by themselves worth the price of admission.