Facebook 3.0 for iPhone Coming Soon. Push Notification Coming Later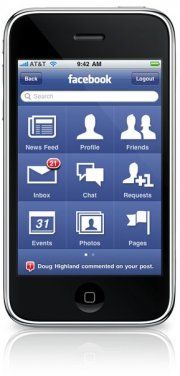 Whether the idea of push notification for the iPhone Facebook app makes you want to do a happy dance, or just run screaming for the delete button, according to a recently published note, you won't be getting it in the 98% completed Facebook 3.0 anyway:
So what will Facebook 3.0 bring? The "new" news feed, ability to "like" status, events with rsvp, notes, pages, better photo management and browsing, a new home screen, fixed comment notifications, SMS and call from friends screen, and auto-save so incoming calls don't kill your unfinished messages.
Rene Ritchie is one of the most respected Apple analysts in the business, reaching a combined audience of over 40 million readers a month. His YouTube channel, Vector, has over 90 thousand subscribers and 14 million views and his podcasts, including Debug, have been downloaded over 20 million times. He also regularly co-hosts MacBreak Weekly for the TWiT network and co-hosted CES Live! and Talk Mobile. Based in Montreal, Rene is a former director of product marketing, web developer, and graphic designer. He's authored several books and appeared on numerous television and radio segments to discuss Apple and the technology industry. When not working, he likes to cook, grapple, and spend time with his friends and family.
Hope it works better that the current POS app.
As for the others and "meh" I send virtual slaps to you both.
You sound like 6-year olds.

My facebook app's been rock solid, happy about 3.0 coming out, real excited about it.

Thank goodness for being able to turn off Push.
I do not need to hear about my friends "I'm bored at work." 1,000 times a day.

looks spiffy. Hope it works well. Their app is already really good. I just wish they would update the myspace app. that one is crap. (i rarely go on any of these sites but i have the apps on my iphone and go to them from time to time. Glad to see they are still updating)

@scottb how is the current app a POS? it does everything you need it to do right now

No troubles with the current app, but I'm possibly not pushing it much. I'm fine with no push though, as my fb-friends are none to exciting.

For those of us who have friends and use facebook, this is very welcome and not a "meh" at all.
MANY things about the current POS app make me angry on a daily basis. Not being able to view events/pages/notes... Tapping on a notification doesn't take you to the place the action was done, it takes you to the page of the person who did it (very annoying), it never knows what photo (of yours) was commented on so you have to cycle through all of your recent photos and find that person's comment.. AUGH! It's the worst thing ever.

A@ Adam: Exactly.
Also, I read messages. They keep showing as unread.
Updates show from yesterday, not today, and items get posted 2x or more.
Updates you try to make fail over and over.
On 3.0 (iPhone OS) uploading a picture is hit and miss.

They need a landscape mode.

cant wait! 3.1 either.... woohoo!

Lots of people here bag on the current 2.0 App. Those are all people who have never used the BlackBerry Curve version of the FB app. :) iPhone users have it easy (Thats why I switched!)

Praise science! It's about freaking time Zuckerburg! What has their dev. team for the iPhone been doing for the past year? The current app is really not fun or easy to use, plus is so far behind the website that lots of things don't even work.

@Micah, comparing one POS with another and having the better of two POS's is not heaven.
FB needs a good, solid update - now.

@scottb: I had the same problem. Just hit the refresh button on the "Messages" page after reading a message. It will mark it as read afterwards.
As for the new app, I'd like to see the option for uploading video directly from my iPhone. That is all.

Yes! Finally auto-save. This has been long awaited. By me and many friends/family/coworkers. This should be interesting to see how PNS works with facebook. Hope I don't get drowned with popups and chimes.

I am ecited about the 3.0 application coming out. Not so excited about the push notification as I have found that makes some of my other apps like Beejive shut down. We will see how this one works.

What's the problem with push notifications? You just enable badges only and that's it.
As far as the current app goes it's not ideal for sure. It lacks event handling and too often you get multiple copies of the same status update or the same contact. Other than that it's still a pretty useful app.

What about video uploads?

Hopefully the news feed will be better. It hardly ever changes on my app, but when I go to the full site version there is tons of stuff others have posted. So frustrating.

Where's "Groups"? I second what others have mentioned about clicking on responses to photos or on your wall and it doesn't take you to them. And like someone else mentioned, uploading video would be great. I believe if they focus on truly delivering a mini-version of their full website with just as much key functionality, then they could make money as I wouldn't mind actually paying for the app then.

I've uploaded some pics to face book and they show up on the web page but they do not show up on my phone app! Very annoying. I also agree about the app taking you to the persons page than to where the comment was posted.

Might be a bit dumb, but what's "meh"?

explains meh a little bithttp://www.youtube.com/watch?v=OPd3grVrLmU

Well I like it.
One thing though, I'd like it to sync with the account to mimic the feed items that you have selected to be hidden because I have a bunch of stuff marked as being a fan of but that I don't wanna see stuff about.

Oh I like all the features people have mentioned here. Also a port of the mobile site's ability to use certain applications (or better, I'm just suggesting the easiest way to give iPhone users app functionality in facebook) would be GREATLY appreciated, I get a lot of messages on Honesty Box and in order to get to the message I have to load the full site to get to the notification, click the link, it takes me to a mobile site, which contains the text I'm looking for. Very annoying!

It looks like the Storm OS

Thats really good cause their current facebook app is a complete joke. It freezes, closes. You can barely even do the basic stuff. Facebook has been lazy with keeping their mobile app up to date with their desktop version. This is one of the reasons I still use bebo and myspace. btw! Check out our new song that will be up this Sunday night! www.myspace.com/jakethebandmusic add us!

I'm not peeing my pants over it but I'm looking forward to it. Improved apps are always good. :-)

i think its quite funny that this will be the 3rd version and it will look completely different again. its as if they half arse the 1st few versions and add the new stuff as they go along. still one of the best apps however.

A section to manage your privacy settings would be an excellent addition to this app, and also a way of managing recommended friends too as the links don't work in the current app.

What do you want? It is free!

man, they need landscape mode and they need to be able to post f*cking pics and videos to your wall!!! what the hell, thats like the most basic feature...i dont want the sh!t posted to my "mobile uploads" I want it on my damn wall without some crappy app like pitter.

but i appreciate your time and energy for making this app . Kudos. :) :p

How 'bout the chat client actually working for once?

Am I the only one checking app updates daily for this?! Any news on a date to submit to apple?
keep up the good work facebook devs. Cheers guys :)

seriously needed. as for you that say it will give too many push notifications, it obviously won't send a push every time somebody updates. it'll just tell you about YOUR facebook notifications.

I am tough on companies when it comes to developing a sexy UI/UX and I am super-impressed with the new Facebook 3.0 application for iPhone. I heard the hype and it was all right. Facebook has gone Twitter-esque, boasting a very easy to use and navigate news feed that drops pictures, videos, links, comments and basically anything else, right into view.

Keep focusing on your blog. I love how we can all express our feelings. This is an extremely great blog here :)

Great goods from you, man. I have understand your stuff previous to and you're just extremely fantastic. I actually like what you have acquired here, certainly like what you are saying and the way in which you say it. You make it enjoyable and you still care for to keep it sensible. I can not wait to read much more from you. This is really a great website.
Thank you for signing up to iMore. You will receive a verification email shortly.
There was a problem. Please refresh the page and try again.