Facebook app for iPhone/iPod Touch gets an update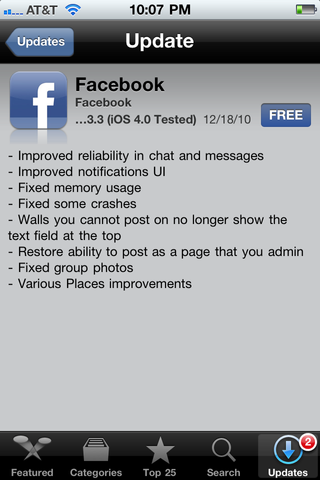 Facebook has yet again released an update for their iPhone and iPod touch application, this time with some long overdue UI improvements as well as bug fixes.
Improved reliability in chat and messages
Improved notifications UI
Fixed memory usage
Fixed some crashes
Walls you cannot post on no longer show the text field at the top
Restore ability to post as a page that you admin
Fixed group photos
Various Places improvements
Having just downloaded this update and played around with it for a few minutes I will say the new notifications UI is long overdue and provides a much cleaner and easier to use interface. Hopefully this update will also fix many of the issues users have been hoping to see fixed for a while now.
So go ahead and grab your updated Facebook app and let us know what you think of the improvements and as always if you have any issues we want to hear about those as well.
Get the best of iMore in your inbox, every day!
so far so good. seems to use less resources and opens and closes faster. and the new notification menu is really nice and cleaner than the old one. As for th supposed chat improvements i wouldn't know as of yet.

Chris, he must be jailbroken. This is an option in Winterboard that you can set for all apps to have black title bars.

@Josh and @Chris yes I am jailbroken. :-)

just got the update--still have the bug when at random when the FB home screen dims and freezes. the only fix i know of is restarting the whole phone.

Aaron try hard resetting the phone or sync to your computer. Remove and reinstall it with sync.
I like the cleaned up notifications alot more.

Lime- I always do that, it fixes it for awhile (either few hours or a few days) then the bug acts up again. i've re-downloaded the downloaded the app plenty of times, do you think it is a phone related issue at this point?

Nice. To be honest I like the black better. Even the iPad white.Don't know why they didnt update it in iOs 4 on the iPhone to make everything match

@Aaron if it's the only app doing that then the phone isn't the issue.
@Chris agreed the Black Navigation Bars are much nicer IMO.

Hey does anyone know if you can tag people in a post from the app? I would like to see places upload a LOT faster too.

This facebook update is simply amazing. It looks great to have the desktop web experience in your gadget. The real time updates and messaging and chatting means it is the most prestigeous app. Thanks for sharing such a detailed review about this update!

I can't believe they still didn't fix the chat auto login... Every time I put the facebook app in the background and come back Im automagically online... I wanna go online (chat) when I want to not every time I launch the app when it's in the background... How about you guys... Are you having the same problem or it's more like a convenient for you?

Facebook groups still don't work though. I can't fathom why these are that tricky to get to work!

These fixes are okay. I wish they allow for multiple files to be uploaded at once while creating albums!

i appriciate the update but when will we get what we really want?
AN UNIVERSAL FACEBOOK APP?
iPad is not a computer, we need an iPad app.

They finally fixed it to be able to watch videos inside the app again. It's been annoying that it hasn't worked for a few weeks, but now it's as good as old.

@ Aaron: I had that problem before the update... Keeping my fingers crossed that it's fixed now (3GS iOS 4.2).
Also, improved notifications page??? WTF?!?! I'm lost. I'm now seeing crap I could care less about and have no idea what the hell it is!!! I like the old one better!

@Aaron I think I figured out what's going on. I've done it seeral times and it could be your issue. Facebook has the button to go to start screen in the top left corner. If you are two or three pages into the application, and want toget home, it's easy to hit that button one too many times. I've done it plenty of times. I usually just close the facebook app and restart it. Let me know if that could be it

@Greg could my post help you. Because the button that appears right under the start page is the account button to sign out.

I have to say I like the full/desktop notification system where you can click on the people mentioned in the notification as well as the item (photo, event etc.) itself.

The notification is sucks. Why's that so? Because it doesn't update the in app notifications. I don't know what's in mind of the dev when they say improve notif UI? it's not working, guys. Please response.

once again this update breaks photo upload unless you remove and reinstall from the app store

Is anybody having problems seeing who liked a picture? The number of likes and who?

This update still has not managed to fix the inability for me to put up status updates which do NOT go straight to the my Profile rather than the News Feed :( not happy at all.

I like the new notifications. Now shows if u got a photo comment.
For those with chat issues I just use aim with my Facebook linked. Works SO MUCH better, get notifications and all. Another good thing is it never logs off.

It'd be nice if I actually got my push notifications. That alone would be nice.

Agreed. I rarely ever get push notifications.

Mike are u on t-mobile? Everyone i know on t-mobile(America anyways) has push issues. Even with all the settings and push mod from Cydia.

Why do so many people not even bother reading what they write before posting? It's unbearable trying to decipher 80% of these comments.

@187 - The new Facebook profile no longer has a status of it' own. Statuses are only written to your wall/newsfeed. There's no concept of a separate status for your profile.
The only bug that constantly annoys me has not been fixed. The scrolling bug. When pressing "Older posts..." it frequently resets to the top of my news feed. Supremely annoying and makes reading older posts hit and miss.
I also don't like how it will automatically scroll back up to the top when refreshing after switching back to the app on iOS 4.x.

This update destroyed my 3G. facebook would not log in and kept crashing. When i deleted and re-installed, the phone shut off and crashes during the loading screen.

I now get absolutely no push notifications

Do not download this for the iTouch. It crashes constantly, locks up, does not update notifications, etc.
If anyone has the old one or knows where i can get the previous version, email me direct so1o_m "at" yahoo "dot" com.
thanks..

The New User Interface of facebook app for iphone is quiet remarkable and cheers for fixing the bugs. Thanks for this informative article