Facebook for iPhone updated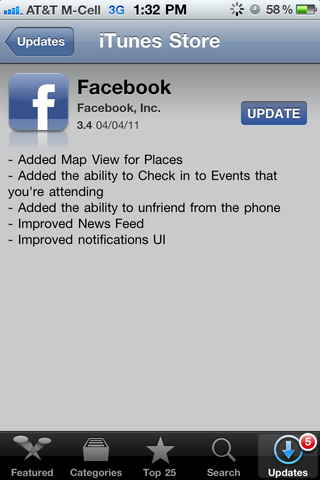 Facebook for iPhone has been updated with map view and event check-in.
Added Map View for Places
Added the ability to Check in to Events that you're attending
Added the ability to unfriend from the phone
Improved News Feed
Improved notifications UI
The update notes do not include bug fixes, but the Facebook for iPhone Facebook page claims that they've "fixed a ton of bugs". Peronsally, I've experienced a couple bugs within a few minutes of installing the update. Specifically, after tapping a notification about a comment on my photo, the comment was non-existant, and two of my friend's photos had a grayed-out comment box even though they had comments and I had permission to comment on them.
Anyone download the update? What do you think of the new features? Are you still experiencing any bugs?
[Free - iTunes link (opens in new tab)]
Former app and photography editor at iMore, Leanna has since moved on to other endeavors. Mother, wife, mathamagician, even though she no longer writes for iMore you can still follow her on Twitter @llofte.
Still horrible. Chat doesn't work still, many bugs, why bother using it? I'll stick to Facely.

Be nice to have the ability to save photos to your camera roll, or copy paste, say recipes.

you can use fbphotosave from cydia..if your jailbroken..takes care of saving photos until thay feature is added..if it ever is lol

You can also take a screen shot to save photos from the Facebook app.

I think Glenn's point is you should not have to Jailbreak, or screen shot (then use another photo app to crop around the desired image within the screenshot) to do these things. we can in the web, we should be able to in the app.

they haven't fixed the iPad bug...

Apple needs to work on that bug since it effects so many other apps.

I thought the app is iPhone/iPod touch only? There's no + sign stating it's designed for both iPhone and iPad...

Yet still no option to tag a friend in a status using the @. Amazing. Why is this being overlooked?

Exactly! Or can't Like someone's comment. If it's on the main website, why can't we get the same features in the mobile version?

you can. hit the + button and youll get two options - either to comment or like

They're not talking about statuses or wall posts. They mean the comments on said statuses and wall posts.

Works like magic now! Except I can't reload photo comments. I want the ability to like a comment and see who likes it too :/ instead of seeing "John Sam and 3 others liked" I wanna see EVERYBODY who liked it. it gets annoying :/
but ATLAST! an update I've been waiting for a lonnnng time!!

Still can see my Facebook Status Updates not entering Live Feed. I will stick with Sociable at the moment.

Still having the problem where if I update my status in the iPhone app, it doesn't go into the feeds for people to see it. Posts to my profile, but no one sees it in their feed. I have to use the mobile website.

Same deal here as before the update. I post a status update from the app and it does not show up in anyone's news feed. I am starting to think its less of a app problem and more to do with my Facebook account since I no longer see the "Facebook for iPhone" listed in my app list. Back to using the web interface. #fail

Hopefully now I'll get a notification when some replies to a wall post of mine.

Anyone know if you can actually upload photos through the app? I have had a problem where I am unable to upload photos to Facebook through the app...it's pretty irksome...

Try re-installing. That fixed the same issue for me.

you have to have location enabled for facebook to upload pictures to the website just hit check-in and it will ask you to allow and then just start upload pics hope that helps

The only fix that I've had to be able to upload a photo is by turning location services on through the settings. Settings-General-Location Services-Turn it on for the FB app

Facebook for iPhone is extremely buggy. But honestly there no better apps for it... I dont ubderstand how it can still be so buggy after so long and how they are one of the most succesful companies in recent memory yet they can't fix any of these problems...

Still doesn't fix the Status Update showing up in the News Feed section.

I guess I don't understand what you mean. My status updates all show up fine.

When I post a status using my iphone, it does not show up in the News Feed, so no one is able to see it. The only way to see it, would be to actually go onto my profile.

The status bar partially blocks the upper-most portion of the app.

So with this update I can no longer comment or like right on the news feed. Is everyone else like this or just mine?

Strange? This update made my profile picture more handsome. Thank you Lord Zuckerbeast.

I keep getting a notification from the app by showing the '1' on the icon that there is a new notification, but yet I didn't! Very annoying!

Still plenty of bugs, including the news feed randomly loading at the top when you click "older posts", random crashing of the app itself, and phantom notifications on the homescreen when there are no notifications in the app itself.

The reason why they don't fix (add) things such as liking comments, saving photos to the roll, and simple copy & paste function is because they still need people to have a reason to use the website (and see the advertisements).

i still have the same problem, where my statuses and photos i upload do not show on others' newsfeeds, only my wall..
HOW DO I FIX THIS PROBLEM???

It made my experience worse! Regressive update.

My Newsfeed says "no internet connection" when i clearly have. This new updat freaking suckss!!!! Mobile web is so much better

Buggy as hell shuts down all the time :(

y does nt the status no longer says updated via iphone

ya.. why the hell do the posts say updated via facebook mobile instead of via iPhone ???? thats irritating !!

Why no more showing in facebook update via iphone ?? Plz fix the bug asap .

My iPhone 4s has trouble updating Facebook, it just searches endlessly. Any fixes out there?
Thank you for signing up to iMore. You will receive a verification email shortly.
There was a problem. Please refresh the page and try again.