Facebook's 'Safety Check' lets you tell friends you're safe during a disaster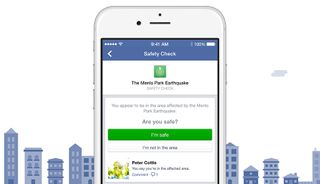 During a major disaster, many people turn to social networks to check in on friends or loved ones to make sure they're safe. Facebook knows that, and today has announced Safety Check — a new way to let your friends know you're safe, and to check in on those that may be in a disaster area.
With Safety Check, you'll receive a notification if you're in the area of a natural disaster asking if you're safe. If you (or one of your friends on your behalf) check "I'm Safe, your feed will be updated accordingly so anyone checking in on you will know your status. You can then see what friends in the area have also marked themselves as safe, and you'll receive notifications for them as well. Everything is aggregated in the Safety Check section so you can see all the latest updates for the local disaster.
It's a great new feature from Facebook, albeit one that we hope you should never have to use.
Source: Facebook
Get the best of iMore in your inbox, every day!
Editorial Director - High Yield
Getting his start writing about BlackBerry in 2008, Adam is the Editorial Director of High-Yield content at Future. Leading an outstanding team, he oversees many of the articles the publisher produces about subscriptions and services – VPN, TV streaming, and antivirus software. From buying guides and how to watch content, to deal news and in-depth reviews. Adam's work can be seen on numerous Future brands including TechRadar, Tom's Guide, T3, TTR, Android Central, iMore, and Real Homes.
I bash on Facebook every now and then. They have some ridiculous ideas that I just simply don't think are useful and constantly think of how downhill my experience with the site has been over the years. But DAMN, this is a cool idea. This is a cool idea because they really thought outside of the box for this one. Sure, they could add an incremental feature that builds on existing features or just copy from other networks to build their library of features. But this time Facebook came up with something (unless it's been done before and I'm just not aware of it) with something that is useful for humanity and isn't obvious of a feature. Today, I tip my hat off to you, Facebook. Good on you.

How does one activate this feature though Sent from the iMore App

How does one activate this feature Sent from the iMore App