Facetune — Everything you need to know!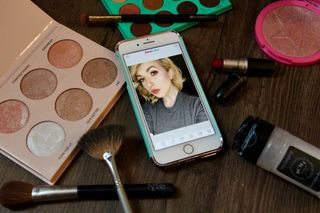 Whether you're a professional photographer, a selfie lover, an Instagram addict, or just someone who likes taking pictures with friends and family on their iPhone, there's an app out there that can promise model-like portraits, airbrushed masterpieces, and magazine-quality snapshots, and it's called Facetune.
Jason Cipriani, CNET:
Here's everything you need to know about Facetune, how it works, its special features, what you have to look forward to, and so, so much more!
What is Facetune?
Facetune is an app that allows you to smooth, edit, tweak details, reshape, patch, adjust tones, fix redeye, defocus, add frames, add filters, and so so, so much more to any of the photos that you've taken on your iPhone!
It acts a little bit like Photoshop, but is way less complicated, so if you want to edit on the go, this is going to be the best option available (well, aside from Facetune 2, but that's a whole 'nother story…)
It might take a little while to get adjusted to how you edit with Facetune, but when you have it down pat, editing your images to look airbrushed and professional is easy as pie!
Hillel Fuld, Huffington Post:
How does it work?
Depending on what you're looking to fix in your photo, Facetune works by allowing users to select their editing tools, how and where they use them on their image, and the ability to erase and fix any editing you may have gone overboard with (AKA smoothing your face and nose into oblivion like a social media Voldemort).
Simply upload the photo you want to tweak and perfect into the app and begin playing around with smoothness, redeye, frames, reshaping, etc.
You can use the eraser tool to fix and get rid of any mistakes you've made, while the move tool allows you to zoom in and get super close to smaller, more detailed areas that might be difficult to edit otherwise.
When you're done with your editing and you're super happy with how everything looks, you can throw on an additional filter and save your photo to your camera roll.
Now you can post your Facetune masterpiece wherever!
How much does it cost?
The app on its own costs $3.99, and before you ask, there's no free version available with ads.
What photo editing features are included?
• Smooth and rejuvenate your skin
• Remove temporary imperfections like pimples and blemishes
• Brighten dark circles under your eyes
• Refine jaw lines
• Heighten cheek bones and brows
• Reshape your nose
• Enlarge or shrink a specific area of the image
• Totally transform your face into alien or other fun shapes
• Change your eye color
• Remove red and white-eye effects
• Widen or refine your smile
• Whiten and brighten your teeth
• Add artistic touches to make your photo your own
• Customizable filters can be applied to the entire photo or to specific areas
• Apply any shade of blush and eye shadow
• Add volume to your lashes and shape your brows
• Add color to your lips
• Add intensity to your natural lip color
• Focus the photo on you by defocusing or blurring the background
• Improve lighting or add special effects
• Create customized filters
• Add unique textures and customizable frames
• Rotate the photo or flip to its mirror image
• Color over gray hair
• Fill bald patches
• Remove stray hairs
Which devices can I use Facetune on?
Right now, Facetune can only work on your iPhone or iPad, but people have been asking for a desktop version for a while considering how wildly popular it is.
Where can I learn more?
If you've downloaded the app and want some help editing pictures, or if you're just looking for a couple of new ideas when it comes to tweaking your photography, you can always check out Facetune's full list of tutorials.
They're also available through the app itself.
Facetune 2?
If you're a big fan of Facetune, then be sure the also check out Facetune 2.
While it functions similarly to the original Facetune, there are some prominent differences between the apps:
The editing tools vary drastically from the first version of the app with options like mattification, concealing, highlighting, relighting, and much, much more.
In order to get access to "VIP" editing options, you have to pay a monthly fee.
There's a much wider selection of fashion/beautification filters and download options for them if you upgrade to VIP.
Where can I download the app?
For Facetune, click right here!
… and for Facetune 2, click right here!
Master your iPhone in minutes
iMore offers spot-on advice and guidance from our team of experts, with decades of Apple device experience to lean on. Learn more with iMore!
Cella writes for iMore on social and photography. She's a true crime enthusiast, bestselling horror author, lipstick collector, buzzkill, and Sicilian. Follow her on Twitter and Instagram: @hellorousseau