Fandango now lets you snag movie tickets with Apple Pay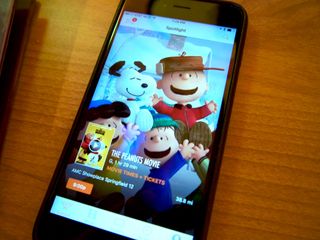 Fandango, a highly popular purveyor of movie tickets, has finally updated its app with support for Apple Pay. While Apple Pay integration is the only thing to grace this update, it's not an insignificant addition to an incredibly popular service that you're no doubt familiar with from all of the pre-roll ads and kiosks in movie theaters.
With Apple Pay in the Fandango app, you'll be able to more easily purchase tickets for your latest movie fix on your way to the theater. And the integration works much as it does in other third-party apps. You simply select Apple Pay as your payment method at checkout, and the app will do the rest with your stored card information. All that's required of you is the usual Touch ID fingerprint verification, and you're off to the races (or movies, as it were).
If you want to give the app and new Apple Pay integration a shot, you can hit up the App Store link below to grab Fandango 7.1 now.
As much as I love Apple Pay in retail, it is such a no brainer for an App. And Fandango is a worthy addition. My theater which requires reserved seating worked like a charm. I will definitely use this for all of my families tickets. Plus I didn't have to enter a credit card to use the app. Apple Pay is preloaded. Apple Pay is so natural for app use because you don't have to enter any credit card info and spread that info across multiple databases. You get the top security of Apple Pay plus the instantaneous use and convenience. I also found out today that Priceline now accepts Apple Pay for not only Express Deals but for regular hotel purchases. Win, Win.

I agree, Apple Pay is so easy to use with apps. Last Saturday I used it with Lyft and I was really impressed how simple it was. Sent from the iMore App
Thank you for signing up to iMore. You will receive a verification email shortly.
There was a problem. Please refresh the page and try again.