Find My Friends feature hidden in iOS 4.3?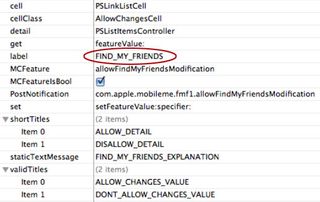 It looks as though we will be seeing a new feature soon in iOS called Find My Friends, an extension to Find my iPhone that could be similar to services such as Google Latitude.
A reference to the name was found in the iOS 4.3 beta for developers and it appears to be linked to MobileMe accounts. If it is similar to Latitude, it would allows you to track your friends via their iPhone's GPS (Naturally you would have to agree to broadcast your position so as to protect your privacy).
It seems as if location based services have been booming as of late but do you want people knowing where you are at any given time or is this another intrusive step forward in the mobile world? We want to know if you would use this service when/if it goes live.
[ MacRumors ]
Get the best of iMore in in your inbox, every day!
What if you don't have any?

Who would agree to letting anyone know where they are all the time? That seems crazy to me.

Foursquare. Millions seem to enjoy that.

It would be nice if someone could build a location based system that would automatically check you in when you walk into certain locations.

Loopt basically does that it doesn't quite spell it out as your in place x but if I'm in an area where there's a church and a bar my friends know where to look Haha >:-)

I think it could be cool but not worth the MobileMe cost.
Thank you for signing up to iMore. You will receive a verification email shortly.
There was a problem. Please refresh the page and try again.