4 features that would make New Pokemon Snap better than the original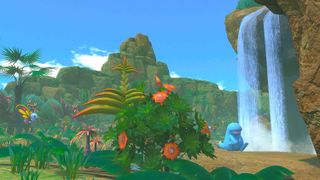 (Image credit: Nintendo)
It's been way too long since we've had a Pokémon Snap title on a Nintendo console — 22 long years, in fact. With New Pokémon Snap releasing on April 30, the fan-base is more than a little excited. Though Nintendo has offered a few trailers and a few sneak peeks, we've only received a glimpse of what this photography simulator has to offer. With updated graphics, multiple vibrant levels, an unexplored region, and over 200 different Pokémon, New Pokémon Snap seems to be taking what made the original so great and is making it better.
Though we have a general idea of what's going on with the new game on the Nintendo Switch, we don't know everything yet. The developers certainly added a lot of new content to get me pumped-up for the release, but there are one or two things I would love to see added. So, in that spirit, I have a small wish list of features that would make this game even better than the original.
Photograph that Pokémon!
Gotta catch 'em all!

Explore the Lental Region high and low to capture all the unique Pokémon in their natural habitat. Choose your path, discover Pokémon in their natural habitat, and snap the best photos possible for Professor Mirror's Photodex.
1. Stop the NEO-ONE
This one might seem a little weird, but hear me out. In the original Pokémon Snap, players were at the mercy of the NEO-ONE vehicle. It would slowly move through each area, allowing a limited time to snag photos before reaching the stage's end. Since each level was a retread, you could anticipate the same Pokémon in the same spots every time you jumped in a level. As you progressed in the game, Professor Oak adds thrusters to help you move through the levels faster. This is a pretty great feature for levels that repeat, but it may be even more beneficial to hit the breaks.
It would be great if over time, you could stop your NEO-ONE and snag a perfect shot. Stopping and waiting is a big part of snagging a perfect shot, so it would be nice to stop a vehicle to get some outstanding shots, especially since New Pokémon Snap levels promise to be different every single time. With new paths, ever-changing Pokémon, and different tools, each trip will provide new photo opportunities.
Though stopping the vehicle may take away from the challenge, developers could just implement it after completing the main storyline. Since Pokémon will constantly be on the move, there will still be some challenge, but it's a different way to take photos.
As for speeding up the NEO-ONE, Nintendo hasn't confirmed that thrusters would be a part of the new game, but I wouldn't count it out.
2. Add Photo Challenges
What would be more fun than trying to snag a specific photo or competing with your friends? Whether it's part of the main story or just an opportunity for the planned online community, adding weekly or monthly photo challenges would be a great way to spark some friendly competition.
It can be a challenge to capture a particular scene, Pokémon, or their activities, so why not make a minigame out of it? New Pokémon Snap sounds like the perfect game to constantly update, and it would be fun to use the ever-changing levels to challenge players to snag a specific pic. Whether it is part of the game or the larger community, it would be a great way to add more replay value.
3. Updating Pokemon
Over 200 different Pokémon live in the Lental region, but that doesn't mean more can't be added over time. There are so many Pokémon in the Poké-verse, so why not keep New Pokémon Snap alive with a few updates or events that feature new or different Pokémon?
New Pokémon Snap has plenty of opportunities to add replay value. While the original Pokémon Snap was a great game, you can only capture 63 Pokémon on film. With technology today, it would be a huge mistake not to provide regular updates to keep the game alive.
4. Even more new areas and paths
The New Pokémon Snap is going to be huge. The Lental region is going to be a massive area with different terrains and multiple trails on each level. It only seems natural that the developers can build on that. Sure, the game is way more packed with stuff to do than the original, but there's no reason why Nintendo can't keep this world alive and well. With regular updates, the developers can add a new area, new paths, and more.
Regular updates work on the Nintendo Switch, like with Animal Crossing: New Horizons, so why can't they do it with New Pokémon Snap? If regular updates aren't a possibility, a nice little DLC package with a subregion or new section would do as well.
Keeping the game alive
I had so many hopes and dreams for New Pokémon Snap after waiting so long for a sequel. Thankfully, the developers at Bandi Namco have already done a lot to improve on the original formula. Still, these ideas can help keep the game fresh and exciting for much, much longer. Either way, I'm so ready to play this game and hope it exceeds all of my expectations.
New Pokémon Snap releases on April 30, 2021 for the Nintendo Switch.
Photograph that Pokémon!
Gotta catch 'em all!

Explore the Lental Region high and low to capture all the unique Pokémon in their natural habitat. Choose your path, discover Pokémon in their natural habitat, and snap the best photos possible for Professor Mirror's Photodex.
Master your iPhone in minutes
iMore offers spot-on advice and guidance from our team of experts, with decades of Apple device experience to lean on. Learn more with iMore!
Sara is the Freelance Coordinator, writer, and editor at iMore. When not editing or writing away, she's glued to her Nintendo Switch, Xbox, or PS5, though she's a retro gamer at heart.