This is the first-ever FDA approved accessory for Apple Watch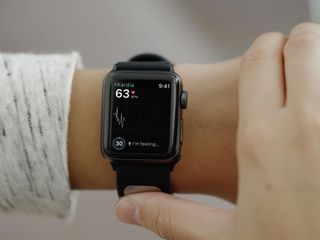 Heart-monitoring technology company AliveCor (opens in new tab) announced in a press release today that its Apple Watch accessory — called the KardiaBand (opens in new tab) — has officially been cleared as a medical device by the FDA, making it the first Apple Watch accessory to be FDA-approved. The band replaces the user's normal Apple Watch band, and uses sensors in tandem with AliveCor's Kardia app to monitor their heart rate and do EKGs on the fly. A mobile accessory that correctly monitors abnormal heart rhythms is a big deal, whether you have a preexisting heart condition or not — Atrial Fibrillation (AFib), the most common heart arrythmia, is a leading cause of stroke, and you may not even know you're experiencing it.
Dr. Ronald P. Karlsberg, board-certified cardiologist and clinical professor of Medicine at Cedars Senai Heart Institute and UCLA's School of Medicine, stressed the importance of technology like the KardiaBand in a statement:
The band itself is very nondescript, and is made of black thermoplastic polyurethane with a stainless steel sensor module that rests just beneath the Apple Watch device. To take an EKG, all you have to do is sit down comfortably, relax, and press your thumb to the sensor for 30 seconds. The results are displayed on the face of the watch within the Kardia app.
In addition to the band, AliveCor also introduced SmartRhythm, a new feature within the Kardia app that uses artificial intelligence and Apple Watch's heart rate and activity sensors to continuously evaluate your heart rate. When it detects that heart rate and activity aren't matching up — i.e., you're sedentary but your heart rate is going crazy — it notifies you to capture an EKG with your KardiaBand ASAP to make sure nothing fishy is going on.
If you'd like to get a KardiaBand to keep an eye on your heart's rate and rhythm, you can grab one for $199 from the AliveCore website. Sure, it's a little pricey, but it's $300 less than that Hermès band you've been thirsting after, and it may save your life.
See at AliveCor (opens in new tab)
Thoughts?
What do you think of AliveCor's KardiaBand? Do you feel it would be beneficial to you? Share with us in the comments.
Get the best of iMore in in your inbox, every day!
Tory Foulk is a writer at Mobile Nations. She lives at the intersection of technology and sorcery and enjoys radio, bees, and houses in small towns. When she isn't working on articles, you'll likely find her listening to her favorite podcasts in a carefully curated blanket nest. You can follow her on Twitter at @tsfoulk.
Looks cool. Wish the sensor was at the bottom and could just read your wrist. Not sure why the watch itself cannot do that.

As someone who has had AFib in the past this would be useful, but I read an article on this band elsewhere that said it's a serious battery drain due to forcing the HR monitor to be always on. Apparently Apple is working towards being able to detect these same rhythm issues with just the built in sensors. That's honestly what I would wait for. Kardia makes a standalone device that works with any phone and that would be cheaper than either the band or in my case having to buy both a Watch and a band just to get the functionality.

What Kardia does with its monitoring is the same thing Apple is trying to do, just way ahead of their schedule. In fact better too, Apple does a simple user set threshold, Kardia uses machine learning to figure out your heart pattern on its own. Kardia uses the same built in HR sensors that apple is using. The band device is a separate sensor used just to take EKGs, since what apple will do when they see an HR issue, is send you to a doctor to have an EKG for confirmation, with this you can go ahead and take the EKG yourself.
Thank you for signing up to iMore. You will receive a verification email shortly.
There was a problem. Please refresh the page and try again.