First look: Apple Watch Woven Nylon and Milanese bands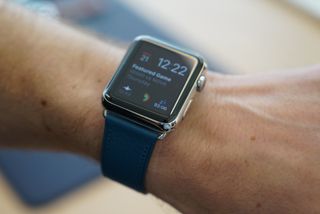 It may disappoint some Apple Watch fans that we didn't see new Apple Watch hardware this cycle, but Apple certainly didn't ignore its smallest product: There are a truly absurd number of new bands (opens in new tab) available, including a Sport alternative, coated-black Milanese, and many new colors across the Watch line.
Sports, meet woven nylon
If Sport bands make you itch, the new Woven Nylon bands should provide express relief: We found it to be light, airy, and feel better than traditional NATO bands. They're a little stiff on first wear, though they should soften up over time. For many people, the $49 band may replace their Sports option — and the seven options, all sporting a dual-tone design and colored lugs, won't hurt, either.
Those colored lugs look great against the multiple Sport casings, too: We tried the Royal Blue band on both the gold and black Sport Watch models, and it looked fantastic.
Spring colors, spring fashions
Both the Classic Buckle and Modern Buckle got some new color love as part of the 2016 spring event: Colors like Marigold, Blue Jay, Marine Blue, and Red have come to both lines, and are available for a la carte purchase. The Marigold yellow and Blue Jay blue both are vibrant pastels, and look gorgeous in person.
This event also saw a long-awaited Space Black version of the Milanese Loop: The band uses the same DLC process as the Space Black Link Bracelet, and it looks fabulous.
If you own an Apple Watch, the new assortment of bands make it easy to dress up your model — and we predict quite a few users are going to be happy with the new Woven Nylon bands, especially those whose wrists don't play well with rubber-style bands.
And if you don't have a watch yet, the $50 reduction in price for the Sport model means getting into the Apple Watch ecosystem is easier than ever.
We'll have more info on Apple Watch bands coming very soon, including a review of the new Woven Nylon and Space Black Milanese Loop. In the meantime, let us know below if you have any questions!
Get the best of iMore in in your inbox, every day!
Serenity was formerly the Managing Editor at iMore, and now works for Apple. She's been talking, writing about, and tinkering with Apple products since she was old enough to double-click. In her spare time, she sketches, sings, and in her secret superhero life, plays roller derby. Follow her on Twitter @settern.
Am I the only one that likes the new Nylon bands? I keep reading a lot of negative comments about them.

I just got a Royal Blue nylon and love it!

Already? Nice. I need to get my order in.

All the images online make the Royal Blue look more Violet then anything else. Also, are they reversible?

i'm looking forward to seeing them in person. i'll probably get one

Yeah I was tempted to buy one online and decided to hold off until I can see them in the store.

I'm thinking of getting one of the Nylon bands myself Sent from the iMore App

Can someone give me a rational explanation as to why the new black Milanaise Loop is 50$ more than the silver one? :(

The black link bracelet is $100 more than the sliver one. Looks like the black Milanese is following suit pricing wise compared to the silver offering.

Thats the profit margin Apple wants.

The DLC process is complicated to get right, and requires specialized equipment to anodize the metals. $50 is not a huge price to pay for that!

The price difference is even higher here in the UK at £50. £129 for the silver, £179 for the black.

Maybe they'll put in an Apple Watch to in the future? Sent from the iMore App

I really like the new nylon bands but will they not do a gold buckle for people with the gold sports watch? Sent from the iMore App

I'm asking that too! I can see from some of the marketing photos that there are gold buckles but I can't see that in the Apple Store... Sent from the iMore App

I hope so! We'll inquire with Apple.

Seems like they can only be bought with the watch itself,hopefully they change their minds soon! Sent from the iMore App

Really like the look of the black woven band.
What I wonder is how hard it is to clean? Sent from the iMore App

Should be wipe clean, like the sports band.

I'm glad Apple didn't update the Watch hardware yet, there is no need yet, it's a watch and should not be changed frequently. I love the addition of the new bands.

The Watch will most likely be updated yearly, but they're taking longer with the v2 release since the v1 of any product often finds all the faults. It'll most likely have a new model released along with the new iPhone each year from now on

I respectfully doubt this. Much less incremental upgrade possibility, let alone something major. Sent from the iMore App

Question for your upcoming review: How does Apple's Space Black Milanese Loop compares to the countless existing black milanese loop bands that have been available for months? I guess black milanese loop bands are the most popular third party bands, so a comparison would be very interesting. Is it really worth the 200 $ difference?

I know Rich Stevens has a faux Black Milanese, so we'll compare notes.

Since the official Space Black Milanese loop cost $199, please let us know where we can find a faux black milanese loop that the seller will actually give you $1 back for you to "buy" it.

Can someone pls confirm if I can workout with Nylon band? Sent from the iMore App

Yes! They're designed to be a Sport band alternative.

Maybe I need to see them up close but the nylon bands aren't doing much for me.

I thought I'd hate them — I hate flapping straps — but in person, they're much nicer.

I'll have to go check 'em out. I've been keeping my watch band addiction under control lately but maybe I could use one more. :)

At the Apple Store now. The nylon bands are pretty stiff out of the box. The sales guy recommends soaking it in hot water for 10-15 minutes while bending it around to loosen it up. Seeing as how these just came out yesterday I'm not sure how he'd have that advice so quickly, but maybe it was training they had prior to the release. Over time I think I'll like this band. Sent from the iMore App

Maybe he was just making it up. Sent from the iMore App

Just ordered the scuba blue and Pink nylon bands. I love them!!
I do wish they would offer choices for the buckle portions too. I have a space gray watch and would rather have space gray buckles instead of silver. Sent from the iMore App

Remembered I had an Apple Store gift card so I ordered the black woven band.

Are the lugs on the nylon band colored metal or plastic?

Those nylon bands are awesome! :)
Too bad there is no PayPal paying on Finnish Apple Store, can't order those right now. Sent from the iMore App

The nylon bands are really nice. Picked up the black one for my space gray sport and it looks and feels awesome. Actually liked it more than the new black Milanese. I can picture myself getting a couple more sooner than later. Sent from the iMore App

Uh..NO thanks! Posted via the iMore App for Android

Bought myself the Black Woven Nylon for my Apple Watch Sport Space Grey straight after the event ended. But just wondering if Apple in future would allow personal customisation to the type of Apple Watch that a person can order. Example: Apple Watch Sport Space Grey + Blue Sports Band, all in the package box instead of the Black Sports Band that comes with it where we don't have to buy another extra blue band.

Hi. Can anyone tell me if the pearl nylon looks grey or not. I'm looking for a darkish grey but can't work out how pale it is ?!? Thanks.

I bought a pearl nylon band on Saturday and it feels and looks great. However, today (after three days) I notice some severe discoloration on the back side of the band. Anybody else have this issue?

Just ordered the black woven band. Hopefully, I won't get the itchy and marks on my wrist like the sports band caused.
Thank you for signing up to iMore. You will receive a verification email shortly.
There was a problem. Please refresh the page and try again.