Fitbit Charge 3 vs. Garmin Vivoactive 3: Which should you buy?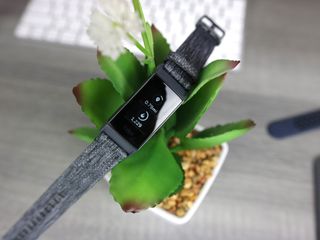 Fitbit's finest

The Fitbit Charge 3 is as great as a fitness tracker can get before opting for a full-fledged smartwatch. It tracks active and resting heart rates, has smartphone notifications, and is the perfect companion for all exercise, on land or in the pool.
For
Great ecosystem.
Accurate heart rate monitoring.
Swimproof.
Smartphone notifications.
Against
Limited color options.
No onboard GPS.
(opens in new tab)
Full-on smartwatch

The Garmin Vivoactive 3 is a full-fledged smartwatch, featuring a suite of apps, thousands of watch faces, and other widgets to complete the experience. It takes the fitness tracker to a higher level than the Fitbit Charge 3, which shows in its high price.
For
Smartwatch feature set.
Color display.
Built-in GPS.
NFC payment.
When compared side by side, the Fitbit Charge 3 is a great fitness tracker for most people. It doesn't have all the bells and whistles that the Vivoactive 3 has, because the Garmin tracker is more for intense athletes and/or people who want even deeper metrics (or for folks that don't mind the expense).
Top tracker vs. smartwatch
The Fitbit Charge 3 is just on the fitness tracker side of being a smartwatch, while the Garmin Vivoactive 3 takes things over to the other side, so that's where you'll see the most major spec differences.
Swipe to scroll horizontally
Fitbit Charge 3
Garmin Vivoactive 3
Step counter
Yes
Yes
Swimproof
Yes
Yes
Battery life
7 days
7 days (13 hours in GPS mode)
Heart rate monitor
Yes
Yes
Built-in GPS
No
Yes
Customizable watch face
Yes
Yes
Stopwatch
Yes
Yes
Sleep tracking
Yes
Yes
Mobile payments
Special edition only
Yes
App compatibility
Android/iOS
Android/iOS
Third-party apps
No
Yes
Multi-workout tracking
Yes
Yes
Between the Fitbit Charge 3 and Garmin Vivoactive 3, there is no clear winner, only because they're for different people, although the Fitbit Charge 3 is perhaps the best fitness tracker for most people. The Garmin Vivoactive 3 is for people who want even more out of their fitness tracking, as well as full-on smartwatch features.
While the Charge 3 will track your steps, reps, heart rate, sleep, and a few more things, the Vivoactive 3 does all of that, plus it helps you figure out your fitness age, your daily stress levels, VO2, and more.
You should get the Vivoactive 3 if you want to be able to make mobile payments and track your runs/bike rides without your phone on you, since it has built-in NFC and GPS. With the Charge 3, you need to have your phone on you. However, with the Vivoactive 3 you can leave it at home. All of your GPS information will sync with its app when you get back near your phone.
You should also get the Vivoactive 3 if you need more than "just a fitness tracker" can offer. Sure the Charge 3 has everything you need for your workout, but it can't help you call an Uber, but a Vivoactive 3 can.
The Fitbit Charge 3 is the best fitness tracker you can buy before investing in a full-on smartwatch. The Charge 3 has a great all-day heart rate monitor, a stopwatch, automatic activity tracking, bands that can be swapped, customizable watch faces, and more. However, if that's still not enough, you're going to want to go full-on smartwatch. It's just that simple.
Top tracker
Fitbit's best is the best for most people.

While it may lack built-in GPS, the Fitbit Charge 3 is still one of the best trackers around, with swimproofing, an excellent heart rate monitoring, and tons of tracking options.
In-depth smartwatch
(opens in new tab)
Taking fitness tracking to the next level.

Garmin's Vivoactive 3 is a smartwatch with a fitness focus. It has tons of workout apps, as well as third-party services, like Uber, so it can take you more places than just the gym. It also has a suite of excellent fitness tracking features that go beyond standard tracking.
Get the best of iMore in in your inbox, every day!
Mick is a staff writer who's as frugal as they come, so he always does extensive research (much to the exhaustion of his wife) before making a purchase. If it's not worth the price, Mick ain't buying.
Thank you for signing up to iMore. You will receive a verification email shortly.
There was a problem. Please refresh the page and try again.