Best rugged cases for iPhone 6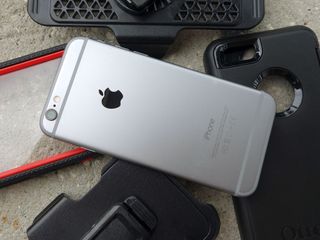 We're in the thick of summer, and that means getting out and getting active with the best summer accessories. It could be something as low-key as hitting up the beach or backyard, or as intense as hiking or biking. Whatever you're into, we've got a few protective cases here that will make sure your iPhone 6 or new iPhone 6s gets through it all in one piece!
Your favorite tough iPhone 6 cases?
These are my current favorite iPhone 6 rugged cases that will also go great with the new iPhone 6s. There are also some great ones in our waterproof case roundup that can take a beating. If you already have your protection lined up, let me know which tough case you recommend!
Editor-at-very-large at Mobile Nations, gamer, giant.
Where is Magpul here? Sent from the iMore App

How about Spigen's Tough Armour?

Well Tech21 cases should also be in this list. Just because they're not bulky it doesn't mean they're not tough. You can throw your iPhone against the wall or let it fall from your high to see nothing has happened to your iPhone, that's actually the way they're tested in different stores (like Apple store) to prove it to people. As tough and slim as it gets!! Sent from the iMore App

Thule's Atmos X3 and Evolutive Labs' Rhino Shield Crash Guard come to mind. Some of the Cygnett cases also offer "ruggerdized" levels of protection.

These are great until you want to use an Olloclip!

I'd probably throw LifeProof in there too. Much more durable than Otterbox imo. Less bulky too.

I love my Element Sector pro. Not bulky. Not too heavy especially for a 6+. Nice looking, very protective.

Check out the new Thule Atmos X4 for iPhone 6. Rugged, but thin plus comes now with a screen protector. It also passed the 2 meter drop test. Also made for the iPhone 6 Plus http://www.thule.com/en-us/us/products/bags-and-cases/phone-and-tablet-c...

ElementCase, all models, all the way. Beautiful and very rugged, not just one or the other.

What about any of the Tech 21 cases?
Get the best of iMore in in your inbox, every day!
Thank you for signing up to iMore. You will receive a verification email shortly.
There was a problem. Please refresh the page and try again.