FlightTrack 5 for iPhone review: Beautiful and intuitive, but lacks TripIt support [updated]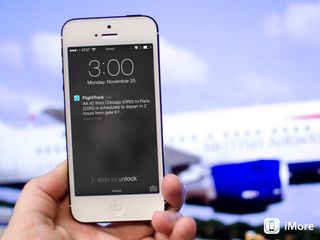 FlightTrack 5 for iPhone is a completely redesigned version of the old FlightTrack. The app has been rewritten completely from the ground up with iOS 7 in mind. The result is a gorgeous interface and an intuitive experience that makes checking flight statuses not only painless, but enjoyable.
Upon launching FlightTrack 5, you can immediately start searching for flights. Since FlightTrack 5 has the ability to pull in all current flights, you don't need to know the exact information. You can either search for a specific flight or just view all the flights scheduled for that day at a specific airport. This makes FlightTrack 5 ideal for times when you want to check in on a family member's or friend's flight progression.
Checking on a flight's progression is one of my favorite features of FlightTrack 5. Not only do you see a map with a representation of where the plane is at right that second, you also are given its current altitude and speed.
If you're checking up on your own flights, this is where FlightTrack 5 really excels. Not only does it have the ability to predict delays before they happen, it can give you loads of information about a particular flight way ahead of time. Anyone who travels frequently knows how handy this can be when preparing to pack. Just look up the flight you'll be on in the near future and you can view a list of amenities, including whether or not in-flight WiFi is provided.
Information on the aircraft itself is just a tap away as well. You can also view alternate flights in just a tap as well as share the flight with someone else. For most of us, that will probably be the person picking us up at the airport on the other side.
FlightTrack 5 supports push notifications as well so you can be alerted to any gate changes or delays instantly. This makes it an ideal solution if you tend to fly with more than one specific airline since it can cover all of them in one app.
The good
It's the best designed of any flight tracker app I've ever used
Push notifications are spot on and accurate
Animations for flights in progress are gorgeous and informative
One tap to call an airline and to search for alternate flights
The bad
The bottom line
If you want to stay on top of all your flight status in one app, look no further than FlightTrack 5. Lots of functionality paired with a gorgeous interface makes this my current favorite flight tracker app available. Frequent travelers may want to hold off until TripIt functionality is added, or something is put in its place though.
Update: I was basing this review on my personal travel habits, which doesn't include the use of TripIt very regularly. Many of you and some colleagues have given valid reasons that TripIt integration and/or iCloud sync is a large gaping hole in this update. If you rely on that, or want to see that in this version before upgrading, please voice your requests to the developer. In the mean time, we'd recommending holding off on upgrading.
The folks over at Android Central have reached out to both Mobiata and TripIt about the lack of integration and have gotten responses.
iMore senior editor from 2011 to 2015.
This new version does not sync with Tripit like the ond version! Major fail out of the box IMHO!

I agree it needs to be added back but I am willing to overlook it as adding a flight is done in a few taps. Sent from the iMore App

I'm sorry Allyson but I couldn't disagree with more. The lack of TripIt and/or iCloud sync should at least be in the Bad column. Based on your review it doesn't sound like you travel much by air or make frequent airport pickups. If you did, then you'd probably realize how big of a deal it is to enter more than a couple of flights manually.
My point is that the previous version had TripIt sync and now the new version doesn't. With the old version my wife could add me to the itinerary of her work or our personal trips on TripIt. If the flight gets delayed or she rebooks on a different flight then I get push notifications about the updates and the new info magically appears on all of our devices. I'm at the airport 40+ times a year and I don't think that's a lot given the target demographic for this type of app or for the TripIt service.
There's no reason to expect iOS users to manually enter the same data on multiple devices, when the industry is clearly moving toward seamless syncing of data through iCloud or 3rd-party services.
Would it be a big deal for a reminder or calendar app that didn't sync with Google or Yahoo or iCloud services? I think it would, and that it would be more seriously considered in that app's review.
I hope that you reconsider your review and take a look at other flight tracking apps to offed as alternatives especially for the holiday travel season.

You're right. I didn't really think of it from a syncing point of view. Updated as a con.

I love the iOS 7 look. It's great to see more apps following the style, very nice! Sent from the iMore App

I don't fly, but if I did I would HAVE to have this beautiful, formative app. Flight times, seat location, in air flight location?! Yes, please.
It looks like the only thing missing from this app is the ability to schedule a reservation for a car rental! Sent from the iMore App

I don't know if the same issues exist on the iOS version of this, but there's a big brouhaha on Android Central over the fact that to get this 'update', you have to re-pay for a whole new app even though the original version of the app cost $10. Apparently this is the third or fourth time the developer has done this with this app. I used this app religiously when I had my Android phone, I would have been furious if I had to pay for it again (I just use the Delta app on my iPhone for flight info now). Also, I read that TripIt sync went away, which is a big negative.

You have a problem paying for someone to provide you a service and issue out updates? I know what you mean. Companies keeping paying me year after year to perform audit and consulting engagements. And I keep charging them. They should just have to pay once right?

Oh for crying out loud. You're being obtuse. The point is that the entire mobile app market is not based on charging for updates. There have been many articles written on this arguing for both sides, but that's the way it is. Furthermore, with the newest charged update, you pay for less functionality than the older version with the loss of TripIt sync.

No Sync with iPhone calendar Sent from the iMore App

Yes there is. In settings.

Won't even consider this "upgrade" until TripIt and iCloud sync is added back in. Rip off.

And I thought "App in the Air" was good. This is way better than that! Sent from the iMore App

I disagree. App in the Air has more features, less lags and syncs way better. I'm always on the go and like to chat with people in the same airport via App in the Air.

I use FlightAware. It's free and gives me excruciating detail on flights - logs and graphs etc. Though not gate info. I mainly use it for tracking other people flying though!!! I like Just In Time too. No longer offered in UK store but I still got it on my laptop for when I need it! It's great for airport pickups, combines up to date flight info with love traffic info to tell you when to leave. Sent from the iMore App

Glad I read the comments, was ready to upgrade but can't lose the TripIt sync -- huge hole in the product now. The reviewer gave it a surprisingly light & fluffy write-up considering the heart has been yanked out of the app :-(

I will admit, I don't use TripIt very regularly. Nor did I use the old version of FlightTrack. Updated.

What made the FlightBoard add-in so great is that it looked exactly like the real thing. I like the flat look of the rest of the app, but the FlightBoard not only lost its unique look, but it looks terrible. Is it still an IAP?

Nice update! I guess I have to download now. Sent from the iMore App

Not sure why I would want to pay for an update that has LESS functionality (beautiful interface aside).

So I think this app can be summarized as: pay for a pretty update (despite the fact that hardly anyone else in the mobile app market makes you do that), but get less functionality as a result. This is a pass for anyone who travels more than once or twice a year. And a rip off at that if you already had an earlier version. Function over form.

Actually, is Tripit that is hosing users here. Mobiata created a new iOS7 version of their app, including integration with Tripit. But the Tripit team pulled their API access, THEN, sent a note to Tripit customers telling them that they could get similar features found in Flighttrack Pro....for a fee of $49 per year from Tripit!! Check the blog entries: http://www.tripit.com/blog/2013/11/missing-the-tripit-integration-with-f... http://www.mobiata.com/blog/2013/11/21/we-miss-it-too I am going to stop using Tripit and will never consider Tripit Pro

If only I had a reason to travel more. But my job requires me to be at my desk 24/7. Sent from the iMore App
Get the best of iMore in in your inbox, every day!
Thank you for signing up to iMore. You will receive a verification email shortly.
There was a problem. Please refresh the page and try again.