FlightTrack 5 for iPhone review: Beautiful and intuitive, but lacks TripIt support [updated]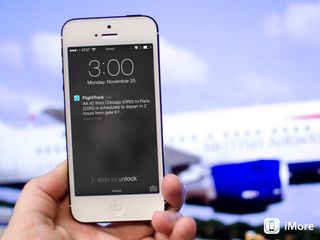 FlightTrack 5 for iPhone is a completely redesigned version of the old FlightTrack. The app has been rewritten completely from the ground up with iOS 7 in mind. The result is a gorgeous interface and an intuitive experience that makes checking flight statuses not only painless, but enjoyable.
Upon launching FlightTrack 5, you can immediately start searching for flights. Since FlightTrack 5 has the ability to pull in all current flights, you don't need to know the exact information. You can either search for a specific flight or just view all the flights scheduled for that day at a specific airport. This makes FlightTrack 5 ideal for times when you want to check in on a family member's or friend's flight progression.
Checking on a flight's progression is one of my favorite features of FlightTrack 5. Not only do you see a map with a representation of where the plane is at right that second, you also are given its current altitude and speed.
If you're checking up on your own flights, this is where FlightTrack 5 really excels. Not only does it have the ability to predict delays before they happen, it can give you loads of information about a particular flight way ahead of time. Anyone who travels frequently knows how handy this can be when preparing to pack. Just look up the flight you'll be on in the near future and you can view a list of amenities, including whether or not in-flight WiFi is provided.
Information on the aircraft itself is just a tap away as well. You can also view alternate flights in just a tap as well as share the flight with someone else. For most of us, that will probably be the person picking us up at the airport on the other side.
FlightTrack 5 supports push notifications as well so you can be alerted to any gate changes or delays instantly. This makes it an ideal solution if you tend to fly with more than one specific airline since it can cover all of them in one app.
The good
It's the best designed of any flight tracker app I've ever used
Push notifications are spot on and accurate
Animations for flights in progress are gorgeous and informative
One tap to call an airline and to search for alternate flights
The bad
The bottom line
If you want to stay on top of all your flight status in one app, look no further than FlightTrack 5. Lots of functionality paired with a gorgeous interface makes this my current favorite flight tracker app available. Frequent travelers may want to hold off until TripIt functionality is added, or something is put in its place though.
Update: I was basing this review on my personal travel habits, which doesn't include the use of TripIt very regularly. Many of you and some colleagues have given valid reasons that TripIt integration and/or iCloud sync is a large gaping hole in this update. If you rely on that, or want to see that in this version before upgrading, please voice your requests to the developer. In the mean time, we'd recommending holding off on upgrading.
The folks over at Android Central have reached out to both Mobiata and TripIt about the lack of integration and have gotten responses.
Get more iMore in your inbox!
Our news, reviews, opinions, and easy to follow guides can turn any iPhone owner into an Apple aficionado
iMore senior editor from 2011 to 2015.