Forum Review: eMees Avatar Creator for the iPhone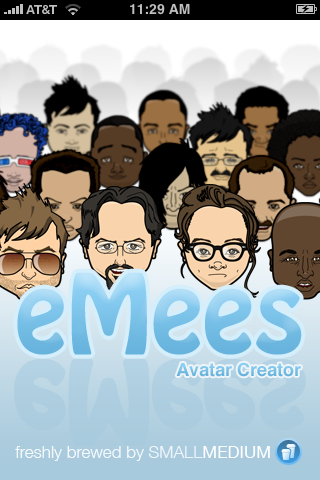 eMees Avatar Creator Forum Review by cjvitek For more Forum Reviews, see the TiPb iPhone App Store Forum Review Index!
I have a Wii, and one of the most enjoyable things (surprisingly) that I do with the system is created the Miis. And now, Mii creation comes to the iPhone!
eMees is a tool to create avatars for the iPhone. Once you create an avatar, you can save it to your photo roll, and you can even assign it to one of your contacts as their photo! As someone who doesn't have any photos associated with contacts, this is a nice feature to have!
The concept behind eMees is the same idea as creating a Mii on the Wii. You choose various features – like head shape, hair pattern, eyes, lips, eyebrows, etc) to combine into a face. You can also adjust the color, and for some items (like nose, eyes, eyebrows) you can adjust the size, orientation, and horizontal or vertical position. Combine these features and you have a lot of flexability in creating an avatar, and as you practice and get more talented, you can get quite good at creating avatars that start to look like the intended target!
One additional feature this program has is called the pose option. You can take you avatar and put them into one of three pre-determined posed (sledding, skateboarding, or typing). Unfortunately those are the only poses that are offered – hopefully more will be included in future updated.
I had one major issue with this program. The primary issue was the speed. The interface is very slow….very veryslow. It takes a while to load, and then it takes a long time to flip between the various avatar options as well. In fact, the delay almost makes the program unusable in my opinion. The delay is especially pronounced when you are flipping between the various options for each facial feature – the different hair styles for example, or the different eye glass options.
The only other concerns I had with this app is a minor one – the difficulty of using an avatar outside of the app. I would have thought that when you save an avatar, you would have the option of saving it as a contact photo, or in your photo roll. But when you save it, it enters the eMees gallery. From there, you then need to select it again tothen save it as a contact photo. It seems like the additional step of requiring you to save it first in the eMees gallery is not needed.
You also don't have any option within the app to email an avatar to anything – you need to save it as a photo, then go out, look at the photo, and then email it to someone.
Pros:
Fun way to design avatars for your contacts
Cons:
Limited poses,
program is much too slow,
using avatars in contacts is needlessly convoluted
Conclusion
All in all, this is a pretty well designed program. The options to create the avatars are rather full featured, and the ability to use the avatars as a contact ID is great. However, the program is much, much to slow and I got frustrated many times while trying to use it because of the lag. The price is currently $.99, down from $2.99, so you may want to jump on it now, and hope future updates improve the speed problems. As the lag really impacts the usability of the program, I am giving the app only three out of five stars. If future updates improve the speed issues, than it will really be worthwhile application.
Forum Review Rating
[Monopoly is available from the iTunes App Store.]
[gallery]
Master your iPhone in minutes
iMore offers spot-on advice and guidance from our team of experts, with decades of Apple device experience to lean on. Learn more with iMore!