FotoSwipe makes sharing photos between iPhone and Android devices incredibly easy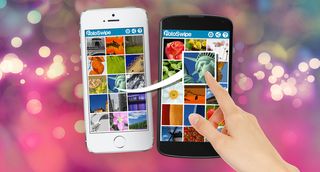 Officially released today, FotoSwipe makes it incredibly easy to share photos between iPhone, iPad, and Android devices. FotoSwipe lets you share photos by swiping your finger from one device to the other (both devices must have FotoSwipe installed). FotoSwipe isn't limited to sharing between just two devices either. Let's say you're at a party (with some friends and some strangers) and you take a group photo. Everybody has their iPhone or Android phone with them would like a copy of that photo. With FotoSwipe installed on each device, you simply bring the phones near each other with FotoSwipe open, and the person who snapped the photo can swipe it over onto each phone in rapid succession - no need to exchange email or SMS contacts. It just works.
FotoSwipe is free to download, works cross platform, across any network, and no sign-up or registration is required.
Why am I blogging about this app?
Because community members like YOU made this app awesome.
Some time ago a dedicated group of community members worked with us on some exciting beta programs. One of these programs included the beta version of the FotoSwipe app. With the help of our members, the FotoSwipe app was tested and shaped into the finished version you see before you today.
If you're a dev, take note, because this is the start of something really good. We're looking to expand our developer program here at iMore and across all of Mobile Nations (We recently revamped the Windows Central Developer Program, and the feedback has been amazing).
If you're an iOS developer (doesn't matter if you're a newbie or a seasoned vet), I want you to reach out to me directly. Our new program will pack a lot of great perks and features (like beta testing) for all developers, but we can't do it without your help.
I'm, getting it! Posted via the iMore App for Android

Lol Posted via the iMore App for Android

Wait, does it work for ipad mini and my android? Posted via the iMore App for Android

When swiping photo's over from my Android phone to new iPad mini 3 the application force closes. Have written two support tickets to Fotoswipe and have not heard a single reply or comment to date. Not impressed with the support :( Works on ipad 4, my wifes iPad mini 2, just NOT on my ipad mini 3! Would like to hear some sort of reply from the company!

A must have! Sent from the iMore App

FotoSwipe uses Cellular Data or WiFi. How different is it comparing to Whatsapp which everyone has already installed in their phones. This app is useless.

right everyone has WhatsApp, just because it's useless to you doesn't mean it's useless for everyone.

If it can do sharing similar to AirDrop with androids and 2011 MBA, I'd pay for it. If it's priced at 10-15 USD, I'd consider it a steal

Cellular data or same wifi what's fuck? No more support Bluetooth:( Sent from the iMore App

Awesome in my family 4 iPhones and 2 Android devices will be getting this and that's just for starters. I've got a ton of friends with Android phones and we always have issues when we are out together.

What a wonderfully useful app you have here. This is almost too good to be true! Thank you!! Sent from the iMore App

It's a great app and surprisingly fast but I have a small concern. In their site's FAQ it says:
"Yes, a connection to the Internet is required so that FotoSwipe can communicate with our servers. FotoSwipe works on WiFi or mobile networks." This somehow tells me that the photo goes to/thru their server during transfer. I could not find a privacy statement saying that they are not storing the photos. Has anyone seen or read somewhere in their site stipulating about how they manage the photos?
Thank you for signing up to iMore. You will receive a verification email shortly.
There was a problem. Please refresh the page and try again.