iOS games you need to play: Yak Dash, Fast Fishing, Mayday and more!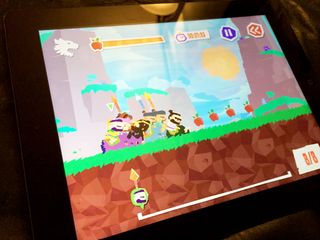 There are always tons of games to pick from in the App Store, but only a few are good enough to make the grade for our picks. Here's a roundup of some of the most fun games I've played on iPad and iPhone over the past few weeks.
Yak Dash: Horns of Glory
The game takes its lead from traditional Tibetan yak racing. You can customize your racer and his (or her) racing yak and then engage in a mad dash across the landscape in search of apple juice and coins. You can race against the device or go head to head with other real players. It's cute, goofy and challenging. It's also only $1.99, with no in-app purchasing to muck things up.
Fast Fishing
Strange Flavour's latest game lets you cast your line out in a variety of fishing spots, from quiet ponds to the roiling, stormy sea, racing against the clock to pull aboard big catches. Use different bait and lures to catch and release different fish, unlock new rods, reels and other gizmos. Is free to play with in-app purchases, but there's a very important twist: This game uses Strange Flavour's "Play Nice" system, which means you'll never pay more than $5.99 (once) to unlock all features in the game.
Mayday! Deep Space
A really interesting variation on the survival horror genre. You've answered a mayday call from the lone survivor on a derelict spacecraft overrun with horrible monsters. The game plays out using a specialized interface that shows you an overhead map of the spacecraft, and the blips representing the lone survivor and the monsters therein appear on the display. You have to guide him to safety using nothing but voice commands. The storytelling — written by sci-fi author Daniel Wilson — and the voice acting, including the talents of Osric Chau (Kevin Tran on TV's Supernatural) — is what makes Mayday truly compelling and unique.
Linebound - Life on the Line
The premise of Linebound is beguilingly simple: You control a dot traveling along a curving line. The line turns left and right and loops, and there are objects that bisect it — stationary line segments, moving obstacles. To move your dot out of the way, tap left or right, and collect orbs to gain points. It's faced past and requires crazy reflexes. Free to play; in-app purchases enable you to purchase additional "lifesavers" (which you can earn through play) or to remove ads.
Adventure Time Game Wizard
Adventure Time is the tremendously popular animated series on Cartoon Network, popular with kids but subversive enough to really appeal to adults (and college kids too). Adventure Time Game Wizard is a straight-up side-scrolling platformer with a huge twist: You get to create your own worlds using pen and paper, which you then scan in to the game using the camera on your iOS device. You can also make levels in the app if you prefer. But there's also an entire adventure game in here too, that's themed for the hook: Finn and Jake are battling the Doodle Wizard.
Rocket Cars
Illusion Labs will forever be associated with me as the makers of the Labyrinth game, one of the earliest cool puzzle games for the iPad which mirrored the real-life wooden maze game I played with as a kid. They've sported a lot of games since then, including the legendary Touchgrind skating game. Rocket Cars is their latest: A fast-paced arcade-style racing game that features monster trucks, buggies, pickup trucks and other vehicles that come with rocket power. You can perform tricks to gain boosts, use shockwaves and missiles or just ram your opponents to beat them, and explore five environments spread out over 67 levels. Easy-to-learn one-finger controls. Free with in-app purchases for coins and gems, which you can use to upgrade your vehicles.
Gunbrick
The Gunbrick is a gun on one side, a shield on the other, a square object that makes its way through a platform puzzler world inhabited by wasteland mutants, crazed nerds, law enforcement and more. Go up against bosses and more in this fun and intense action game.
Got any to add?
I'm sure I've missed other new releases worth noting, so if you have some to add to the list, let me know.
Get the best of iMore in in your inbox, every day!
I'm loving the game "Shades" right now. Sent from the iMore App

Shades is good! I've also been playing SimCity Build it (love this game!), Mujo, Smash Hit, and of course COC!

Ha, in the bit about Linebound, by "It's faced past," I assume you mean it's fast paced? ;-)
Thank you for signing up to iMore. You will receive a verification email shortly.
There was a problem. Please refresh the page and try again.