Getting more out of your iPad or iPhone and your printer with your Mac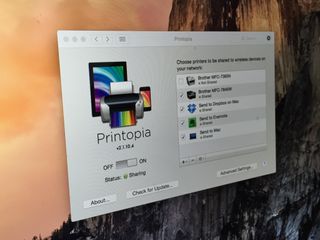 This week's Mac Help column doesn't describe a problem with the Mac, specifically, though the Mac is integral to its solution. It involves a new iPad, an existing Mac, and printer support.
J.P. writes:
The short answer is no.
Let's back up for a moment: iOS devices work with printers that support Apple's AirPrint standard. A lot of newer printers do. Apple has a list of supported printers (opens in new tab) on its web site, but if your printer isn't on that list, don't panic. Because your Mac can help.
Assuming your Mac already works with the printer you're using, all you need to do is to install a third-party Mac app called Printopia, from Decisive Tactics (Ecamm created the software, but they sold it to Decisive earlier this year). Printopia is installed on a host Mac, and is accessed through the System Preferences. It doesn't make any changes to the iOS device at all — you don't have to install an iOS app or jailbreak or anything like that to get it to work.
Once installed, Printopia works with any printer that works on your Mac. It basically makes your Mac act like an AirPrint server, shunting off AirPrint print jobs to the Mac. That way, your iPhone, iPad or iPod touch can print to that printer, no native AirPrint required.
Printopia has a few other cool features worth mentioning, too: It can be configured to send files to Dropbox and Evernote. You can also use it as part of a workflow, so you can send images printed on your iOS devices to Adobe Photoshop, for example, or send PDFs of your files to Scrivener.
If you're an IT manager in an enterprise environment, you might also be interested in Decisive's industrial-strength version, Printopia Pro. It adds support for Wide Area Network (WAN) printing, directory services integration and much more.
A seven-day trial version is available for download from Printopia web site. Using it beyond that will cost you $19.99 (more for the Pro version). But that's considerably less than a new printer.
Get the best of iMore in in your inbox, every day!
There is also donationware ($5 min) handyPrint

I found handyPrint to work fine, but found Printopia to be more robust and has a few more very nice features, like PDF printing. That said, I hate Printopia's purchase workflow; it's quite customer-hostile. Tip: keep the download in case you need to reinstall. Re-downloading can be a pain.

Neato, but definitely not worth 20 bucks. It kind of smacks of an intentional hijacking to me in that if someone is absolutely desperate to print something they might fork over the 20 in that moment. They're just taking advantage of folks IMO.

iOS devices should be able to print to any printer connected to AirPort device IMO. "It's just works" remember this slogan, Apple?

Printer Pro from Readdle is my solution. The advantage is that you can connect to any printer on the go. It works great with every non Airprint printer that I have come across.

Considering most inkjet printers suck ass and fall apart (and subsequently get replaced) after a year or two of use, I suspect this app is already 80% unnecessary for most users, and that percentage will continue growing quickly as almost all new printers are capable of printing from iOS devices. Of course, you can always plug the non AirPrint printer into an Airport, share the printer on your network and not have to use this (or any other 3rd party app) to begin with.

You should perhabs mention that , in order to be able to print from an IOS device via Printobia you have to have your mac on and running. :)

I think the first choice should be the Free print Apps from the printer manufacturers that are in the AppStore. My 5 year old Epson printer Prints, Scans and Copies from my iOS devices with their Epson iPrint App. Mfg. print Apps are essentially print drivers for those wireless printers that don't support the AirPrint "universal" driver built into iOS.

printer is whoever whatever, but toner is always http://www.tonerclinic.ca/ , reliable and trustworthy (Y)
Thank you for signing up to iMore. You will receive a verification email shortly.
There was a problem. Please refresh the page and try again.