Go All Access with gMusic for Google Play Music, now supporting Google's streaming service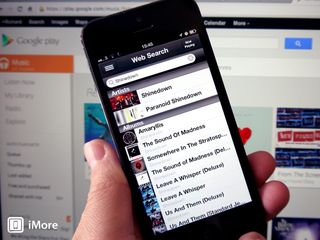 Google might have just announced they plan to bring Google Play Music All Access to iOS in a matter of weeks, but that doesn't mean you can't try the service out right now. Independent offering, gMusic, was recently updated to support Google's new streaming service, and then updated again to remove some of the bugs. In lieu of having an official app yet, and with an All Access subscription burning a hole in my ears, lets see if gMusic hits the right note.
gMusic is a fully featured music player that connects to your Google cloud account. The music player controls are fully integrated with the on-board lockscreen controls, and has AirPlay support built in. It also supports offline caching of music to listen to instead of streaming, playlist management, creating radio stations, and a whole lot more. Simply put; gMusic is presently the best way of getting your Google Music on iOS.
The All Access part of Google Play Music is accessed by way of the "web search" menu item. It's that easy; search for what you want to find and gMusic will find it, let you play it, add it to your playlists and so on. The added feature fits within the existing app seamlessly, it doesn't feel tacked on which is important.
What gMusic does lack, though not necessarily the fault of the developer, is All Access' recommendations. The most recent update to the app fixed some bugs too, the biggest of which was stuttering playback. Strangely, Google's own web-app on the desktop seems to suffer from this too from time to time, but so far the gMusic update has cured these issues.
gMusic is available to download from the iOS App Store for iPhone and iPad for $1.99. A Google Play Music All Access subscription will cost $9.99 a month, though if you sign up before June 30 that drops down to $7.99. There's also a 30-day free trial available to give the service a thorough run through before parting with your cash. I'm pretty happy with it, how about you guys?
Anyone switching to GMAA from Spotify? I've tried the webapp of GMAA and the Android app but just seem to prefer Spotify more.

I'm torn right now. I'm a huge Spotify user, have been for years. But Google has the added bonus of having my entire music library in their cloud too. Going to wait and see what the iOS app is like from Google before I make a final decision, though I don't like the All Access web app.

i agree. perhaps it's just me but i've been seeing a lot of stopping right in the middle of songs in GMAA...even in the web browser.
i'd like to give it a chance tho. but spotify is winning thus far.

where can I sign in to GMAA?

I just took GMAA for a test ride, literally. Drove around for about 30 min., playing GMAA through gMusic on my iPhone 4. No skipping or stuttering of tracks. I used the radio the whole time and it was seamless. So far, so good for my mobile device.

I'm not usually the Jerry Fletcher type, but I have this unexplainable fear of giving my credit card to Google. Same with Facebook. Yet I do a ton of online shopping. Probably the same paranoia that has me not even interested or caring about amazon's new common login. Won't use it. No way I am crossing social sites with sites that have access to my payment methods. Is anyone else out there the same?

had it the app for a while. functional. does the job. happy for the most part. I don't do the streaming radio thing, or pandora or spotify. I got about 18k songs on google play. doesn't play gapless albums of which i have like 40+ so that's an issue. Most are hip-hop mixes that are not meant to have any gaps at all so it basically makes the album unplayable. interfaces is organized ok but could use a bit of polish. But aside from that it does a job of playing music i don't have on my iphone. Plus it's free unlike itunes which is great for me since i've haven't bought music through itunes.

Gmusic is not the only app cloud player
https://itunes.apple.com/us/app/cloud-play-for-google-music/id595909793?...
Thank you for signing up to iMore. You will receive a verification email shortly.
There was a problem. Please refresh the page and try again.