Google buys Snapseed developer Nik Software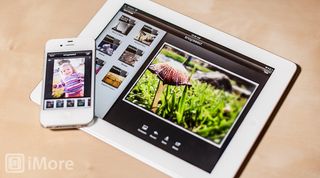 Google has agreed to acquire Nik Software, the developer of the popular iPhone and iPad photo editing app Snapseed. Nik Software develops software for photographers for Mac, Windows, and iOS, but it was Snapseed that caught Google's eye and sparked the acquisition. There is no word on whether there will be continued support for Snapseed or if Google plans to kill the project like they did with Sparrow.
On their blog, Nik Software states:
In regards to the acquisition, Vic Gundotra, Google's Senior Vice President of Engineering said "we want to help our users create photos," but neither company will reveal what lies in Snapseed's future.
Many people are comparing this acquisition to Facebook and Instagram, but I beg to differ. Although Snapseed and Instagram are both photography apps, they are completely different. Instagram is a very basic photo editor that only allows the use of filters and tilt-shift, but has a very strong social presence. In fact, I'm more inclined to call Instagram a social network than a photo editor. Snapseed, on the other hand, is a robust photo editor with zero social capabilities. If we're going to compare acquisitions, it's better to compare this to when Google bought Sparrow.
Google wants skill, and the folks at Nik Software have the skill that Google desires. Google+ already does a better job at photos than Facebook by allowing users to edit their high resolution uploads with crop, rotate, exposure, color adjustments, sharpening, and resizing. Add even more robust photo editing features, similar to those included with Snapseed, and Facebook has nothing on Google+ when it comes to photo manipulation and quality. Google currently offers Picassa for those looking edit their photos, but it's mediocre at best -- with the help of the Nik Software team, this could easily change.
Now, if this is indeed Google's plan, then you might as well kiss Snapseed goodbye. It's unfortunate, but when Google makes these kinds of purchases, they usually ditch the existing projects and direct the talent elsewhere, and we'd be fools to expect anything different in this case. So if you're looking for something to replace Snapseed, you may want to take a look at Apple's iPhoto and Photogene. If you settle on iPhoto, make sure you take a look at our tutorials for adding drama to your photos and editing portraits.
Are you a Snapseed user? What are your thoughts on this acquisition? Do you expect Google to stop development of the app or are you hopeful to see future updates to Snapseed that give it a social spin with Google Plus? If you're planning to switch to a different photo editing app, let us know which one you chose!
Source: Nik Software, Vic Gundotra, via The Verge
Get the best of iMore in in your inbox, every day!
Former app and photography editor at iMore, Leanna has since moved on to other endeavors. Mother, wife, mathamagician, even though she no longer writes for iMore you can still follow her on Twitter @llofte.
I'm looking forward to the new and exciting opportunities Google will be able to offer me based on my photo editing habits.

They bought them to close their doors to competition.

LOL. Google is NOT Apple. This is something Apple would do... but not Google!
Google wants users - it does NOT matter what OS they use.
They will keep updating the iOS apps and they will create apps for other OS-es too. Probably they will update the Android app first but that seems normal. In any case they will NOT abandone any OS. They will improve the app even more.
You have so much apps created by Google in app store and they are great apps.

I used Snapseed for a while, but ditched it in favor of Filterstorm.

i just use the camera+ filters also Avairy has filters. Hell everything has filters now. i got snapseed free from starbucks though.

Nik has been around for 17 years making photo editing plugins for Photoshop and Lightroom — they're not just an "app company" like Instagram or Sparrow. http://www.niksoftware.com/company/usa/entry.php
So it's still not quite a direct comparison, and there may be more to the story. Maybe Google just wants the talent, or maybe they want a photo app too - who knows? I'm actually more curious what will happen to their pro photo products. Though i have to agree with your observation that Instagram is truly a social network, the app with simple photo editing and publishing features is just the means to access it.

I'm hoping they continue Snapseed's progress and that the acquisition was simply an attempt to bring a great photo editing portfolio to the Android market.

OMG.. NIK has some of the best photography software on the web. They have the only photography plugins that I will lay down my hard earned cash for. Even Snapseed on the Mac is quite fun. I hope that they do not change directions or dumb down their high end software (Color Efex Pro, HDR Efex, Silver Efex Pro). For photographers, they also have a great Podcast. Besides the iMore Podcasts, the Nik is the only other regular one I listen to on a weekly basis.

Can't wait to see a Google+ camera app maybe "Camera +" would be a good name. Can't wait to use it.
Maybe on an iPhone 5??? Laurens PS: Would Love To Win!

I am not sure what concerns me more over this,I have always used nik Color effect is photoshop, probably he only filters I like to use. Once I saw snapseed on iOS I was excited and it was one of the reasons I switched to ios. I really hope google does not kill the photoshop filters or snapseed.
Thank you for signing up to iMore. You will receive a verification email shortly.
There was a problem. Please refresh the page and try again.