Google Chrome app launcher and desktop apps now available to Mac users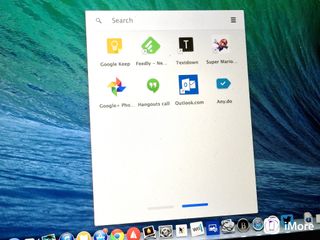 Google has today made some big changes to its Chrome browser for Mac with support for desktop apps and the addition of the Chrome App Launcher. Now, when you install a new Chrome app, the Chrome App Launcher will automatically add itself to your OS X dock so you don't need to open the browser window to get at your web apps. Desktop apps for Chrome work like, well, regular desktop apps and they also function while offline.
The Chrome Web Store now shows a new app category titled "For Your Desktop" and highlights those which will function outside of the main Chrome browser window. Launching one of these apps opens up an individual window, and everything functions just as a native Mac application would.
For those of us that spend all our web time in Chrome, these are a couple of extremely helpful additions. Are you one of them? What do you think to the features?
Source: Google
Get the best of iMore in in your inbox, every day!
This sounds great!
It seems that this "hub" style if computing is making a resurgence. Reminds me of the old OS 9 quick launcher. Sent from the iMore App

I just used it and it's great. I find it interesting the approach of Google to take over Apple's OSes. I doubt they'll own as much mind share on Mac as on iOS but it is still an interesting plan to see unfolding, if Googlifying Apple's OSes are indeed their plan.

I just hope they aren't trying to roll the clock back to the closed web. I don't need IE5 part Deux from Google.

True, but with Microsoft, they refined and stuck with the product and we're at IE 10.. or 11? With Google, their tactics are to use the public as beta testers. They throw spaghetti against the wall and see what sticks.. The problem I see is they risk burning reputation with those that become dependent on x or y product and they just suddenly shutter it. It's dangerous being a perpetual beta tester. :) Thats why these days I avoid Google except for search.

That rollback already happened in the form of apps

I would not be overly concerned about that because everything has its built-in checks and balances system. Once upon a time I worried about Microsoft getting way too strong and snuffing out Apple. Now the reverse is true and Apple is sort of like on the top of hill while Microsoft is downhill. So be it with Google. It's always good to have a system of checks and balances in place here. If Google ever became so powerful or big something else will step in to create a new balance with an alternative. (Until they become too big as well). :-)

I'm sure those that use the Google apps Sent from the iMore App

Will be excited and a great welcome! Sent from the iMore App

Nice for Google Keep and makes me want an iOS app more. But pretty much everything else (including Google Music sadly) is still a web link or has a Mac app like Pocket. Work in progress hopefully...

I have had this for a few weeks (strangely). I actually found it annoying to find it on my dock one day. I am not sure what I did in Chrome that resulted in that.

Google's been playing around with it for a while behind the scenes. You on a beta/developer build of Chrome?

No. Just typical end user here. Maybe a few of us got to be part of the experiment as it were.

These apps are never up to the quality of really good OS X apps. they're ok if all you want to do is run web apps in Google Chrome. I prefer not to squander the benefits of using a Mac.

Why use Chrome on a Mac... Sacrilege!
Thank you for signing up to iMore. You will receive a verification email shortly.
There was a problem. Please refresh the page and try again.