Google Docs: Everything you need to know!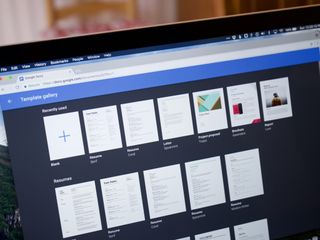 Google Docs lets you create and edit documents, either in your web browser of choice or on your iPhone, iPad, or Android device. One of the central features of the productivity app is collaboration, which lets you work on a document with other at the same time, as well as leave comments or suggested edits.
Google Docs has become an essential app for millions of users around the world. Here's everything you need to know about it.
What's new with Google Docs?
Check back here for the latest updates in Google Docs news.
November 27, 2017 - Google just added Drag and Drop support for iOS 11 to G Suite apps
If you use a combination of iOS devices and Google services to get productive, prepare to be psyched: this morning, Google brought both drag and drop capabilities and support for iPhone X displays to its Docs, Slides, and Sheets apps. Now you can make full use of that big, beautiful screen and get work done more quickly than ever before.
Now when you open any of the G Suite apps on iPhone X, the interface will take up the entirety of the screen — that means no annoying letterboxing to distract you from your collaborations. In addition, the toolbars within the apps have been reconfigured to better fit the iPhone X display's unique shape, saving you from any wasted space or awkwardness when navigating the menus.
Arguably even more exciting than iPhone X support, however, is the G Suite apps' new multi-app drag and drop capability. When using Docs, Slides, or Sheets on an iPad, you can now drag and drop content from other iOS apps into whatever you're working on. Say, for instance, you're working on a presentation in Slides and you want to insert a photo from one of your albums into the editor. All you have to do is tap the photo, hold it, and drag it away. After that, you can drop it into Slides, easy peasy. You can do the same for links from Safari, bits of text — pretty much anything you'd want to insert into a project.
If you don't already have the G Suite apps on your iOS device, you can grab them here.
August 17, 2017 - Google is updating Docs with several new editing features for teams
You can now give different names to the various versions of a document, which can help you indicate a document's status and make older versions easier to find. You can now preview documents to see what they'll look like without comments or suggested edits. Speaking of suggested edits, you and your team can now accept or reject those edits all at once.
One of the bigger changes comes for mobile users. You can now suggest changes to a document from the mobile app on an iPhone, iPad, or Android device by typing in a special "suggestion mode".
Google Cloud Search is also coming to Google Docs, which will allow you to perform searches for information relevant to your document from across your Google apps, including Google Drive, Sites, Calendar, and more.
A number of new templates have been added to take advantage of add-ons, which developers can create to customize the functionality of Google Docs.
What is Google Docs?
Google Docs is Google's take on the word processor and a competitor to apps like Microsoft Word or Apple's Pages. Google Docs allows you to quickly get started with creating and editing documents, offering a number of formatting and styling options, just like you'd expect from other such applications.
Unlike apps like Word, Google Docs is available for use on desktop only as a web app, so you'll access it through your web browser. Additionally, Google provides native apps for creating, editing, and reading items in Google Docs for iPhone, iPad, and Android devices.
How can I access Google Docs?
You can head to the Google Docs website to get started with Docs on your PC or Mac.
You can also download the apps for iPhone, iPad, or Android from the iOS App Store or Google Play Store.
Can I use Google Docs when I'm offline?
Just because it's a web app doesn't mean you need an internet connection to use Google Docs. If you use Google's Chrome browser on your Mac or PC, you can save your recent documents for offline use, letting you view and edit them even without an internet connection. The next time you're back online, your changes will appear in Google Docs across all of your devices. You can also manually mark documents for offline editing availability.
These functions are available in the mobile app for iPhone, iPad, and Android as well.
Can I collaborate on documents with other people?
While similar apps also now have these features, collaboration has long been one of the highlights of Google Docs. Whether it's a school assignment or a work project, you can bring other people into your document to have them edit it, make suggestions, and more. Multiple users can work on a document at the same time, and you'll see those edits happen in real time.
Can I control who has access to a document?
When it comes to sharing a document, you have a number of choices that you can make. First, decide who can see the document:
Public: Anyone on the internet can find and access the document without needing to sign in.
On: Anyone with the link to the document can access it without signing in.
Off: Only specifically-invited people can access the document.
You also need to decide on a level of access for whoever is invited to the document: they can either view, view and comment, or view, comment, and edit.
Google Docs also has a feature called Suggested Edits. If someone has commenting access, they can suggest specific edits for a document that get special highlights, allowing the author of the document to review them before they're added. This allows people to better participate in a document even if they don't have full access to edit it.
Does Google Docs offer templates for different types of documents?
Google Docs features several different templates for creating documents, from reports to brochures to project proposals. Recently, Google introduced a number of new templates to Docs that can work with add-ons, so your documents will be truly customizable.
What are add-ons?
Add-ons are third-party tools and enhancements that developers can create to offer customized functionality in Google Docs for both individuals and organizations.
What is the Explore tab?
Explore is a feature of Google Docs that ties into Google's machine learning efforts. When you click the Explore button to open the tab, a sidebar appears next to your document showing Google search results based on information in that document.
You can also make your results more specific by highlighting text and pressing Explore. The results displayed will be matched only to the highlighted text.
You can also quickly insert citations as footnotes from the Explore tab with just a couple of clicks.
What are Action items?
Action items let you assign people to tasks for specific documents. For instance, if you want one of your collaborators to take another pass at a newsletter you're sending out, you'd write, for instance, "Lory take an editing pass on this newsletter." Google Docs would automatically assign that action to "Lory". Documents with tasks assigned to them will be indicated with a badge.
Can I view and edit my other documents in Google Docs?
You can upload and convert a number of document formats into Google Docs documents. Google Docs supports conversion from .doc, .docx, .docm, .dot, .html, .txt, .rtf, and .odt.
You can also export your documents in .docx, .odt, .rtf, .pdf, .txt, .html, and .epub formats
Does Google Docs cost anything to use?
It really depends on how you're using Google Docs. While most people can freely access Google Docs and pay for different amounts of Google Drive storage, some organizations utilize G Suite, Google's suite of apps that offer business and organization-oriented features.
If your company uses G Suite, pricing starts at $5 per user per month for Basic. G Suite Business costs $10 per user per month.
Questions?
If you've got any other questions about Google Docs, be sure to leave them in the comments.
Master your iPhone in minutes
iMore offers spot-on advice and guidance from our team of experts, with decades of Apple device experience to lean on. Learn more with iMore!
Joseph Keller is the former Editor in Chief of iMore. An Apple user for almost 20 years, he spends his time learning the ins and outs of iOS and macOS, always finding ways of getting the most out of his iPhone, iPad, Apple Watch, and Mac.