Google Home vs. Amazon Echo: Which has the better speaker for music?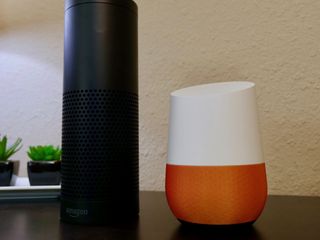 Smart speaker choices are relatively limited, true, but the differences between the devices are what you'll need to consider before you make a purchase. If music listening is most important to you — i.e. more important than intelligent assistant features, smart home integrations, and design — then you'll need to consider each device's audio hardware in order to make the right choice. Let's take a look at what the Amazon Echo and Google Home are working with!
By the way, if you're looking for a wider comparison between the Google Home, Amazon Echo, and upcoming HomePod smart speakers, check out the comparison guide we've put together:
HomePod vs. Google Home vs. Amazon Echo: What's the difference?
Google Home
Google describes the Home's built-in speaker as a "high-excursion" speaker. The spec sheet says the speaker system has a 2-inch driver and two 2-inch passive radiators.
iFixit did a teardown of the Google Home smart speaker in 2016 and found a Peerless driver. While it's not the exact same, iFixit found a very similar Peerless driver on Peerless' website. You can read about it on the Tymphany site, but I pulled out a few details here:
Swipe to scroll horizontally
| Category | Features |
| --- | --- |
| Driver Size | 2 inches |
| DC Resistance | 6.15 Ω |
| Resonant Frequency | 161.02Hz |
| Sensitivity @ 1W/1m | 82.8dB |
| Rated Noise Power (IEC 268-5 18.1) | 10W |
| Minimum Impedance | 6.91 Ω |
| Voice Coil Inductance | 0.04mH |
Personally, I find the Google Home speaker to be a better music listening speaker. For voices, it's not as good as the Amazon Echo. If you listen to a lot of podcasts or talk radio, the Google Home might not be for you.
Amazon Echo
The Amazon Echo features both a tweeter and a woofer. iFixit did a teardown of the Echo back in 2014 and found the company also built in a bass reflex system, which helps boost the bass without causing too much distortion.
On its face that means the Echo has a separate tweeter and woofer and a device that helps with distortion — in other words, there's a bit more going on here than a single driver. We don't have as many details about the drivers built into the Amazon Echo, so I won't be able to provide you with a full-on spec sheet like the one for the Google Home smart speaker.
It's also worth noting that an Amazon Echo Dot — while featuring a very tiny, very unimpressive built-in speaker — can be hooked up to a high-quality sound system. If you've got impressive speakers at home, you should consider getting an Echo Dot and using it with your setup — it's going to sound loads better than the one driver built into the Google Home and the tweeter and woofer built into the Echo.
The Amazon Echo, to my ear, has a better speaker for most audio content. It sounds pretty good for bass-heavy music, voice-based audio like podcasts and talk radio, pop music, and interactions with Amazon's Alexa voice assistant. If you're not already sold on the Google Home for its Google-focused features, the Amazon Echo is — overall — a better choice.
What others say
The Amazon Echo and Google Home have been compared hundreds of times by hundreds of publications. Some of them have paid special attention to the audio quality of each device and I've picked out a couple to share with you here!
The Wirecutter compared the Amazon Echo and Google Home. Here's a little of what their experts had to say:
What Hi-Fi? also compared the Amazon Echo and Google Home. Here's a little of what the publication had to say:
Bottom line
As far as the internet is concerned, both the Amazon Echo and Google Home are fine music listening devices, but they're not great. The Amazon Echo only barely rates higher for music listening than the Google Home.
Ultimately, your best bet — if you must have a smart speaker now and the music listening experience is of utmost importance to you — is to get an Amazon Echo Dot or a Chromecast Audio device and connect them to a quality speaker system. You'll get the best of both worlds in either of those scenarios, because you'll have access to the smart assistant features both offer while still adding a top-quality music listening experience to your home!
Thoughts or questions?
Do you have an Amazon Echo or Google Home (or maybe both)? How do you feel about the sound quality? Thinking about buying one of these smart speakers but still have more questions about audio quality? Share your thoughts and your questions in the comments below!
Get the best of iMore in in your inbox, every day!
Mikah Sargent is Senior Editor at Mobile Nations. When he's not bothering his chihuahuas, Mikah spends entirely too much time and money on HomeKit products. You can follow him on Twitter at @mikahsargent if you're so inclined.
I don't own an Alexa so can't comment on that, but Google Home recently removed free music services from the app so paid music subscription is the only way to go now it seems. As I already have a significant music library in iTunes and Google Play I would really rather not pay again. So for me, it's hard to know how good a music player Google Home is because I can't play my music on it....

I thought they added the ability to play your own music now. At least that's what an article on the sister site stated. Hence the reason I pulled the trigger. Haven't received it yet so can't check. But I'm hopeful. https://www.androidcentral.com/google-home-will-finally-play-your-upload...

Ok, good to know, thanks. Hopefully the update will make its way to New Zealand soon.

Has Google Home been officially released in New Zealand? Not showing on the Country list on Google.

No it hasn't, but until the recent removal of Pandora from Google Home app I was able to use that free service. If there is a move to being able to access your own music library then that's a step forward. GH works fine in all other respects in NZ.

Nothing to do with Google; http://www.billboard.com/articles/business/7849103/pandora-leaving-austr...

Actually, it is to do with Google. Access to the Pandora app has been removed from the GH app; I can still access Pandora through its app on my phone, iPad and ATV.

I was just able to link my free Pandora account to Google Home in the US. Never had it set up before, as I no longer use Pandora, but wanted to check. Seems like it could be your region that is preventing that.

Sadly not for long but enjoy it while you can. My wife loves Pandora in her car.

I agree with author's review. What is sorely missing is an equalizer function. On some music Echo sounds really good, Home can have too much bass with little mids. Equalizer in the apps would do wonders.

I agree-an equalizer function would help tremendously. That was the first thing I asked for when I received my first Echo.

If listening to music is your goal, both of these devices are a waste of money.

For the golden ear crowd I agree, for background or casual listening both are more than adequate.

Not sure how you can beat the Dot with whatever speaker suites your fancy tied to it. It even supports connecting BT speakers and does so via voice. (I think they all do, don't they) If the BT speakers are on, you just tell Alexa to connect, and she does. When done with music, and just want the AI, tell her to disconnect.
The Tap, BTW, sounds fairly good to me. Don't have an Echo to compare to, but music on the deck or while doing yard work, sounds fine.
Thank you for signing up to iMore. You will receive a verification email shortly.
There was a problem. Please refresh the page and try again.