HomePod vs. Google Home vs. Amazon Echo: What's the difference?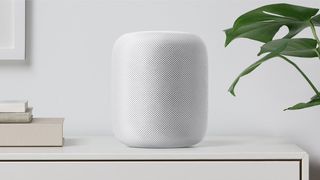 (Image credit: Apple)
First things first … What's a HomePod?
It's Apple's long-rumored, Wi-Fi-connected smart speaker. Apple is positioning the HomePod as the quintessential in-home listening device. It also comes with Siri — use the wake phrase, "Hey, Siri," and it can do anything Siri can do!
You can control your HomeKit-enabled accessories (even when you're away from home, since the device acts as a HomeKit Home Hub), listen to music and other content with the device's excellent speakers, set timers and reminders, check your calendar, send messages, etc.
HomePod FAQ: Everything you need to know!
Got it. So the HomePod is a smart speaker just like the Amazon Echo and Google Home?
Well, no, not exactly. Because of Apple's focus on audio quality, it's probably more accurate to compare it to Sonos wireless speakers. Apple's baked in quite the hardware package: seven beam-forming tweeters, one 4-inch, Apple-designed woofer, and a six-microphone array. It also runs on Apple's A8 chip.
Using what Apple calls "Spatial Awareness," its beam-forming tweeters and woofer work together to provide virtual surround sound in whatever space you're in. The HomePod will "scan" the room and adjust its tweeter/woofer system accordingly to provide the best possible sound.
And how does that compare to the Amazon Echo and Google Home?
The Amazon Echo has a single 2-inch tweeter and a single 2.5-inch woofer. It, like HomePod, touts seven built-in, beam-forming microphones. The Echo's tweeter and woofer don't feature beam-forming technology.
Google Home has a single 2-inch full range driver. It includes two beam-forming microphones. Google says it uses its machine learning and neural networks to better understand commands.
Hmm, so HomePod definitely sounds better than Amazon Echo and Google Home, yeah?
Yeah. There's no way either smart speaker can beat that gigantic tweeter array and woofer from Apple.
Got it. Well, I definitely want to listen to music on whatever smart speaker I get. Can you tell me more about what I can expect?
Sure! Here's what you can expect from each device:
Google Home: Chromecast streaming in supported apps (with Bluetooth streaming coming soon) and on-device Wi-Fi streaming
Amazon Echo: Bluetooth streaming and on-device Wi-Fi streaming
HomePod: On-device streaming of Apple Music and AirPlay 2 audio streaming from supported devices (like iPhone and iPad).
Integrated music services
Google Home: Pandora, YouTube Music, Google Play Music, Spotify
Amazon Echo: Amazon Music Unlimited, Spotify, Pandora, iHeartRadio, TuneIn
HomePod: Apple Music
HomePod looks a little light on integrated music services when compared with Google Home and Amazon Echo. Keep in mind you can stream to HomePod with AirPlay 2, so you'll be able to listen to other audio services so long as they offer AirPlay 2 support.
Interesting. Well, I'm also looking for an in-home smart assistant. What can I expect?
You can expect full Siri support on HomePod. The speaker — like in-home iPads and Apple TVs — acts as a Home hub and will let you control your HomeKit-enabled lights and accessories. It's certainly worth noting the HomePod is only going to control HomeKit-enabled accessories; if you've got accessories that are missing that "Works with Apple HomeKit" badge, you'll need a different smart assistant.
Amazon Echo and Google Home are regularly neck-and-neck when it comes to smart home integrations. Amazon's Alexa and the Google Assistant can power a whole swath of connected home products.
Both the Echo and Home offer something called proactivity, too. Amazon Echo can send you ambient notifications by lighting up the LED ring atop its casing and Google Home can do the same with a quick flicker of its four LED lights. You'll get notifications of delayed flights, reminders, upcoming appointments, particularly hairy traffic, and more. Apple made no mention of proactive features for HomePod at WWDC, but the company could announced new features when the device ships in December.
OK, let's talk price.
Good idea. Amazon has several Alexa-enabled devices; Google Home offers a single smart speaker. Same goes for Apple.
Gotcha. So level with me, what's the bottom line?
If you're big on music listening and want an Apple-made, Wi-Fi-connected smart speaker, Apple's HomePod is probably going to be perfect for you. Sonos' comparable-in-sound-but-smart-assistant-less wireless speakers range from $199 - $499, so HomePod hits a sweet-spot there.
If you're not looking for an in-home music listening device (or you don't care about superb sound quality (or you don't care as much about music listening as you do about having a smart assistant in your house)), HomePod might not be for you. The Amazon Echo doesn't sound great, but it's a fantastic voice-controlled smart device. Google Home sounds better and offers all the power of the Google Assistant. Both offer multiple music and audio streaming options and proactive notifications. Unless Apple adds more assistant-focused features between now and December when HomePod launches, Echo and Home are the better, universally appealing speaker assistants.
What say you?
Did we help you figure out the difference between HomePod, Google Home, and Amazon Echo? Still have some questions you want answered? Sound off in the comments (or over on Twitter) and I'll try to get your question answered!
○ Everything about WWDC 2020
○ WWDC 2020 remote lineup
○ Download the Apple Developer app
○ iOS/iPadOS 14
○ macOS 10.16
○ watchOS 7
○ tvOS 14
○ Discussion forums

Master your iPhone in minutes
iMore offers spot-on advice and guidance from our team of experts, with decades of Apple device experience to lean on. Learn more with iMore!
Mikah Sargent is Senior Editor at Mobile Nations. When he's not bothering his chihuahuas, Mikah spends entirely too much time and money on HomeKit products. You can follow him on Twitter at @mikahsargent if you're so inclined.