Google Maps now lets you send directions to your iPhone from desktop search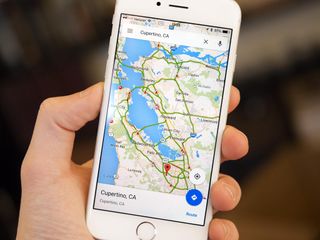 If you're planning a trip in the near future, Google Maps got a nice update that's sure to come in handy. Users can now send directions from their desktop browser straight to their iPhone.
The way it works is fairly simple, but you'll need to do a couple of things to get set up. After you grab the update, head into the settings menu for Google Maps and enable notifications sent from desktop maps. After that's taken care of, you can simply head to Google Search on your browser and type "send directions to my phone," at which point you can enter your destination and, well, send the directions to your phone. It's important to note that you must be signed-in to the same Google account on both your phone and the desktop browser.
Aside from sending directions to your phone, the update enables users to add and edit hours for businesses and view your reviews. Overall, it's a pretty nifty update that brings Google Maps for iPhone up to par with its Android counterpart.
Get the best of iMore in in your inbox, every day!
I could not get this to work. I did set up the new version of the app on my iPhone correctly, but when I do a Google search (using the same account), for Send Directions to my phone, it seems to only want to send to Android phones.

You need to enable it first on your Apple iPhone. Lifehacker recommended logging out & back in on your Desktop browser. Lastly, which affected me, I was using an 'out of date' browser which seemingly & understandably doesn't support it. I switched browsers & then it showed up for me.

It's very weird for me, too. When I try this from the search bar, the only phone that pops up is my Android device. When I use the "Send to Device" button in the Google Maps webpage, it only allows me to select my iPhone. Seems to be some confusion around this.

All you really need to do is search for your destination on the desktop. You can view the route on desktop to get an idea of the general route. To get those directions on your phone all you need to do is then open Google Maps on your iPhone and the destination you just searched for will be the top option in your recent search history. Select the destination and tap route. Done.

It's worth mentioning that you need to Enable it in the Google maps app from the Settings - Notification so it can work.. Most people will look only in the iPhone settings... :)

In addition to the above, it needs to be enabled in both Google Maps app settings, and also in the main settings app, GMaps needs notifications enabled. After both are enabled, try logging out of GMaps in your browser and log back in, and the option became available. It took a few minutes for me to be able to send to device on my desktop after I changed the phone settings.

I cannot get this to work at all, and I followed the instructions to the letter. I downloaded the updated app ages ago - the app actually defaults to having the notification switched on, but I turned it off and on anyway. So, that's the app set up exactly as instructed. I also logged out and in of my desktop browser. The article above says I should go to Google search and type "send directions to my phone". OK, well if I do that, I get a Google search page for the phrase "send directions to my phone". As in, a page full of articles exactly like this one. The article should clarify if this works in the UK as well as other countries - this is the sort of thing that really frustrates readers in other countries. I don't know if I can rely on the things you write.
Thank you for signing up to iMore. You will receive a verification email shortly.
There was a problem. Please refresh the page and try again.