Google Maps update brings new map viewing options and search filters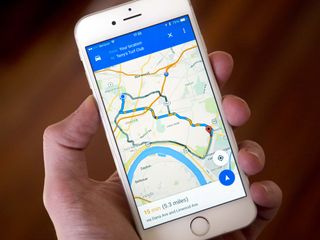 Users will now be able to view a map full screen, view transit line colors when receiving transit directions, and filter search results for restaurants rated on Zagat. Here's the full breakdown of what's new in Google Maps 4.4.0:
View a full-screen map by tapping an empty spot on the map
See transit line colors on the map when you get transit directions
Filter search results for Zagat-rated restaurants (where available)
Type, or tap the mic and say, "directions to" a place for faster results
Bug fixes
Overall, all of the new features look to be welcome changes. However, the addition of of transit line colors is especially noteworthy for anyone trying to get around in the city. To snag the update, simply hit up the store link below to get started.
Agree at this point, but Apple Maps is improving at a rapid pace. In fact on a recent outing I had to switch to Apple Maps because Google Maps was giving me in incorrect directions.

Part that really frustrates me about google maps is i can setup a custom map on their website. However theres no way to make one or run created ones from the website on the nav mode on the phone. Doesnt mean apple maps is better but what it means to me is that its worthless for me to have on the phone. Wish i could find an app that lets me create and run custom routes... Sent from the iMore App

Totally agree! That's the one thing I miss about the my old dedicated GPS days. I don't understand why there's such a disconnect between what you do in Google Maps on the desktop versus mobile. I mean, there's more of a connection between Google Maps (desktop) and Google Earth (mobile). Makes no sense.

They seriously need to add a night mode. Sent from the iMore App

Need to be able to set up routes for multiple destinations on a single trip, the same day. Can't understand why that's not available in (most) these ios map apps. I need it more in mobile than I do on a desktop.

It is crazy that no one has thought of making custom routes like that on the appstore.. Seems like a no brainer. Mapkin had a really fluent way of making custom maps then they pulled it and website says its in beta for boston. I also need one where i can make my own route or at least multiple destinations.. Sent from the iMore App
Thank you for signing up to iMore. You will receive a verification email shortly.
There was a problem. Please refresh the page and try again.