Inbox by Gmail is now available for your iPad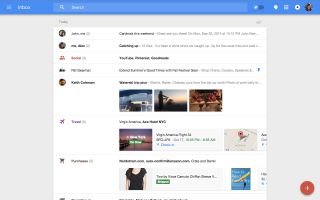 Google has released its Inbox app for iPad. The invite-only email client for tablets is already available for Android, promising to provide a new way for consumers to interact with incoming mail. It's not for everyone, but should you be on the hunt for a new client on iOS, the new Google Inbox may be worth checking out.
The app listing itself isn't new (since it's already out for iPhone), but the company has bumped it to version 1.2, offering an optimized interface for iPad users. It's an interesting way to use email for sure, having Google sort through email and prioritize messages the service feels are more important to you.
Via: TechCrunch
Now if only Inbox supported Exchange servers...

I'd rather not have Google sifting through my work email.

Is great! I only use it now!
Thank you for signing up to iMore. You will receive a verification email shortly.
There was a problem. Please refresh the page and try again.