Google reportedly developing keyboard for the iPhone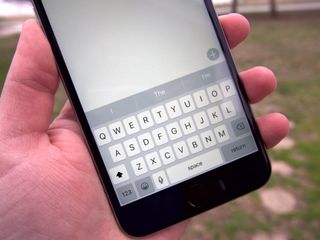 Google is working on creating its own keyboard for the iPhone, according to a new report. According to The Verge, the keyboard has been under development for some time, and includes features like gesture-based typing, GIF search and more. From The Verge:
If the rumors prove to be true, it wouldn't be hard to imagine Google's motivation for releasing its own third-party app for iOS. One-tap access to web searches right from the keyboard would ostensibly drive more users to Google's bread and butter.
Apple first launched third-party keyboard support with iOS 8, and we've since seen a number of well-known names like SwiftKey and Fleksy launch on the platform. However, third-party options haven't enjoyed much popularity on iOS since launch, so Google will have some work to do to lure users to its offering.
perhaps they'll beta it for 6 months and then kill it. The google plan

Or they will port the existing one they have on Nexus/Pixel devices which is actually pretty good. Posted from my Nexus 6P

Google's in-house keyboard might still be my favorite ever on a phone. Ideally, I want Apple's letter prediction when tapping, Google's accuracy while swiping, Apple's 3D-Touch cursor placement, reliable 10-key when it's supposed to show up, and a dictation button when I'm not supposed to be touching my phone anyway. Is that too much to ask?? lol

Come to think of it, I think that what I would like best would just be swiping on Apple's built-in keyboard.

Yes. Sent from the iMore App

Yes. I agree Sent from the iMore App

A key logger built by the biggest ad company on the planet. What could possibly go wrong? Since iOS has improved Siri and Spotlight searches I have rarely used a search engine (and use DuckDuckGo as my default anyhow).

Apple restricts keyboards from sending keyboard data online unless you ask it for the extended permissions where you get a warning, and even then it will not allow the keyboard on password fields

If any key logger is built in it would be in all the keyboards and done by the NSA. Not Google.

My biggest and only issue with these keyboards is the lack of dictation! I love the tracing keyboards but use dictation all the time. I need both!

We'll if it's in there it would be Google's dictation which is a lot better than Apples.

I would love a number lock on a keyboard that stays past hitting the space. For example it would be nice to double tap the number shift so that I could send an SMS that consists of "stop_number route_number optional_direction_number". Right now each time I tap the space I have to then tap the number shift so that I can enter numbers again. Actually it would be nice to resend previous messages in Messages so that you don't have to write out the last one again (or copy and paste it) when the bus hasn't shown up and you are wondering when it's going to get there.

If you hold down the num key, you can type out as many numbers as you want until you release the num key, no? (This takes two hands probably though...)

I just tried it and holding the number key down behaves exactly the same as double tapping it. As soon as I tapped the space key all of the keys turned back to letters.

I just tried it and holding the number key down behaves exactly the same as double tapping it. As soon as I tapped the space key all of the keys turned back to letters.

I would use a 3rd party keyboard if it showed up every time I typed. Currently, it hit or miss. So I just went back to the iOS keyboard. Fleksy is so much better.

The Google Keyboard is my go to keyboard on Android and I would love to have it available on my 6 Plus. Though I hope that Apple squashes the bug that reverts the keyboard back to the stock keyboard randomly even when not entering a password. Hope to get a beta link in the coming weeks.
Get the best of iMore in in your inbox, every day!
Thank you for signing up to iMore. You will receive a verification email shortly.
There was a problem. Please refresh the page and try again.