Green Chef vs. Hello Fresh: Which should you use?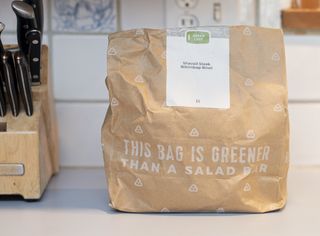 Organic specialty kits

Our top pick, Green Chef, ships only organic ingredients and offers several specialty menus for vegan, gluten-free, Keto, and Paleo dieters. The recipes weren't inspiring, but if you need a kit that meets specific requirements, Green Chef probably has you covered.
For
Specialty diet menus
Organic produce
Against
Too expensive if you don't need specialties
Uninspired menus
Everything else kits

Hello Fresh is a solid meal kit choice for everybody. There are plenty of menu options each week, the food is easy to prepare, and adventurous eaters can pick up gourmet options. The recipes aren't very challenging, but maybe that's a good thing.
For
Wide selection of weekly recipes
Family and novice-friendly
Inexpensive
Against
Few options for special dietary needs
Hello Fresh has long been known as an inexpensive and accessible meal kit service. Green Chef, a relative newcomer, began as an all-organic meal kit, and now specializes in quite a few restrictive diets. If it seems like there is little overlap between the two, Hello Fresh agrees with you, because Hello Fresh bought Green Chef in 2018 to round out its specialty offerings. The two services still appear independent, as far as the home cook is concerned, with no cobranding or shared recipes between them.
If you're choosing between Hello Fresh and Green Chef, your lifestyle has likely made the choice for you. Are you passionate about organic ingredients? You need Green Chef. Are you a Keto dieter on a ketogenic meal plan? Green Chef has you covered. Paleo? Green Chef. Gluten-free? Green Chef is the only meal kit certified by the Gluten Intolerance Group (GIG), so it beats FDA standards for gluten-free food production.
Are you vegan? You might find a week's worth of recipes on Hello Fresh, but there are no guarantees. Hello Fresh offers a "Veggie" preference for its basic plan, but it does not segregate dishes that contain animal products. On the other hand, Green Chef allows you to search a full vegetarian menu or filter only vegan recipes, with enough recipes to fill a meal kit every week, no matter your preference.
What's Your Diet?
Here are the dietary needs served by each:
Swipe to scroll horizontally
| Header Cell - Column 0 | Green Chef | Hello Fresh |
| --- | --- | --- |
| Gluten-Free? | Yes | No |
| Vegan? | Yes | No |
| Organic? | Yes | No |
| Keto? | Yes | No |
| Paleo? | Yes | No |
| Recipes/Week | Up to 8 per plan | 23 |
| Cost/Serving | $10 | $12 |
| Upcharge options | "Gourmet" ingredients | "Keto" and "Paleo" plans |
This may seem like a slam-dunk for Green Chef, but are you a passionate organic eater? Are you following a ketogenic diet? If you need these specialty menus, Green Chef is one of your only options. Sun Basket is another meal kit service that offers organic, paleo, and vegan options, but no gluten-free certification. However, if you don't follow one of these diets religiously, then Green Chef probably isn't worth the higher price.
Having used both services, I did not find the Green Chef meals to be any higher quality than the Hello Fresh meals, organic classification aside. The recipes are very similar, though not identical. The ingredient list was no less robust on Hello Fresh, especially considering the occasional "gourmet" add-on options.
Comparing the menus
Taking a look at recent menus for both Green Chef and Hello Fresh, the recipes seem interchangeable. Green Chef offers shrimp tacos one week, and the same week Hello Fresh offers beef taco and pork taco recipes. Green Fresh has herb-seasoned meatballs with butternut squash. Hello Fresh has beef-stuffed peppers with couscous.
Without looking, could you guess which service offers trout with lemon-basil sauce? Or which is serving barramundi with sriracha pesto? The former is Green Chef, the latter Hello Fresh. Green Chef occasionally goes low-brow with quesadillas and overloads the menu with bowls of quinoa or farro or such. Hello Fresh occasionally reaches the top shelf, offering duck breasts for a small fee, and the menu is heavy on pasta, rice, and flatbread pizzas.
Green Chef offers eight recipes on its Balanced Living menu, and you can switch to a different menu every week if you don't mind changing price brackets. Among all of the Green Fresh menus, there are about two dozen recipes divided between four main menus. Hello Fresh offers a whopping 19 different recipes the same week, all available from the same big menu plan.
Fitting your budget
Both services are more precise with the ingredients than other meal kits. You'll get a portion of an onion or bell pepper, not the whole fruit or veg. This makes it harder to stretch these meal kits to feed drop-in guests or the small child in the family.
Green Chef costs more, much more. The Keto and Paleo recipes for the organic meal kits cost $13/serving, or 30% more than the comparable $10/serving Hello Fresh kit. That's $6/meal, or $18/box. The Green Chef "Balanced Living" meal kits cost $2 more per serving than Hello Fresh or $12 more per week. That isn't very much, but if you don't care about the organic provenance, why spend extra? It's like paying for an extra serving every week.
Bottom line
In the end, my first choice must be Green Chef because there is no substitute for those gluten-free credentials. With so many targeted diet options, if you are searching for the right fit for your needs, Green Chef is worth a look. If you find it's not worth the cost, Hello Fresh and other meal kits will fill your dinner plans nicely.
Specialty Kits
The only choice if you must avoid

Specialized menus and organic ingredients make this meal kit a must-have for some eaters, but balanced dieters on a budget may not benefit.
Classic Meal Plans
A wider selection without restriction

With a wide selection and a reasonable price tag, Hello Fresh is the better choice for most cooks and families, but if you have dietary restrictions, you'll run into trouble.
Master your iPhone in minutes
iMore offers spot-on advice and guidance from our team of experts, with decades of Apple device experience to lean on. Learn more with iMore!