GTA: San Andreas coming to iOS in December, game controller support in tow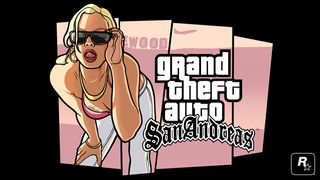 Following on from GTA 3 and GTA: Vice City, Rockstar Games has announced that GTA: San Andreas will be coming to iOS this December. The good news doesn't end there, as it will also be heading our way with support for MFi game controllers with iOS 7. Oh yes. From the official Rockstar Games announcement:
The new touch control system sounds pretty interesting, especially since that's how most people will play and it's fantastic to hear that Rockstar has put some real work into optimizing it. But, it's the MFi game controller support that's really exciting us. With recent announcements from Logitech and Moga, and surely more to come elsewhere, you could be cruising the streets of San Andreas in a whole new way on your iPhone come Christmas time.
Rockstar has said that more will follow in the weeks ahead, but we're already getting impatient waiting. Are you going to be jumping on this when it lands? And what about that controller support? Sound off in the comments!
Source: Rockstar Games
I will hopefully be picking this game up when it's released. The MFi controllers just makes it even more enticing. Can't wait! Sent from the iMore App

I gave up quite early on vice and 3 since trying to aim and control the camera was a nightmare. Sent from the iMore App

i had the same experience.

The MFi support is very promising for iOS titles. Sent from the iMore App

Yeah I really hope a new one gets announced soon. Something in between the Logitech or the MOGA Sent from the iMore App

And the next line of that press release:
"It will be available for select iOS, Android, Amazon Kindle and Windows Mobile devices. Stay tuned for more details in the weeks ahead." Yes, this isn't AndroidCentral, but I guess I wrongly assumed that being partnered with them would mean that if a story had to do with both, there wouldn't be a seemingly blatant omission. Guess I have to read two stories on what I thought were "sister sites" to get a complete story.

Make it three if that's what you're going to do. Since it's also available for Windows Phone. And you're right, this isn't Android Central. If you're interested in what's coming to Android devices, then that's the best place to get it.

Don't you mean four then, as it's Kindle too (it's Android but a completely different look and pretty much ecosystem)? That wasn't my point, and I thought that was apparent. What I'm interested in is complete stories about phones. I expected more, for lack of a better word, equality. I figured the whole group up you guys did meant I'd get complete stories, not editing out. I'm not saying to tell me about the Galaxy S 5, I'm saying I'd expect as you have an Android Sister-Site that a mention of Android (or WP or whatever) wouldn't be cut for no other reason than "This is an Apple site".

Can't seem to edit the last one, so I'll add a reply. WP Central mentions all of them. I'm not sure if you're editing that as we speak, but one of the emails I got as a "someone has replied" said you were going for "target audience". That would lead me to believe that you don't expect any crossover from your merger/partnership with CrackBerry/AC/WPCentral? I'd even further say that you guys should split if that's the case, otherwise it's a false impression of unbiasedness. Again, I'm not asking for Android news, I'm asking why, when I see a you guys are partnered, I have to see if it shows up on your "sister sites" to know if it's all three, when that one line could have been simply left on the quote. I don't think someone would be upset seeing that it was all 3 if they are an iPhone user. What if they went to their Android buddy and said "HAHA, iMore said I'm getting San Andreas!" then the Android guy said "Yeah, I have it coming too, guess you didn't read the whole story!" iPhone guy "I did... :("

Woooo are you serious everybody been talking that game every since it was released now all I need is Gears of war Are God of War to come to iOS Sent from the iMore App

How big would the game be in size? More than 1.5 gb? Sent from the iMore App

Good question. These games are huge! Sent from the iMore App

Should be around that size. Vice City requires a 930mb download. Sent from the iMore App

Very interested in the controller option. Tried the others and the touch controls and GTA didn't work well enough to keep it on my phone. Sent from the iMore App

I would love an iOS controller that has the elegance of the Logitech one but the buttons of the Moga. I'm waiting for the perfect one. However I don't understand how an XBox 360 controller costs 60 bucks but these cheaper ones are all $99. Either way, GTA on a handheld? Dream come true with the iOS controller support. Sent from the iMore App

Very promising Sent from the iMore App

What!? If this is real i will definitely be purchasing the gaming controller for my 5s. My favorite game ever! Sent from the iMore App

Really annoyed with no BB10 support -_-

I had a BLAST playing GTA III and Vice City on my IPad, so I'll be downloading San Andreas the minute it's released! The previous titles played just fine with virtual controls, so no MFi controller for me. Sent from the iMore App

This is great news can't wait. Now I just need to find me a good paddle to buy for iOS 7 Sent from the iMore App

Hopefully it will run well in my old iPhone 4S.

Hopefully will support A5 devices and multiplayer. Sent from the iMore App

Great news! Always been a fan of GTA (waiting for a GTA V PC release).
I know that one of the usual complaints in mobile (touchscreen) gaming are the controls. So it's nice to see that they're really tweaking the controls to better fit these types of devices. I wish they would also manufacture controllers for the iPad Mini. I find it the perfect balance of screen size and portability for mobile gaming. Sent from the iMore App

That's awesome. It has me thinking.. Will game consoles even exist about a decade from now or will everyone be playing full console version games on their iPad 15. Sent from the iMore App

That's awesome. It has me thinking.. Will game consoles even exist about a decade from now or will everyone be playing full console version games on their iPad 15. Sent from the iMore App

This is great! Sent from the iMore App

I have a question: iOS games that support "iOS7 game controllers" will those games also work with the iCade? I have an iCade 8-bitty from a year or two ago, but the supported game list for it is kind of small.

Counting the days in order to download the game Sent from the iMore App

Super excited for this! Sent from the iMore App

Looking forward to playing this. The entire series is fun, this should be no exception. Sent from the iMore App
Get the best of iMore in in your inbox, every day!
Thank you for signing up to iMore. You will receive a verification email shortly.
There was a problem. Please refresh the page and try again.