Halide's new camera UI was designed from scratch for iPhone X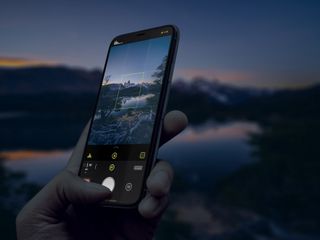 Ex-Apple designer Sebastiaan de With announced on Medium today that his and Ben Sandofsky's gorgeous iPhone camera app Halide is getting a new update, just in time for the release of the iPhone X. The app hasn't only been adapted to scale correctly on the new screen, however — it's been completely redesigned from the ground up to take full advantage of the iPhone X's strengths.
On the iPhone X, Halide 1.5's camera UI stretches from edge-to-edge, utilizing every pixel of the screen's unique shape and size. It even uses the top corners on either side of the infamous notch to display camera data like exposure values. And because of the iPhone X's extra space, nothing obstructs the viewfinder: all of Halide's controls are now within reach of your thumb below the viewfinder, getting them out of the way. This also means that you can use Halide one-handed without any trouble.
In addition to the new camera UI, Halide 1.5 captures Depth on supported iPhone models, letting users to apply Portrait Mode effects to their snapshots in the Photos app after they've captured them. New hardware-based noise reduction has also been introduced in 1.5, giving you the sharpest images possible. And like the native Camera app on newer iPhones, Halide is able to capture photos in HEIC, allowing for higher quality files that take up less space.
If you'd like to download the newest version of Halide so you can start your iPhonography binge as soon as you get your hands on your new iPhone X, you can do so on the App Store:
Questions?
What do you think of Halide's new interface? Share your feelings with us in the comments below!
Tory Foulk is a writer at Mobile Nations. She lives at the intersection of technology and sorcery and enjoys radio, bees, and houses in small towns. When she isn't working on articles, you'll likely find her listening to her favorite podcasts in a carefully curated blanket nest. You can follow her on Twitter at @tsfoulk.
Seems pretty good for a great camera app 🙂

LOL if you think that's expensive, the original Gaia GPS app was $20 (version 2 is a subscription).

Many maps apps are that price or above. I'm fine with a price like that so long as it's a great app, but subscriptions are a no-no

Yeah I was glad Gaia gave owners of the original app 2 years of "subscription" time on the new one. Don't know if I'll pay for a renewal after though.

I wouldn't, I don't agree with subscriptions at all (unless they rely on some sort of server which would have to be maintained). Good apps can go bad, Adobe went to subscriptions as well. If they didn't want people to pirate their software, then all they've ended up doing is getting people pirating it more

Yeah Gaia allows you to create maps/routes/etc on their website and sync to all your devices with the app on it and it used to be you could do some extra stuff if you had the subscription in addition to paying for the app. Now the new app is free but you need a subscription to really do anything with it. They're always updating map sources and adding map sources though.
Get the best of iMore in in your inbox, every day!
Thank you for signing up to iMore. You will receive a verification email shortly.
There was a problem. Please refresh the page and try again.