Hangouts for iPhone and iPad updated with location sharing and more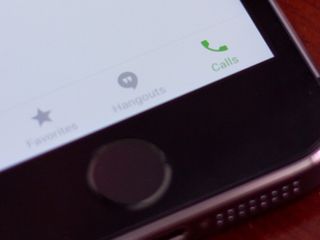 Google has released an update for the company's Hangouts app, available on iOS for the iPhone and iPad. Today's update includes new sticker packs, status messages, location sharing and more, bringing this offering up to speed with the Android counterpart.
Here's the list of changes included in version 2.5.0:
New sticker packs!
When friends ask where you are, share your location in one click with smart sharing suggestions.
Leave status messages so that people know what you're up to or how you're feeling.
Find your friends and family on Hangouts more easily by phone number.
See SMS and Voicemail from your Google Voice account.
Improved video call experience and miscellaneous bug fixes.
Head to the App Store to download the latest update.
Get the best of iMore in in your inbox, every day!
As an idiot who thought it would be smart to use Google voice and an iPhone, this update helped in my life. I would still love an update to the Google voice app itself, but I'll take anything I can get Sent from the iMore App

The new update broke my abilities to accept incoming calls from my google voice. The app crashes continuously when I get a call and try to pick up. SMH. Luckly enough I had a old copy of the old version to roll back on. Don't they fully test these apps out before they release a update, jeez!

maybe they will fix that bug

This sort of kind of looks like it will finally let you use Hangouts instead of GV for SMS on iPhone! Only tested a little, but was able to both send and receive SMS to a number without a google account like regular SMS. If this is correct this is HUGE for google voice users. iMore - how about a little more digging and acknowledge what many have been waiting a LONG time for if I'm correct?

This is how it works on android. If you have Google voice and a Google voice number then you can text from a computer, phone, or tablet to any number. You can make and take calls using that Google voice number. You don't even need a phone. If you left your phone at work or is dead and some one calls your Google voice number anything your that had handouts will ring. I shattered a screen on my android phone and didn't have a cell for a month and still took calls and txts from My tablet and pc. Love it.
Thank you for signing up to iMore. You will receive a verification email shortly.
There was a problem. Please refresh the page and try again.