Download Harry Potter movies to your iPhone and iPad with The Harry Potter Film Collection: App Edition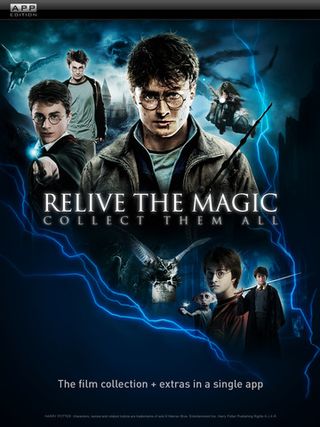 You can now purchase and watch the Harry Potty movies on your iPhone and iPad with The Harry Potter Film Collection: App Edition. When connected to Wi-Fi, you can stream the movies instantly, or if you download the movies to your device, you can watch them locally without a connection - perfect for long car and plane rides!
Relive the magic and download The Harry Potter Film Collection: App Edition to stream the first five minutes of Years 1-6 and Year 7- Part 2, and gain access to a sample of extras. For the complete experience, buy the Full Version and unlock the movie with all the extras or purchase Years 1-6 together as a bundle and save! Experience the films in the language of your choice PLUS gain access to over 100 extra videos with exclusive behind-the-scenes, special features, deleted scenes and more. Immerse yourself in the wonder of Harry Potter with more than 200 photos including movie scenes, production stills, wallpapers, and posters from Years 1-6 and Year 7- Part 2, that can all be saved as wallpapers and shared with friends. You can download the movies to your device for offline playback or stream whenever you want! Available exclusively for iPhone®, iPod touch®, and iPad™.
Offline playback: Download a movie directly to your device to playback at anytime
Streaming playback: Stream a movie instantly over WiFi*
Extras: Enjoy bonus video features that take you behind the scenes with filmmakers and cast
Art gallery: Explore posters from Years 1-6 and Year 7- Part 2, wallpapers, movie stills, and production stills
Multiple languages: Watch the film in your language of choice**
Real-time news: Live Twitter and Facebook updates
Explore the magic: Go further into the world of Harry Potter with related content available to download on iTunes
The Harry Potter Film Collection: App Edition is available on the iPhone and iPad for free. Each movie is available for $9.99 (except for Deathly Hallows - Part 2 which is $16.99) or you can download the entire collection for $47.99.
Have an app you'd love to see featured on iMore? Email us at iosapps@tipb.com, tell us about your app (include an iTunes link), and we'll take a look.
[gallery link="file"]
Former app and photography editor at iMore, Leanna has since moved on to other endeavors. Mother, wife, mathamagician, even though she no longer writes for iMore you can still follow her on Twitter @llofte.
Harry Potty .... hahaha .. :)

Wow. Fail. Sorry about that, lol. Fixed!

For whatever reason they pulled film 7 part one from the downloads makes this totally useless.

I'm gonna rent part 2 from blockbuster

Music Will Change... Foreverwww.musicwillchangeforever.com

It sounds like you can only play these movies in the app, is that correct (as opposed to making them available in iTunes). I wonder if it will support AirPlay for viewing on ATV?

I bought the BluRay collection of the entire Harry Potter series. lol Think they'd toss that in as a freebie. No digital goodness. All disc. XD
Thank you for signing up to iMore. You will receive a verification email shortly.
There was a problem. Please refresh the page and try again.