Having issues with app permission popups in iOS 8? Here's the fix!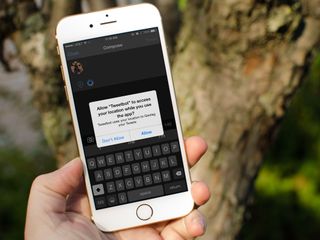 When you launch a new app for the first time, you'll often get a popup asking you for permission to access your location, contacts, calendars, photos, etc. Some people, however, are getting the popup multiple times. Over and over again. If you're running iOS 8 and you're getting multiple popups, don't worry — here's the fix!
How to stop multiple app permission popups
Launch the Settings app on your iPhone or iPad.
Tap on General.
Tap on Reset.
Tap on Reset Location & Privacy.
Type in your passcode if you have one.
Tap on Reset Settings to confirm.
After you do this, all location and privacy permissions will be reset. You'll have to re-authorize everything again the first time you launch an app that needs access to your location or other default apps, but it's a small price to pay in order to stop the popups from happening continuously.
I've done this on two devices and afterwards I only had to authorize things one time for them to stick. If you are having the same issue, give this a try and let me know if it works for you or not!
Get the best of iMore in your inbox, every day!
iMore senior editor from 2011 to 2015.
Oh man, thanks for this :) I wish you could just approve these globally. I'd never install an app that I wouldn't give this permission to, so it's kind of annoying that it always pops up.

Does anyone know why the pop up window keeps popping up wanting me to put my password in to sign in to iCloud?? This has been going on sense I updated to iOS 8. Thanks for any help. I already tried resetting. Sent from the iMore App

I've had this issue too and I think it's something wonky with iCloud backups. Keeps having to be re-authorized for some reason. Haven't had it happen on 8.1.1 though, so that's promising.

Also, how can I get rid of the repeating pop up on my iPad Air 2 to pick a cellular service?

Not sure you can :\ Take the SIM out and it will only pop up when you reboot i believe that no SIM is installed. Slightly less annoying?

Hey Allyson! What do you think is the reason we can't make the cellular prompts go away? And is this new to iOS8? I recently upgraded from an iPhone 4 running iOS6 and a grocery list app I still use never prompted me for cellular access on my old phone. On iOS8 it does and it's quite annoying. Is it an app issue? I've even submitted a suggestion to Apple to give us the option of turning the prompts off. I'll keep hoping...

I don't have a SIM card in my iPad, and I get the pop-up very often, and there's no way to get rid of it. After iOS 8.1, it's a little better though, before that, it was several times I a hour.

Hey, thanks for saving me the trouble of taking out the card etc. I'll ask the senior Apple advisor who is supposed to be calling soon to follow up on a different issue if he knows anything about this. If so, I'll pass it on.

I'm going to give this a go and hope the Photos app stops this every time I open it! Thanks Allyson, helpful to have your articles, as always.

I don't allow apps to access location, etc. and only set specific things to notify. I went in to restrictions and forced that to be "no background updating" and "no location access" and it's not happened again.