Having trouble tracking exercise on your Apple Watch? Here's how to fix it!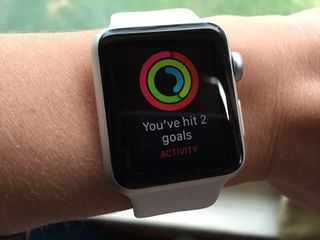 I'm loving my Apple Watch Sport so far, but I've had some minor problems getting it to properly track my daily movement and exercise goals. If you're having this problem too, you're in luck: Thanks to a helpful Twitter commenter, I found this great document from Apple Support (opens in new tab) on calibrating your Watch to more accurately track your Workouts and Activity.
How to calibrate your Watch for better Workout and Activity tracking
Find a place that's (relatively) flat and offers decent GPS reception. (I just walked a long loop around my neighborhood.)
Make sure you have your iPhone on you, preferably in your hand, pocket, or attached via armband.
On your Apple Watch, open the Workout app, then choose Outdoor Walk (or, if you're feeling particularly masochistic, Outdoor Run).
Set the timer for 20+ minutes.
Walk (or run) at a consistent pace for 20 minutes so that the Watch can learn your pace and stride.
And, of course, my favorite step: rewarding yourself with a little incentive after calibrating.
For even more accuracy, you can repeat this process multiple times for different speeds, so that the Watch can learn your strides at different intervals. Once you've performed this calibration, the Watch has enough data to process how you walk or run, and that can help it recognize your movements elsewhere during the day. (And help you hit your movement goals!)
Hope this helps! If you're having any other trouble with activity tracking on your Apple Watch, feel free to leave a message in the comments and I'll try my best to answer it for you.
Serenity was formerly the Managing Editor at iMore, and now works for Apple. She's been talking, writing about, and tinkering with Apple products since she was old enough to double-click. In her spare time, she sketches, sings, and in her secret superhero life, plays roller derby. Follow her on Twitter @settern.
Serenity, are you aware of any app or other way to export Workout data to other apps or website? So, for example, if I want to track a run with the Workout app it tracks fine and saves the data in the Activity app on my phone. But I'd like to have the data for that run exported into my Garmin app (or RunKeeper or any other app). Some third parties have come out with their own running apps, but since they don't have access to the HRM I'm reluctant to use them. Thanks!

I think all that data dumps into the Health app (where other apps can draw from it) but not positive. Have to check.

Hi,
its correct that data gets dumped into Health app (data type "workout"), but I haven't found an app that pulls it from there and displays it on the iPhone or syncs it to somewhere else. Consequently no way of exporting runs tracked with Apple's activities app on the watch to any of the existing ecosystems. Also no way of viewing the map (if run was conducted with an iPhone). Not sure the watch even records the GPS data... But be thankful if anybody else already found a solution to this.

Is that a 42mm watch? Either that or you have very small wrists.

Tasty looking ice cream, Serenity.

I can't get mine to do anything till June.....

I just sent a tweet to Tim. One day I had a 3,000 step gap difference. Apple called me back in less than 10 hours. Have yet to speak about issue though... phone tag and all. But thanks for that tip. I'll for sure try that out to see if it makes any difference!

Hey Serenity, First of all great article! Second of all I am in a wheelchair and I got a  Watch and it's like everyday my activity app on my  Watch the green ring has overlapped by a lot because I'm in my wheelchair all day and I want to mapmaker the app work right and I do stand also but not a lot but also with the move ring so how do you set up the app to work right and how would you set the calories right so I earn the goal rings? Also I know you can use the workout app but I have not yet but I will but just the activity app have been tracking my calories and exercise ring have overlapped and the move ring so how do I set that up right and with the calories to burn? Thanks Sent from the iMore App

I have an issue where my watch says I have 10000 steps and when I open the activity app it says I only have 8000 steps. How do I get the activity app on my watch to sync with the activity app on my phone? Also- since the last update about two weeks ago, my standing stopped tracking. I only had my watch for two days at that point and it worked the first two days. I've looked for help on how to fix it, but it was for older versions of the watch. I tried the fixes anyway and it still didn't work. I've unpaired and repaired and hard reset and everything. I'm starting to think there is something wrong with my watch. I've always had a Fitbit and was able to just select 'sync' in the app and the info from the Fitbit to the app would match exactly. I'm really starting to miss my Fitbit.
Thank you for signing up to iMore. You will receive a verification email shortly.
There was a problem. Please refresh the page and try again.