Having trouble with Wi-Fi calls and Handoff calls? Read this!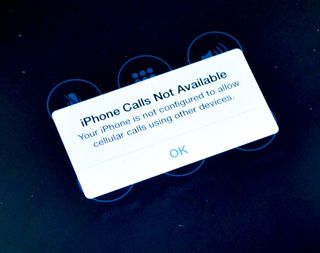 Handoff and Wi-Fi calling are two new features of iOS 8 (and the new iPhone 6 and iPhone 6 Plus). Unfortunately they don't play very well together. If you've run into problems getting Handoff to work right after trying Wi-Fi calling, here's how to fix it.
Handoff is a new set of iOS 8 and OS X Yosemite integration tools that let your Mac and iOS devices to work better together. Handoff is what makes it possible for you to start typing an email on your iPad and finish it on your Mac without missing a beat.
Handoff also what will allow you to make and receive phone calls using your iPad or Mac (once OS X Yosemite is out in the world). And that's where we run into a bit of a wrinkle.
Wi-Fi calls are another new feature of iOS 8. The feature lets your iPhone use your local Wi-Fi network to send and receive calls, instead of relying on your cell carrier's closest tower. The feature has debuted in iOS 8 with T-Mobile in the United States and EE in the U.K., and it's coming to other carriers in the coming months.
Wi-Fi calls and Handoff both depend on a common element: Wi-Fi. Which is why when you turn on Wi-Fi calls, you'll see this message pop up on your phone:
Handoff's ability to let other devices use your iPhone to make and take calls is interrupted when you turn on Wi-Fi calls. When you try to initiate a call from another device that's supported by Handoff in iOS 8 or OS X Yosemite, you'll get an error message like this one:
Here's the fix.
To restore Handoff calls on your iPhone
Tap Settings
Tap FaceTime
Tap iPhone Cellular Calls to turn it on.
A notification will appear telling you that Wi-Fi calling will be turned off. Click OK.
That's it! You should now be able to send and receive calls on your Handoff-connected devices, through your iPhone. The next time you use Wi-Fi calling you'll need to reset this setting in FaceTime before Handoff calls will work again.
It seems a bit confusing. Hopefully over time Apple will figure out a more elegant way to handle this. But for now, this should help. If you have any questions, fire away!
See also:
Could this feature also be why I'm having a horrible wifi connection on just my iPhone 6? Every time I try and stream something on the iPhone it just freezes. Sent from the iMore App

Seems to be working just fine on my iPhone 6. If you've restored from a backup when setting up your new phone, I might recommend resetting network settings (Settings > General > Reset) to see if that will help. You'll need to reinput Wi-Fi passwords.

After wiping my iPad again and setting up as new again, I can now initiate and receive calls on my iPad. Handing off other apps still not working like they should though. Sent from the iMore App

And I can't handoff a call from iPhone to iPad. I have to initiate or answer the call on the iPad. I can handoff to iPhone from iPad though. Sent from the iMore App

No help for me here. Handoff simply does not work for me. iPhone 5s on AT&T. Sent from the iMore App

Peter, you mention initiating a call from an iPad. I have been able to figure out how to do that with my iPad Air and my iPhone 6 with both on the same wifi network.

Give this a try: Can't get Continuity calling or Handoff working in iOS 8? Here's the fix!

I was unable to make or receive a call on my iPad Air also. After reading Peter's article and following his instructions, I have found a new issue that I could use some advice with. I now get an error message that states my iPhone & iPad must be on the same WIFI network. I have an Airport Extreme as well as an Airport Express providing my WIFI network. both Airports have the same user ID and password and I have no other WIFI issues... Whats up?

Hey iMore team - great advice and guidance on IOS 8. You guys rock! Do you by any chance have a fix for instant hotspot not working right? I have done all usual installs/network setting resets etc but when i try to use my wifi only iPad (that's tethered from my iPhone) it either doesn't work or it works but only as it used to (i.e it's a complete fiddle rather than being a press of a button on the device you want to use. Help! Sent from the iMore App

I am not using icloud, and when i turn iPhone cellular calls on it turns back off and says" facetime and icloud must be signed in the same apple id" any ideas how to solve this?

I have an iPhone 5 & iPad Mini R. I had no trouble with handoff except with making & receiving calls. Tried this tip a number of times to no success. Then read a tip where the writer said he reset his devices (power & home button). Well it worked for me ever since, I now get calls & can make calls on my iPad Mini. Hope this helps those who are still having problems

My iPhone 6+ dropped 3 calls today while on wifi calling....not a good start for t mobile and apple. Sent from the iMore App

T-Mobile offers a Personal Cellspot device that's a Wi-Fi router optimized for Wi-Fi calls. If you have a lot of problems with the feature, this may be a solution. Read more about it here. T-Mobile's Personal CellSpot, Wi-Fi Calling, and 4G LTE Booster explained

Peter slightly off topic 8 have iPad3 and iPhone 5S and due to iPad being 3 with some BLE but not good enough for AirDrop I fully expected that handoff will no twork at all. If you say it is the same toolkit that deals with calls and continuity how come I get call to iPad but no ebility to continue in emIls etc? Thank you in advance!

Very odd that these two don't work together yet. Hopefully Apple will fix this in 8.1, by which point perhaps other carriers will have got their acts together and started supporting Wi-Fi calling.

WiFi handoff doesn't work on Android devices too. I have a Galaxy S5 and it was never able to handoff a call started on the WiFi network to the cell tower. When I get out of the WiFi calls, established calls are lost and the phone struggles to reconnect to the tower. Add to that when WiFi calling is enabled, randomly the phone is unable to accept incoming calls. Ithe is a nice feature if it was thoroughly tested before it was released
Thank you for signing up to iMore. You will receive a verification email shortly.
There was a problem. Please refresh the page and try again.