Hands-on with the world's heaviest (maybe?) iPhone accessory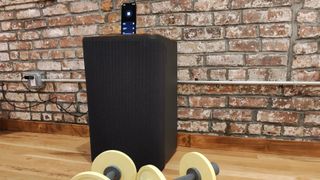 (Image credit: Future)
I've got at least 100 pounds plugged into my iPhone, a frankly astonishing amount of weight -- that's closing in on a quarter ton, after all. Scratch that: My iPhone is plugged into a 100-plus-pounds of gear, making the phone itself the accessory part of the equation.
No matter how you slice it, there's a lot of weight sitting in the corner of my apartment.
I've been testing out the Tempo Move, an iPhone-only weightlifting system that's essentially Peloton for your pecs. And it's easily one of the heaviest things you can plug into your iPhone -- not counting a Carplay-equipped Honda Accord or something like that, of course.
The Tempo Move is a truly beautiful cabinet that tucks away a series of weight plates, collars, and handles that can be assembled in seconds into dumbbells for people of all strength levels, ranging from I-got-this to gimme-a-hand-over-here-willya? The plates themselves are color-coded, making it easy to sort them; hidden neatly in the cabinet behind a magnetic bamboo door; and overall very well constructed. Honestly, Tempo Move is high-end furniture masquerading as fitness equipment.
Start with the Core
But the brains of the whole system is the Tempo Core, a hockey puck with an iPhone dock (yes, Lightning, although a USB module is available, the company says). It plugs into the top of the cabinet: Route power and HDMI cables through a channel in the back of the cabinet and dock your phone and you can stream live or pre-recorded strength-training classes to your TV. It works with most iPhones — the XS / XR or later — and requires iOS 14 at the very least. But you've got that, right? And here's where the power of the iPhone comes into true play.
Tempo uses the TrueDepth time-of-flight sensor built into the iPhone to watch you lift, counting reps for you and correcting your form so you can concentrate on feeling the burn. And if you've got an Apple Watch, or any ANT+ compatible monitor, your heart rate, exertion level, and more can be measured as well. With all this data, Tempo tailors the workouts to you, suggesting which weight plates to put on and how many reps you should hit. And a sensor built into the dumbbells detects how much weight you're lifting based on the color of the plate. Ain't technology great?
Deadlifting the setup process
During the pandemic, I built out a home gym in my basement, and comparing my old approach -- a pile of weights and plates shoved under the staircase -- to this system is night and day. But getting Tempo set up and positioned isn't half as straightforward as I'd like.
The system showed up in boxes galore, and simply unpacking it is a weight-lifting challenge of its own. You can position the system in a few ways, depending on what your TV set up looks like: You can drop the cabinet and Core near the TV, as I did, or remove the Core and sit it next to your television, if your set sits on a console table or cabinet already. Then the weights can live wherever you'd like. Just keep in mind that your iPhone, when docked, needs to have eyes on you: Put it on a shelf too high and the time-of-flight sensor won't be able to track reps.
Think long and hard about where you want this thing, people. Remember, it's the world's heaviest accessory, right? So you'll be unlikely to move it much after your weight plates are stacked and gravity grabs hold.
My kit has two handles (7.5 pounds each), and red (4 x 1.25 pounds), yellow (4 x2.5 pounds), gray (4 x 5 pounds), and blue (4 x 10 pounds) weight plates. That's 82.5 pounds right there, not counting the weight of the cabinet itself.
Pumping iron
Once you've logged into the Tempo app and entered your demographic data, a helpful video pops up to walk you through the system. For whatever reason, the video didn't appear for me the first time around, and I confess, I was lost. I started a class, and sure, I know how to do an arm curl. But what are the icons on screen? What do these numbers mean? What's going on?
A replacement Core somehow allowed me to watch that video -- I'm still unsure what happened there -- but it didn't simplify the whole thing as much as I'd like. It didn't explain what the icons were. It took me a second to figure out: The top one is time left in class, a fire icon in the middle measures exertion (calorie burn, maybe?), and the bottom circles are the weight you're lifting.
The classes I've taken are just like those from Peloton, the Mirror, or any of the other numerous online training programs you can learn and burn from. The instructors are charming, motivating, and uniformly better looking than I am. Live classes are temporarily on pause, the company told me, though I'm unclear why or what they're waiting for. But with a deep library to choose from, I preferred pre-recorded classes anyway.
Overall, the Move is a very smart system, though getting settled took a fair bit more thought and learning than simply plopping a bike in your basement and starting peddling. Still, the clever brains of the system were neat, and the polish to the system overall was much appreciated. I'd give it two thumbs up … if I could lift my arms.
Master your iPhone in minutes
iMore offers spot-on advice and guidance from our team of experts, with decades of Apple device experience to lean on. Learn more with iMore!
After 25 years covering the technology industry, Jeremy Kaplan is a familiar face in the media world. He is currently the Content Director for iMore, where he oversees product development and quality for one of the world's largest and most respected technology publishers.
Before joining the iMore, Jeremy was Editor in Chief of Digital Trends, where transformed the niche publisher into one of the fastest-growing properties in digital media, ranking on the annual Inc 5,000 for three years running. The publisher won multiple awards during his tenure, including a sought-after Digiday Content Marketing Award in 2019. The same year, Jeremy was named to the FOLIO: 100, which honors publishing professionals making an industry-wide impact.
Prior, he served five years as the science and technology editor for FoxNews.com, where he made international news through a series of articles exposing Hector Xavier Monsegur as the head of LulzSec, revealing a months-long collaboration with the FBI, and detailing the ultimate takedown by law enforcement officials of the hacker collective. Kaplan worked for over a decade at Ziff Davis Media, publisher of PCMag.com and Extreme Tech. While there, he helped found the GoodCleanTech blog, which was a 2008 finalist in the MIN Best of the Web Awards and the Jesse H. Neal National Business Journalism Awards Competition and ultimately served as Executive Editor.
He's a sought-after tech pundit and futurist who's worked with organizations like the Consumer Tech Association to identify and highlight the world's most innovative technology. Kaplan appears regularly on television and radio, including frequent appearances on Fox Business, Reuters, Cheddar, and NPR.