Apple Health Records: Everything you need to know!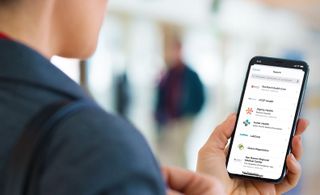 (Image credit: Apple)
Apple Health Records is a feature that has been around for a few years now. This tool helps you keep your medical information safely on your iPhone. And yet, you probably haven't seen or heard much of it. However, Apple is always improving and expanding this feature. Learn more about it here!
What is Apple Health Records?
Apple Health Records is a feature built inside your iPhone's Health app. However, unlike your Health app, which tracks your regular information, like the heart rate that you take with your Apple Watch, or an external heart rate monitor, your Health Records store you clinical and medical history.
With the help of institutions that support and use Apple Health Records, you can quickly access your medical information from your iPhone, share it with doctors or medical providers, and even get your test results right inside the app.
This feature was created because of the huge popularity of the Health app and the Apple Watch had. Because of how easy it was to record and track a lot of data, including your steps, your heart rate, and even the workouts you made using the Fitness app, formerly known as the Activity app.
Is Apple Health Records really that important?
Source: Apple
It doesn't matter how you look at it, having your medical information at hand is important, and it's practical as well. Apple Health Records helps both the patients and the care providers.
It helps doctors, hospitals and clinics have quick access to your Electronic Health Record, or EHR for short. They can quickly learn everything about your medical history, instead of having to rely on your memory to give the correct information. This would be extremely helpful if you go to several medical institutions, or if you just changed doctors. That way is easier to learn from these records and give the patient a better, more efficient treatment.
And it helps you have your records at hand, making it easier to know about your clinical records, and to share them with any institution that you want. Plus, you can see any additional information that's updated to your Health Records, like some test results that the medical institution sends you.
The best part is that the Apple Health Record feature shows you all your medical information in simple terms. You don't have to be an expert to read and understand your data.
How many times have you forgotten about your prescriptions, or when you took your last blood test. With Health Records, you don't have to even think about your tests. Everything is neatly stored in one place.
Is Apple Health Records safe?
This is one of the most important questions. After all, your medical records are highly delicate and private information. Apple has always worked hard to ensure its users' privacy remains secure, and the company is doing the same for your medical records.
During an interview with Kevin Lynch, Apple's VP of Technology, he tells iMore how "At Apple we value privacy so highly, we built our system to manage health data including health records in the most secure way. Health data is some of the most important and sensitive data that people have, and privacy is core to everything that we do."
Ultimately, your medical history is secure behind Apple's Health Records features. The only way you can access it and share it with professionals and other apps is by entering your PIN, and using Touch ID or Face ID. Plus, Apple makes it very clear that your information is only shared with the institutions you chose, and once you send or receive any type of information, the information is shared without using Apple's network.
It's also worth noting that Apple states it's not creating, receiving, and maintaining or transmitting any protected health information. If you choose so, you can upload your data to iCloud, which will be encrypted as soon as you upload it.
Is Apple Health Records only available in the US?
No, not anymore. Recently Apple announced that Apple Health Records would finally expand to the UK and Canada would be able to use Apple Health Records with only a few medical institutions. However, Apple also said there will be more institutions available in the upcoming months.
What healthcare providers participate in Apple Health Records?
You can transfer your health records from a multitude of healthcare providers into the Apple Health app. Here is a complete list of them in alphabetical order! We'll add more providers as they're announced.
Apple Health Records in the UK
Apple Health Records in Canada
Apple Health Records in the US
Abigail Family Medicine (Delaware)
Adult Internal Medicine (North Carolina)
Adventist Health (California, Oregon, Hawaii)
Adventist Health System (Colorado, Florida, Georgia, Illinois, Texas, and others)
Adventist HealthCare (Maryland)
Naomi Akita, M.D. (Georgia)
Dr. Hussain Al-darsani, MD (California)
Albany Surgical, PC (Georgia)
Alfieri Cardiology PA (Delaware)
Allegheny Health Network (Pennsylvania)
Allen County Regional Hospital (Kansas)
Allentown Family Foot Care Professional Corporation (Pennsylvania)
Allina Health (Minnesota, Wisconsin)
ALON Family Health (Texas)
Jason Amato, MD Dermatology LLC (Missouri)
AMITA Health (Illinois)
AnMed Health (Georgia)
Arlington Podiatry (Virginia)
Artesia General Hospital (New Mexico)
Associated Podiatrists (Wisconsin)
Associates in Internal Medicine PA (Florida)
AtlantiCare (New Jersey)
Atrium Health (North Carolina, South Carolina, Georgia)
ATX Orthopedics (Texas)
Augusta Health (Virginia)
Aultman Health Foundation (Ohio)
Austin Regional Clinic (Texas)
Aveon Health (Arizona)
Rabia S. Awan, MD, PA (New Jersey)
Jalal Badday, MD (California)
Bal K. Gupta, MD, PC (Michigan)
Ballad Health (Tennessee)
Banner Health (California, Arizona, Colorado, Nevada, Wyoming, Nebraska)
Baptist Health (Kentucky, Indiana, and Illinois)
Baptist Health South Florida (Florida)
Barton Health (California)
Bates County Memorial Hospital (Missouri)
Bay Clinic, LLP (Oregon)
BayCare (Florida)
Bayhealth Medical Center (Delaware)
Baylor College of Medicine (Texas)
Baylor, Scott & White Health (Texas)
Baystate Health (Massachusetts)
BCMH Physicians Group (Michigan)
Beaumont Health (Michigan)
Behavior Change Center Clinic (Texas)
Dr. Bryce Beseth (California)
Better Me Healthcare (Florida)
Black River Memorial Hospital (Wisconsin)
Blessing Health System (Illinois)
Boca Raton Regional Hospital (Florida)
Bon Secours Health System (Kentucky, Maryland, South Carolina, Virginia, and Florida)
Boone County Health Center (Nebraska)
Dr. Albert Boyd, MD (Texas)
Brain Vitals (California)
Brandon M. Lingenfelter, D.O., Ph.D., PLLC (West Virginia)
Brattleboro Memorial Hospital (Vermont)
Bristol Hospital (Connecticut)
Broadlawns Medical Center (Iowa)
Broadwater Health Center (Montana)
Broward Health (Florida)
Buffalo Medical Group (New York)
Burgess Health Center (Iowa)
Cabinet Peaks Medical Center (Montana)
Caneva Foot & Ankle Clinic (Illinois)
CaroMont Health (North Carolina)
Carroll County Memorial Hospital (Missouri)
Carson Valley Medical Center (Nevada)
Catholic Health Initiatives - CHI Health, CHI Franciscan Health, CHI St Luke's Health, CHI St. Alexius Health (Nebraska, Iowa, Washington, Texas, North Dakota)
Catholic Health Services of Long Island (New York)
Cayuga Medical Center (New York)
Cedar Hill Women's Center (Texas)
Cedars-Sinai (California)
Center for Manual Medicine (Kansas)
Centers for Pain Control (Indiana)
Centra Health (Virginia)
Centura Health (Colorado and Kansas)
Cerner Healthe Clinic (Kansas, Missouri)
CGH Medical Center (Illinois)
Champlain Valley Physicians Hospital (New York)
Charleston Area Medical Center (West Virginia)
Chase County Community Hospital (Nebraska)
Asim Chohan, MD (Oklahoma)
Christiana Care Health System (Delaware, Pennsylvania, Maryland, and New Jersey)
Circle Health (Massachusetts)
Citizens Memorial Hospital (Missouri)
Cleveland Clinic (Ohio, Nevada, and Florida)
Cogdell Memorial Hospital (Texas)
Columbia Pacific Medical Services (Oregon)
Columbus Regional Healthcare System (North Carolina)
Community Healthcare System (Indiana, Illinois, Michigan)
Community Healthcare System (Kansas)
Community Health Network (Indiana)
Community Health Systems (Nationwide) - including AllianceHealth (OK), Bayfront Health (FL), Commonwealth Health (PA), Lutheran Health Network (IN), Merit Health (MO), Northwest Health (AR), Physicians Regional (FL), Tennova Healthcare (TN)
Community Hospital Fairfax (Missouri)
Community Medical Centers (California)
Cone Health (North Carolina)
Conemaugh Health System (Pennsylvania)
Confluence Health (Washington)
Consultants in Infectious Diseases LLC (Florida)
Copley Hospital (Vermont)
Coquille Valley Hospital (Oregon)
Covenant Health (Tennessee)
CoxHealth (Missouri)
Crabapple Family Medicine, PC (Georgia)
Crawford Memorial Hospital District (Illinois)
Crisp Regional Hospital (Georgia)
Cullman Regional (Alabama)
Davis County Hospital (Iowa)
Deaconess Health System (Indiana)
Deborah Heart and Lung Center (New Jersey)
Decatur County Hospital (Iowa)
Delano Regional Medical Center (California)
Dept. of Veterans Affairs (VA) (Nationwide)
DeSoto Regional Health Systems (Louisiana)
DHR Health (Texas)
Diabetes and Endocrine Specialists (Kentucky)
Digestive Disease Associates (Pennsylvania)
Dignity Health (Arizona, California, and Nevada)
DiToppa Medical Center (Pennsylvania)
Doctors Care (South Carolina)
Doylestown Health (Pennsylvania)
Dr. Joan Sy Medical Corporation (California)
DRH Health Inc. (Oklahoma)
Duke Health (North Carolina)
Edward-Elmhurst Health (Illinois)
Eisenhower Health (California)
Elkader Medical Center (Iowa)
Ellsworth County Medical Center (Kansas)
Embry Women's Health (Arizona)
Emory Healthcare (Georgia)
Englewood Health (New Jersey)
Equality Medical Group, LLC (Arizona, California)
Erie County Medical Center (New York)
Erlanger Health System (Tennessee)
Esperanza Health Centers (Chicago)
Fairview Health (Minnesota)
Family Foot and Ankle Clinic, P.A. (Minnesota)
Family Footcare Specialist (New Jersey)
First Choice Community Healthcare (New Mexico)
First Coast Surgical Associates (Florida)
Fisher-Titus Health (Ohio)
Fitzgibbon Hospital (Missouri)
Floyd Medical Center (Georgia)
Florida Community Health Centers, Inc (Florida)
Foot and Ankle Specialist (Arizona)
Fort Healthcare (Wisconsin)
Franciscan Care Services (Nebraska)
Franciscan Health (Indiana, Illinois)
Franklin County Memorial Hospital (Mississippi)
Franklin General Hospital (Iowa)
Franklin Neurology (Michigan)
Frederick Health (Maryland)
Froedtert & Medical College of Wisconsin (Wisconsin)
Garfield Medical Center (California)
Geisinger (Pennsylvania)
Genesis Health System (Iowa)
Genesis Healthcare System (Ohio)
Grace Cottage Hospital (Vermont)
Grand Lake Primary Care (Oklahoma)
Grand View Health (Pennsylvania)
Greater Baltimore Medical Center (Maryland)
Greater El Monte Community Hospital (California)
Greater Hudson Valley Health System (New York)
Greater Salem Family Footcare Associates (New Hampshire)
Greenville Health System (South Carolina)
Gunnison Valley Health (Colorado)
Hackensack Meridian Health (New Jersey)
Hal J. Freiman, M.D. (New York)
David Hamilos, DPM (Tennessee)
Hancock County Health System (Iowa)
Hancock Health (Indiana)
Hansen Family Hospital (Iowa)
Thourya Haoues-Brown MD (Connecticut)
Mehna A. Haq, MD (New Jersey)
Harbin Clinic (Georgia)
Harrington Physician Services (Massachusetts)
Harrison County Hospital (Indiana)
Hartford HealthCare (Connecticut, Rhode Island)
Hattiesburg Clinic (Mississippi)
Hawaii Foot & Ankle Associates (Hawaii)
Health Quarters (Massachusetts)
Hemphill County Hospital (Texas)
Hendrick Medical Center (Texas)
Henry Community Health (Indiana)
Henry County Health Center (Iowa)
Henry Ford Health System (Michigan)
Highland District Hospital (Ohio)
Hillsdale Hospital (Michigan)
Holland Hospital (Michigan)
Holy Cross Medical Center (New Mexico)
Hospital for Special Surgery (New Jersey, New York)
Hospital Sisters Health System (Illinois, Wisconsin)
Houston Methodist (Texas)
Hudson Medical (New York)
Hudson Physicians (Wisconsin)
Hugh Chatham Memorial Hospital (North Carolina)
Huntington Hospital (California)
Huntsville Hospital Health System (Alabama)
Ida Family Wellness Center (Michigan)
IM365 Health (California)
Indiana University Health (Indiana)
Infectious Diseases Associates, PC (Nebraska)
Innovative Express Care SC (Illinois)
Inova Health System (Virginia)
Inspira Health (New Jersey)
Intermountain Healthcare (Utah)
Iredell Memorial Hospital (North Carolina)
Jaisohn Medical Center (Pennsylvania)
Jefferson Health (Delaware, New Jersey, and Pennsylvania)
Jennings American Legion Hospital (Louisiana)
Jersey Coast Family Medicine (New Jersey)
John Muir Health (California)
Johns Hopkins (Maryland)
Johnson County Healthcare Center (Wyoming)
Johnson County Hospital (Nebraska)
Johnson Memorial Hospital (Indiana)
Jupiter Medical Center (Florida)
Kadin Foot & Ankle Center (New Jersey)
Kahuku Medical Center (Hawaii)
Kaiser Permanente (Northern California, Oregon, Washington, Colorado, Mid-Atlantic States, and Hawaii)
Kaleida Health (New York)
Kalispell Regional Healthcare (Montana)
Kansas Medical Center (Kansas)
Kansas Nephrology Physicians, PA (Kansas)
Keck Medicine of USC (California)
Kettering Health Network (Ohio)
KidneyCare Oklahoma (Oklahoma)
Klamath Orthopedic Clinic (Oregon)
Kingfisher Family Clinic (Oklahoma)
Knoxville Hospital & Clinics (Iowa)
Kohles Family Practice (Indiana)
Kreptowski Family Practice (Ohio)
Awani Kumar, MD, PC (New Jersey)
LabCorp (Nationwide)
Lafayette General Health (Louisiana)
Lake Health (Ohio)
Lake Regional Health System (Missouri)
Lakeland Regional Health Systems (Florida)
Lakes Region General Hospital (New Hampshire)
Laredo Cardiovascular Consultants P.A. (Texas)
Lavaca Medical Center (Texas)
Lebanon Medical Associates (Kentucky)
Legacy Health (Oregon and Washington)
Lehigh Valley Health Network (Pennsylvania)
Levine Heart & Wellness (Florida)
Lexington Cardiology (Connecticut)
LifeBridge Health (Maryland)
LifePoint Health (Alabama, Arizona, Arkansas, Colorado, Georgia, Idaho, Indiana, Iowa, Kansas, Kentucky, Michigan, Mississippi, Montana, Nevada, New Mexico, North Carolina, Ohio, Oklahoma, Oregon, Pennsylvania, South Carolina, Tennessee, Texas, Utah, Virginia, Washington, West Virginia, Wisconsin, Wyoming)
Lincoln Surgery Center (Nebraska)
Little Colorado Medical Center (Arizona)
LMH Health (Kansas)
Long Island Surgery, PC (New York)
Steve Lovelady, MD LLC (Alabama)
Lynn County Hospital District (Texas)
David J. MacGregor, MD (California)
Madison Memorial Health Partners (Idaho)
Magnolia Regional Health Center (Arkansas)
Main Line Health (Pennsylvania)
MaineHealth (Maine, New Hampshire)
Mammoth Hospital (California)
Martin County Hospital District (Texas)
Perry Mansfield, MD (California)
Margaret Mary Community Hospital (Indiana)
Martin County Hospital Distrct (Texas)
Martin Luther King, Jr. Community Hospital (California)
Fernando L. Martinez-Catinchi, MD PA (Florida)
Mary Washington Healthcare (Virginia)
Maui Health System (Hawaii)
Tony S. McClung, MD (Texas)
McDonough District Hospital (Illinois)
McKnight Clinic PLLC (Tennessee)
McLaren Health Care (Michigan)
MCR Health (Florida)
Medical Associates Clinic (Iowa, Illinois, and Wisconsin)
Medical Clinic of Northville (Michigan)
Medical Health Center of Middletown, INC. (New Jersey)
Medical University of South Carolina (South Carolina)
MedStar Health (Maryland and Washington D.C.)
Memorial Community Health, Inc. (Nebraska)
Memorial Health Care Systems (Nebraska)
Memorial Healthcare System (Florida)
Mercy Health (Missouri)
Mercy Medical Center (Iowa)
Methodist Health System (Nebraska)
Methodist Health System (Texas)
Methodist Hospital of Southern California (California)
Methodist Le Bonheur Healthcare (Tennessee)
Metro Infectious Disease Consultants (Illinois)
Miami Pulmonary Specialists (Florida)
Michigan Institute for Interventional Pain (Michigan)
Michigan Medicine (Michigan)
Mid-America Internal Medicine (Missouri)
Mid-Columbia Medical Center (Oregon)
Middlebrook Family Physicians, PA (New Jersey)
MidMichigan Health (Michigan)
Midwest Surgical Hospital (Nebraska)
Milford Regional Medical (Massachusetts)
Millennium Physician Group (Florida)
Minnie Hamilton Health System (West Virginia)
Mission Health (North Carolina)
Missouri Delta Medical Center (Missouri)
MIT Medical (Massachusetts)
Moffitt Cancer Center (Florida)
Monroe Foot Clinic (Wisconsin)
Monroe Surgical Hospital (Louisiana)
Monterey Park Hospital (California)
Mosaic Life Care (Missouri)
Mount Sinai (New York)
Mt Ascutney Hospital and Health Center (Vermont)
MU Health Care (Missouri)
Munson Heathcare (Michigan)
Munson Healthcare Charlevoix Hospital (Michigan)
Murfreesboro Medical Clinic and Surgicenter (Tennessee)
Navicent Health (Georgia)
Nebraska Cardiac Care (Nebraska)
Nebraska Foot & Ankle, PC (Nebraska)
Nebraska Medicine (Nebraska)
Nemaha County Hospital (Nebraska)
Neosho Memorial (Kansas)
Neurology LLP (Omaha)
Nevada Regional Medical Center (Missouri)
New Hampton Medical Center (Iowa)
New Hanover Regional Medical Center (North Carolina)
Next Step Orthopedics (Texas)
North Canyon Medical Center (Idaho)
North Kansas City Hospital (Missouri)
Northeastern Health System (Oklahoma)
Northfield Hospital + Clinics (Minnesota)
Northern Light Health (Maine)
NorthRiver Primary Care Associates (Alabama)
Northside Hospital (Georgia)
Northwest Community Healthcare (Illinois)
Northwest Physicians Associates (Pennsylvania)
Northwestern Medical (Vermont)
Northwestern Medicine (Illinois)
Norton Healthcare (Indiana, Kentucky)
Nouriche Wellness and Aesthetics (Louisiana)
NYU Langone Health (New York)
Ocean County Foot & Ankle Surgical Associates (New Jersey)
http://ochsner.org (Louisiana)
http://ohiohealth.com (Ohio)
Old Naples Concierge Medicine (Florida)
Olean Medical Group (New York)
Omni Dermatology (Arizona)
Opelousas General Health System (Louisiana)
Open Door Health (California)
Orchard Hospital (California)
Orchid Ob/Gyn (Florida)
Orleans Community Health (New York)
OrthoNebraska (Nebraska, Missouri, Iowa)
Orthopedic & Sports Medicine of Saint Joseph (Missouri)
OrthoVirginia (Virginia)
Osmond General Hospital (Nebraska)
OSU Medicine (Oklahoma)
Othello Community Hospital (Washington)
Overlake Hospital Medical Center (Washington)
Ozark Health Medical Center (Arkansas)
Pagosa Springs Medical Center (Colorado)
Pana Community Hospital (Illinois)
Park City Gynecology (Utah)
Parkview Medical Center (Colorado)
Partners HealthCare (including Massachusetts General Hospital and Brigham and Women's Hospital)
Hiren Patel, MD (Alabama)
PeaceHealth (Alaska, Oregon, Washington)
Peachtree Nephrology, PC (Georgia)
Penn Medicine (Pennsylvania)
Penn State Health (Pennsylvania)
Pensacola Foot & Ankle Center (Florida)
Peoria Foot & Ankle Specialists (Arizona)
Perlman Clinic (California)
Pershing Memorial Hospital (Missouri)
Personalized Primary Care Atlanta (Georgia)
Peterson Health (Texas)
Physicians Urgent Care - Cookeville (Tennessee)
PIH Health (California)
Pinnacle Health Group (Florida)
Planned Parenthood League of Massachusetts (Massachusetts)
Podiatry Associates (South Carolina)
Pomona Valley Hospital Medical Center (California)
Pratt Regional Medical Center (Kansas)
Precision Surgical Specialists of Lowell, P.C. (Massachusetts)
Premier Health (Ohio)
Premier Medical Group (Tennessee)
Prime Healthcare (California, Texas)
Princeton Community Hospital (West Virginia)
Professional Associates in Surgery, LLP (New Jersey)
Providence Health & Services (Alaska, California, Montana, Oregon, and Washington)
Providence Medical Center (Nebraska)
Quest Diagnostics (Nationwide)
Rancho Family Medical Group (California)
Randolph Community Clinic (Wisconsin)
Basel Refai, MD (Alabama)
Regional One Health (Tennessee)
Regional Urology (Louisiana)
Renal Associates of LaGrange at Emory (Georgia)
Renown Health (Nevada)
Reyes Cardiology (Oregon)
Thomas R. Rich, DPM (New Jersey)
Riverside Medical Center (Louisiana)
Riverview Health (Indiana)
Rochester Internists (Michigan)
Rocky Mountain Infectious Disease (Wyoming)
Rolling Plains Memorial Hospital (Texas)
Rush Memorial Hospital (Indiana)
Rush University Medical Center (Illinois)
RWJBarnabas Health (New Jersey)
Juan J. Salazar MD (Texas)
San Antonio Regional Hospital (California)
San Gabriel Valley Medical Center (California)
San Francisco Gynecology, INC. (California)
Sansum Clinic (California)
Sarasota Memorial Health (Florida)
Sauk Prairie Healthcare (Wisconsin)
Scituate Podiatry Group, Inc (Massachusetts)
Scripps Health (California)
Shahla Medical Associates (Florida)
Kishwar Shareef, MD (New Jersey)
Sharp Healthcare (California)
Shenandoah Medical Center (Iowa)
Shirley Ryan AbilityLab (SRA Lab) (Illinois)
Sicher Foot Center (Texas)
Sigma Pain Clinic (Texas)
Silver Cross Hospital (Illinois)
Singing River Health System (Mississippi)
Dr. Chad Smoker, MD (North Carolina)
Solano Kidney Care, Inc. (California)
Southcoast Health System (Massachusetts)
Southeast Colorado Hospital District (Colorado)
Southeast Health (Missouri)
Southern Iowa Orthopedics (Iowa)
Southwest General (Ohio)
Southwest Memorial Hospital (Colorado)
Southwestern Women's Clinic (Texas)
Sparta Community Hospital District (Illinois)
Speare Memorial Hospital (New Hampshire)
Specialists Hospital of Shreveport (Louisiana)
Spectrum Healthcare Group (Arizona)
St. Charles Health System (Oregon)
St. Dominic-Jackson Memorial Hospital (Mississippi)
St. Joseph's Health (New Jersey)
St. Luke Hospital and Living Center (Kansas)
St. Luke's Health System (Idaho and Eastern Oregon)
St. Luke's Hospital (Minnesota, Wisconsin)
St. Luke's Hospital (Missouri)
St. Luke's Hospital (Ohio)
St. Luke's University Health Network (Pennsylvania and New Jersey)
St. Mary's Medical Center (Wyoming)
Stanford Health Care (California)
State of Franklin Healthcare (Tennessee)
Stewart Dermatology (Alabama)
Robert S. Stipek, DPM (Massachusetts)
Summit Medical Group (New Jersey)
Sunrise Family Clinic (Oregon)
Sunset ID Care PA (Texas)
Surgical Associates of Atlanta, P.C. (Georgia)
Sutter Health (California)
Syringa Hospital & Clinics (Idaho)
Tampa General Hospital (Florida)
Tenet Health (Alabama, Florida)
Texas Health Resources (Texas)
Thayer County Health Services (Nebraska and Kansas)
The Brooklyn Hospital Center (New York)
The Foot & Leg Specialty Center (Florida)
The Guthrie Clinic (Pennsylvania, New York)
The Hypertension Clinic (New Jersey)
The Listening Doctor (Florida)
The National Diabetes & Obesity Research Institute (Mississippi)
Think Healthcare (Nebraska)
Thiru, MD, PA (New Jersey)
Tidelands Health (South Carolina)
Tift Regional Health System (Georgia)
Torrance Memorial Medical Center (California)
Total Foot Care (Delaware)
Tower Health (Pennsylvania)
Treasure Coast Podiatry (Florida)
Trinity Health (Nationwide) - including Mount Carmel (OH), Saint Joseph Mercy Health System (MI), Trinity Health New England, Saint Agnes (CA), Saint Alphonsus (ID)
Trinity Health (North Dakota)
Truman Medical Centers (Missouri)
UAB Medicine (Alabama)
UC Davis Health (California)
UC Irvine Health (California)
UC San Diego Health (California)
UCLA Health (California)
UCSF Health (California)
Ultimate Access Primary Care (Ohio)
UMass Memorial Health Care (Massachusetts)
UNC Medical Center (North Carolina)
Union General Health Systems (Georgia)
Union Hospital of Cecil County (Maryland)
United Medical (Delaware)
UnityPoint Health (Iowa)
Universal Family Care (Tennessee)
University Health Care System (Georgia)
University of Arkansas for Medical Sciences (Arkansas)
University of Chicago Medicine (Illinois)
University of Louisville Hospital (Kentucky)
University of Maryland Medical System (Maryland)
University of Miami Health System (Florida)
University of Rochester Medical Center (New York)
University of Tennessee Medical Center (Tennessee)
University of Utah Health (Utah)
University of Virginia Health System (Virginia)
UPMC (Pennsylvania)
Upstate Medical University (New York)
Urgent Care Now (New Jersey)
Urology Associates Central Coast (California)
Urology Associates of Central MO (Missouri)
Urology Partners of North Texas (Texas)
USA Health (Alabama)
UT Health Austin (Texas)
UT Physicians (Texas)
Vail Health (Colorado)
Valley Health System (New Jersey, New York)
Valley Medical Group (Massachusetts)
Valley Perinatal Services (Arizona)
Valley Presbyterian Hospital (California)
Vancouver Clinic (Washington)
Vanderbilt University Medical Center (Tennessee)
Van Diest Medical Center (Iowa)
Dr. Catherine F. Vanderloos (Louisiana)
Vascular Surgery Associates (Florida)
VCU Health (Virginia)
Ventura County Healthcare Agency (California)
Verdugo Dermatology (California)
Vibrant Health Family Clinics (Wisconsin)
Virginia Mason Medical Center (Washington)
Vista Physician Group (Illinois)
Wabash General (Illinois)
Waterbury Hospital (Connecticut)
Wayland Personal Physicians (Massachusetts)
Wayne HealthCare (Ohio)
Weill Cornell Medicine (New York)
West Broadway Clinic (Iowa)
West Tennessee Healthcare (Tennessee)
Wheeling Hospital, Inc. (West Virginia)
Whiteville Eye Associates, P.A. (North Carolina)
Willow Midwives Ltd (Minnesota)
Winona Health (Minnesota)
Women's Group for Health (California)
Women's Health Institute (Illinois)
Wood County Hospital (Ohio)
Working For Life - Engineered Floors (Georgia)
WVU Medicine (West Virginia)
Yale New Haven Health (Connecticut)
Yavapai Regional Medical Center (Arizona)
Yoakum Community Hospital (Texas)
Yuma Regional Medical Center (Arizona)
Thoughts? Questions?
Still have some burning questions regarding the Health Records API that you need answered? Share them in the comments below and we'll do our best to answer them as we learn more.
Updated October 2020: Updated with the latest information about Apple Health Records.
Master your iPhone in minutes
iMore offers spot-on advice and guidance from our team of experts, with decades of Apple device experience to lean on. Learn more with iMore!
Russell is a Contributing Editor at iMore. He's a passionate futurist whose trusty iPad mini is never far from reach. You can usually find him chasing the next tech trend, much to the pain of his wallet. Reach out on Twitter!