Hello Again: Thoughts on Apple's October 2016 event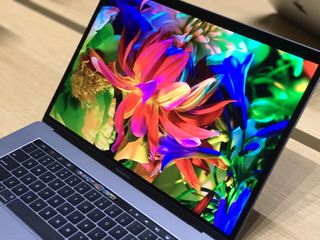 Apple wasn't supposed to have another event this year. Infinity Loop's Town Hall venue was given a send-off with iPhone SE back in March. But then the months rolled on, WWDC passed and so did the September event, and there was still one more thing waiting — new MacBooks Pro.
So, "Hello Again". One last event for 2016. One last hurrah for Town Hall. And one last product announcement before the holidays.
Accessibility
The October event kicked off with an accessibility video, shot and edited by someone who lives on and depends on accessible technology every day. It was magnificent, not just in terms of its technical look, pacing, and emotion, but as a reminder of how important inclusivity is to technology.
I wish every company, at every event, would highlight accessibility the way Apple does. It's important for all of us.
Apple TV
Before Apple went back to the Mac, they spent a few moments on Apple TV. Introduced in September of 2016, the current Apple TV is home to 8,000 apps, including 2,000 games — soon to also include Minecraft! — but finding what you wanted to watch in all those apps was still a challenge.
If you knew what you wanted to watch, Siri or Universal search were there, but what if you didn't want to know?
Enter the new TV app. Similar in design to the new bolder, brighter look or more coherent organization of the new Apple Music app in iOS 10, it brings together everything you're watching with curated suggestions and access to both your own library and the iTunes library.
And it's also available for iPad.
For live TV, Apple's sticking to Siri, but improving it so you can ask to watch a live broadcast, a known program — including a sporting event — or a list of live programs.
Tim Cook said it made Apple TV the best way to watch TV, but we'll have to see how much it really has to offer when it ships. And how long it takes to go international.
Canadians want their hockey, Brits want their football, Indians their cricket, and the southern hemisphere wants its rugby, after all.
MacBooks Pro
Apple doesn't often look back. Steve Jobs was famously averse to it. This was the 25th anniversary of Apple's first notebook, though, so Tim Cook and Phil Schiller didn't just look back, they travelled back. Apple showed a video highlighting the company's achievements in portable computing, and of how they've driven the market.
Then they showed the new MacBooks Pro.
Wide color
Once again re-engineered from the ground up, they're thinner, lighter, and smaller than ever before. They also have wide color DCI-P3 displays, like the iMac and iPhone 7. They show better reds and magentas and after having used them on an increasing range of devices, it's tough going back.
Looking at Photos on the new MacBooks Pro is amazing. The richness and detail pops off the screen. Because Apple manages the color profile from capture on iPhone 7 to display on iOS and Mac, you don't even have to worry about it yourself. Shoot what you shoot. See what you see. And it'll look as brilliant as possible. (That's real work, since P3 also means wider range to mess up.)
Otherwise it's about as thin as the 12-inch MacBook display but apparently even more advanced. Thankfully, Apple fixed my biggest beef with that display — they got a 720p camera in there.
RIP glowing Apple logo, though. When you get this thin, all you have room for the embedded stainless steel logo like the 12-inch MacBook.
Thunderbolt 3 and USB-C
Both MacBooks Pro have two Thunderbolt 3 ports on each side, four total. Since the connector is the same as USB-C, you essentially get four of both. There's also a 3.5 mm headphone jack.
So, effectively it's like having a MacBook but with 4x the ports. That's both awesome and terrible. It's awesome in that they're super fast and that you can plug in multiple cables at the same time. It's terrible in that it means you'll need adapters for every other type of connector, including USB-A (standard USB), HDMI, VGA, etc.
And yes, like with the MacBook, you'll need an adapter or a Lightning to USB-C cable (introduced with the 12.9 inch iPad Pro) to charge your iPhone or iPad with the new MacBook Pro.
You also charge the same as MacBook — over USB-C. And you can use any of the four ports to do it.
It's incredibly future thinking. But it's also a bit of a troll. Those of us with MacBooks got over it eighteen months ago. Pro customers will feel some short-term pain.
Touch Bar
The Force Touch trackpad is much, much bigger now, which makes it feel much more expansive. The keyboard is a next generation version of what Apple debuted with the 12-inch MacBook in March of 2015. It has domes, it has butterflies, but it's optimized for a tad more travel.
I only had a few minutes to type on it. I'm fine with the new MacBook keyboard, so I'm fine with this too. People who hate that will likely still hate that, even if there's a tiny bit of hope. Those who love it will find more to love.
The star of the show was the all-new Touch Bar, though. Think of it as a tiny 2170x60 iPad embedded right where the function keys used to be. Rumor has it it's OLED, like Apple Watch, but it has a matte finish that feels much like the keyboard keys.
It leverages the same kind of data detectors and data predictors Apple has been building into macOS for years, but uses them to show context-dependent, highly curated, dynamic controls.
Yes, your ESC key is still there. As are your other system functions like volume and brightness. But tuck those away and apps take over. In Photos you can scroll through your thumbnails, quickly access edit controls, even swipe to rotate. In Final Cut Pro you can scrub through your time line. In Safari you can scroll through your windows and open new tabs. In Xcode, even in Terminal — no Apple app went untouched, as far as I could see — there are context aware shortcuts.
And the emoji. You get emoji suggestions, just like iOS, and can access the emoji picker right on the Touch Bar. You can also access Tapback emoji. It makes the new, funner Messages app ridiculously faster.
Developers have an API, so all your favorite apps can update to add support. In Photoshop I you can work on the Track Pad and use the Touch Bar to change palette colors, for example, or access tools. In Excel you can hit a virtual button to generate different graph types.
There's also accessibility built in. Touch Bar supports VoiceOver, so it'll say the tools out loud for those with low or no vision. And it can also offer easy access to Switch Control.
You can customize the Touch Bar as well. For example, you can drag controls from the screen and down into the Touch Bar. It works so fluidly it's hard to believe. They really nailed it.
Touch ID
On the right hand side of the Touch Bar, protected by a sapphire crystal lens cover, is Touch ID. It's just like on iPhone or iPad, so you can use your fingerprint to log in and to make purchases with Apple Pay.
In practice, index finger feels more natural on MacBook Pro, as opposed to thumb which seems like the default on iPhone and iPad. Any finger will work, though.
For security, Apple has created an all-new T1 chip. It basically does what the secure enclave does on the Apple A-series chips on iPhone and iPad, making sure your fingerprint data is locked away and nothing can access it. All the system gets is the token.
It's pretty much like Apple created an ultra thin iOS or watchOS device and stuck it in the MacBook Pro, and that's such a smart solution for keeping it secure.
Speakers
Starting with the 12.9-inch iPad Pro, Apple really began upping their speaker game. iPhone 7 had much better speakers, and now the new MacBooks Pro do as well. They have broader dynamic range and better separation, and in the demo I heard they were LOUD and crystal c.l.e.a.r.
Chipsets
Apple's using Intel's Skylake processors here, which are the current generation. Intel's been struggling since their last die shrink but Skylake is now on solid footing. Kaby Lake will be next, then another tock with Coffee Lake, and… yeah.
As happy as I am we get these improvements, it's increasingly hard not to think Apple would be better off controlling their own destiny when it comes to Mac silicon, just like they do on iPhone, iPad, Apple TV, and Apple Watch.
The 13-inch MacBook Pro sticks to Intel Iris graphics, which are fine. The 15-inch, though, also get discreet graphics. (Last time it was only the highest end 15-inch that got discreet).
Apple's graphics chips of choice this year are AMD Polaris. That's going to make them much more attractive to anyone who wants to push significant pixels.
5K displays
There was no 5K Retina display from Apple. Sadness. But there was a 5K P3 display from LG that Apple worked with them on, and that provides a ton of high-density, wide gamut pixels over Thunderbolt 3.
The 13-inch MacBook Pro can drive one of them. The 15-inch, two of them. Yeah.
I had a chance to see them in action and while you'd never mistake them for Apple displays, they provide the same type of functionality, including port expansion, that you'd expect.
I miss the idea of an Apple display. We'll see if LG makes me miss it less.
Superlegera
One last surprise: A third MacBook Pro. No, Apple's still not making a Retina Air, but this is the next, better thing. It's a version of the 13-inch MacBook Pro without the Touch Bar that's meant for people who love the 13-inch MacBook Air but want a Retina display and modern architecture.
It's an interesting choice, but I think a good one. The MacBook Air chassis is at the end of the line. This provides a new beginning. You pay for the new screen and processors, though — this new 13-inch MacBook Pro starts at $500 more than the old 13-inch MacBook Air.
Final thoughts (for now)
The lines have been drawn. Apple once again showed they absolutely don't believe in Macs with multitouch displays, going so far as to embed an entirely distinct display in the keyboard. Are they right?
They may be. The human brain hates context changing. It interrupts work flows. Even on iPad Pro, when you have to stop typing to tap the screen, it's an interruption. Likewise, gesturing at 90º isn't optimal ergonomics, not for the amount of hours you spend behind a Mac.
But is the Touch Bar any better? Will it prove any more intuitive and let you keep controls at your fingers while your eyes are on the screen? Or will you be forced to hunt and peck the Touch Bar, achieving exactly the opposite effect?
In my brief hands-on time with the new MacBooks Pro, I liked what I saw and felt. The choices feel deeply considered and smartly implemented. I'll have to spend more time with one before I make up my mind, though.
For now, it feels like Apple's next step towards more functional, more dynamic Macs, but in a way that's still distinctly Mac.
The new MacBooks Pro are available for order now. Super legere 13-inch ships now, Touch Bar 13- and 15-inch ship in a couple of weeks.
○ MacBook Pro with M1 Review
○ Macbook Pro with M1 FAQ
○ Touch Bar: The ultimate guide
○ MacBook forums
○ Buy at Apple (opens in new tab)

Get the best of iMore in in your inbox, every day!
Rene Ritchie is one of the most respected Apple analysts in the business, reaching a combined audience of over 40 million readers a month. His YouTube channel, Vector, has over 90 thousand subscribers and 14 million views and his podcasts, including Debug, have been downloaded over 20 million times. He also regularly co-hosts MacBreak Weekly for the TWiT network and co-hosted CES Live! and Talk Mobile. Based in Montreal, Rene is a former director of product marketing, web developer, and graphic designer. He's authored several books and appeared on numerous television and radio segments to discuss Apple and the technology industry. When not working, he likes to cook, grapple, and spend time with his friends and family.
I really love the new MBP but the cost to me is unreasonable and that the entry level MBP do not have the Retina bar is disappointing. 2600$ Canadian with Tax for 13 inch model with retina bar is ridiculous.

I have to agree. I decided on a 12" MacBook earlier this year because it really met all my needs, so I sold my 2015 MBP. When word of the new MBP's coming out this year gained traction I wondered if I had made the right choice, but after seeing this announcement and looking at the cost of the version of MBP I would want, it's nearly double what I've paid for a beautiful and highly portable MacBook that really fits the bill. It's too bad Canada's pricing is so much more expensive. The base is $400 more, and the models with Touch ID and Touch Bar are $600 more. Ridiculous! I love Apple and have a product from every line up, but at this rate when it comes time to replace my existing products I wonder if I'll be able to stay in their ecosystem with the rising costs of their products.

Big trackpads are good, but this one looks like it will get under your wrists when typing, I'd be interested to see if people find this an issue or not. It's a shame that they opted to make the touch bar (which is cool) rather that go down the 2 in 1 route with a full touch screen because I think they could do a great one, far better than that is on offer with iPad Pro which just doesn't have desktop capabilities.

So you have purchase a separate cable to connect your iPhone to your new Mac Book Pro? Some ecosystem they have there. Posted via the iMore App for Android

It looks like an octopus when you get everything a Pro user needs. Posted via the iMore App for Android

Until people start using USB-C devices. It's a transition period.

Dumb comment because they are not readily available. Posted via the iMore App for Android

But they will be soon. Why should Apple wait for everyone else? Especially when they have the manpower to push manufacturers to start getting them ready

Apple isn't even waiting for itself...iphone 7 doesn't support usb c so there is already major incompatibility between two most recent lines of Apple's own products released only a couple months apart.

That's a valid point. iPhone 7 should be using USB-C but it isn't, hopefully it will eventually, fingers crossed

@ XperlmnenT. It's a $25 cable. I hardly call that a major incompatibility.

Every laptop looks like an octopus when it has everything a pro user needs. That there are dongles at the Mac end of the cables doesn't change that there are cables. Going all in on one type of connector makes an odd sort of sense to me.

Same as the 18-month old MacBook. Only now you can connect 4.

Keep apologizing for them Rene. Sent from the iMore App

He's explaining, not apologizing

Keep apologising for René Danny...

He's knocking some sense into you guys Waldon ;) Sent from the iMore App

Good point. In fact, for me, I would need that adapter for every peripheral I own or will probably own for the next 3-5 years. You would think after boosting the price $500 they could have included a $2 (their cost) adapter.

It makes no sense that I cannot connect my Apple products (iPhone 7 Plus and iPad Pro) to the newly announced MacBooks without buying a dongle! The dongle should be included in the box! Actually, we should't have to use Dongles. This is not forward thinking by Apple. To me Apple is becoming a dongle company. Not good!

Doesn't take much to impress apple phans. Last spring's processors, 8Gb ram? Really? Touchbar is neat, but whoopie! Drop $2,000 for the entry level basically. All these articles read of desperation from phans who've been waiting a long time to get anything from Apple. Apple knows how to play it's junkies

My understanding is that these MacBooks were supposed to ship in June, when Skylake was still relatively new, but because Apple doesn't use off the self parts, and a lot of what they do requires a lot of integration with Intel and AMD. That didn't come as fast as Apple hoped. So, if they switched to Kaby Lake, it would push things out even further.

Don't really believe that because when apple want something the intel jumps and from this price point Appel should just taken the newer one. Anyways they do not focus on macs anymore Sent from the iMore App

Apple are still very much focused on Macs, what makes you doubt this?

Yesterday's keynote? Posted via the iMore App for Android

Where they announced upgraded Macs?

They announced upgraded mobile Macs. Which look great -- mine is shipping in 3-4 weeks. I just hope they haven't abandoned desktop Macs. Apple does seem to focus a lot more on mobile everything these days. And don't get me wrong, that makes a lot of sense. But most people are still sitting stationary at a desk for 8 or more hours a day.

That's not the real motivation... quad core Kaby Lake and Iris Pro version of Kaby Lake are still not available (they will launch in December/January at best), so Apple can't use it especially on 13" MacBook.

I think the bean counters, and the board, are clearly having excessive influence over Apple. Chasing shareholder is a no win game., they only care about the next quarter. Steve kept them in check compared to now. Apple's management had better recognise where they are heading before it gets worse. Apple has some nice technology, design and products, but its starting to become a mess now. Its better to correct course early rather than later.

I see no evidence that the 'superleger' - the 13" without the touch bar is thinner & lighter as stated above. Just looks slower and cheaper according to Apple site?

You're right, my mistake!

I noticed I could only buy the 21.5 LG monitor right now. Are they planning on carrying the 27 in the future? Did you like the real estate on the 21.5? I'm going to do iOS development on it. Sent from the iMore App

What happened to apple courage? There still is a headphone jack. Just don't feel to buy one. Have a Mac Pro and use it for work a lot. However now I'll buy the surface studio. That's so good for work. Would I use a touch control bar? Maybe but surface dial just so amazing. Was an easy decision for me because wanted a pro and there is non so easy Microsoft studio is just want I wanted and a MacBook for 2500$ ? Maybe the 500$ more is worse Sent from the iMore App

Unfortunately Microsoft solutions still are an overpriced joke.... and still running Windows 10

Interesting comment. Apple removes headphone jack from iPhone and people complain, they leave it on laptop and people complain. Seems like Apple just can't win.

So they don't have multitouch displays because the brain hates context shifts. But they do have this uber cool new second display that's gonna cause me to context shift. Retire Rene. Sent from the iMore App

Just pointing out the obvious; Rene sees everything through  colored glasses. Sent from the iMore App

Because, PR spin Posted via the iMore App for Android

I am fine with the overpriced high end. Even if the hardware is not as high end as the price would have you to believe (gpu). But I think Apple is making a huge mistake by missing out on the low end market. These are the students. Apple used to own this market and ensure a future generation of loyal customers. But all they did for the student market was give them...what they already had. No update. Here's an old MBA. With old tech, at the same price. The MacBook nothing isn't ready for the sub $1000 market obviously. So it is too soon to ignore the MBA. I would have settled for the same MBA in colors. As this is marketed to students. Even simple adding colors would have ensured new excitement for a dead product. That would have gotten them another year to try and get the MacBook price down. Where is Apple going to find the next generation of fans? Sent from the iMore App

The Macbook Air doesn't need colors to create excitement, it is already exciting at this price point. 300 $ more for the Retina Macbook is not much for students considering what they spend for their smartphones. Everyone looks for 4K video on a smartphone but then avoids spending $300 more for a 4K capable computer, so what is the point of 4K on a smartphone then?

Rene, does the touch bar have a multitouch capability? The djay pro app that was demoed during the keynote made it seem so. Plus, what about Taptic feedback? Does it have that too? I mean, that could help in making use of "scrub" action in various types of pro Mac apps. Another thing I wanted to know was about the sound quality boost in the 13" pro. It is, for the first time, having a pair of dedicated speaker grills.

Yes, it does have multi-touch, but no taptic feedback (may be next iteration).

That Touch Bar looks f&%@ing awful.

Not really sure why, but maybe you could explain?

Not much to explain - to me, it looks awful.

You're not allowed to have an opinion here. Move along Posted via the iMore App for Android

"You're not allowed to have an opinion here. Move along" Wow. Did this micro-aggression trigger you? Are you running to your safe space? Or do you have your lawyer on speed dial ready to sue Seeker77 for daring to say something that you don't agree with?

I find it interesting that after all this time with no updates, they still elected to go with the old problematic Skylake processors instead of the current Kaby Lake models. And at a higher price to boot! Therefore, these new machines are technically out of date before they even get into the hands of the public, other than the Touch Bar. This only shows that Apple could have put out laptops all along with Skylake processors but just chose not to until now, a really odd decision. Would putting Kaby Lake processors into these things have caused the price to rocket an additional $1000? I just don't get it.

Kaby Lake? What Kaby Lake? Intel begun shipping Kaby Lake to OEMs at the end of July 2016. Do you think that you would build a laptop in two months in Apple's scale including all research, development, production, distribution, packaging, advertising etc... ? PC manufacturers can do that and can sell the resulting crap to PC users easily of course. Apple markets don't work that way.

...And mobile versions of Kaby Lake announced at the end of August 2016. Go figure...

The lack of Kaby Lake is annoying but understandable given the timings (although I miss the days when Apple got the latest CPUs before anyone else). The real issue for me is RAM. A maximum of 16Gb of DDR3 is pretty unforgivable in a brand new version of a top of the range laptop in late 2016. Hopefully they will correct that with a Kaby Lake spec bump in the Spring.

We all know that notebook RAM conform to Apple's specs is expensive. If that extra 16 GB (imagine a single module of 32 GB, I don't know the internals but most probably there is no socket for a second module) would cost half the price of a machine (new or second hand), then getting that second machine is better. That for virtual machine needs, such as Parallels. PC laptops state 32 GB DDR3 in their specs but those are desktop RAM modules, not notebook. Macbooks and iPhones use LPDDR3 which is a true mobile low-power RAM module. Most PC makers declare DDR3L as LPDDR3 but these are different, DDR3L is not a notebook RAM either. Apple has no desktop-RAM-in-a-notebook solution. There are plenty of such PC laptops one can purchase for 32 GB RAM, Apple is not in that business. In my experience with 2011 MBP 15", doubling the RAM brought no noticeable (I mean noticeable) improvement. Instead upgrading the hard disk to 7200 RPM brought significant improvement. Lesson learned: OS X's memory management is so strict that adding more memory does not give the results a layman may expect (I'd read somewhere that the system fills the free memory with the file cache but I don't remember which OS X version that was). 27" iMac's memory is upgradable but certainly it has a different architecture than the Macbook Pro.

Whether or not 32Gb of RAM will make a difference is completely subjective. In my case I have data analysis apps where I have needed to carefully tune the code so that the apps can barely run with 32Gb, and would not be possible with 16Gb (without a lot of work). At the moment I run them on an iMac but it would have been nice to be able to run them on a more portable device in the future. Apple have admitted that the lack of a 32Gb option is due to power constraints, which is a terrible excuse for their "Pro" range. They are a big enough company to have laptops that cater to users who need performance as well as those who want ultimate portability or battery life. Alternatively they should allow MacOS to officially run on third-party hardware. I know it won't happen but there are a lot of long-time Apple fans who have waited ages for new MacBooks, but who are now considering completely leaving the Apple ecosystem because Apple do not make a laptop with the specs they need.

Today's mobile computing is managed by two gods: one is Heat, the other is Battery. We saw what happened to those not respecting these two gods: the last sinner being the Note 7, burnt alive by the divine anger. If Apple cannot provide a 32 GB notebook RAM solution right now, this is a gap in their hardware and Apple is certainly aware of that. The power constraint is not a negligible one, as well as the very delicate thermal balance. Plugging in the Macbook all day long is not a solution either, because the CPU will still throttle when temperature reaches critical levels, this is the thermal side of the 32 GB RAM issue.

You forgot the third god: size. If Apple wasn't obsessed with thinness then heat and battery wouldn't be an issue. I know that the majority of users are happy with super thin laptops with above average performance, but many users want higher specs and 16Gb is just not enough for them these days (especially when running VMs). Apple used to cater for these users, but nowadays they seem to be aiming purely at the rich consumer rather than the professional user. Why not bring back the 17" model? The extra size would surely allow for 32Gb, given that they can fit 16Gb in the 13" model. Or offer a thicker version for power users? At the moment the only product that runs MacOS that can have more than 16Gb is the iMac (a 3 year-old MacPro doesn't count). The 5K iMac is a fantastic piece of technology that shows that Apple can innovate and still compete on performance, but at the moment it is the only Mac they sell that manages that balance (and even then it hasn't been updated for over a year). Hopefully the technical limitations are just temporary and the 15" model will be able to handle 32Gb with the next spec bump up to Kaby Lake and LPDDR4, both of which have better thermal/power capabilities.

Apple is not obsessed with size and thinness. Apple Watch is as thick as a brick. iPhone 6-7 are thin because people wanted larger displays and the only way to provide a larger screen without compromising usability was to make it thinner. Retina Macbook is thin because people wanted full OS X in the footprint of an iPad. 17 inch makes sense. Thanks to the *thinness* and *portability* levels reached with the new Macbook Pro line, 17 inch makes even more sense ;-)

I love my old 17" Pro. It isn't the most portable device but is still pretty capable even now. The introduction of a thinner version with 32Gb, a retina screen and Thunderbolt 3 connections would have been very tempting. Having said that I couldn't afford it, so I am almost glad that they didn't release one! :-)

Apple always does this when they introduce new tech. Look at the 5K iMac and other brand new systems. Early adopters will pay the price for all this new tech. Eventually, Apple will lower the price to be around what today's (yesterday's?) Macbook Pro costs are, I am pretty sure of it. I have to say I agree with other commenters here, if Apple doesn't lower the prices before back to school, they are going to see a big drop off on the student market next year. As I said in an earlier post, glad I bought my iMac this year, between that and my iPad Air 2, I really don't miss a laptop.

Simply too expensive. The premium Apple is seeking now looks like about a $300 just to play their game. I do not say this lightly. While the tech has advanced and the design is fantastic, the sad reality is that most high end work is mundane.
As such, the advances come at a price. I won't howl about the processor too much. But, it is last year's technology. The touch pad is nice, but it doesn't really make my work faster, more efficient or more productive.
The port config is nice, but obsoletes many connectivity options for users. Want gigabit Ethernet, pay for a dongle. Want to use that great new screen, pay for a dongle. Want to use dome alternative input device? Pay for a dongle. Want to charge your brand new $1000 iPhone that shipped 4 weeks ago? Pay for a dongle. I don't
want to see my billable paying for a bunch of stuff. This- 4 ports. 1 port for gigabit Ethernet. One port for RAID. One port for USB hub. One port for Audio DAW controller. One port for… oh well.

USB-C is the future, yeah you need dongles to use existing tech, but next generation accessories will work without adapters with the next generation MacBook Pro as they will be USB-C. It's a transition period, though it would have been nice to see a USB-A to USB-C adapter come with the Mac.

You just said "one port for USB hub". That means more ports, or didn't you do that math?

I've been wanting to upgrade my 13" Early 2011 MBP to a 15" (I'm getting old, need more screen) for a while. I can afford to buy one of the new ones but with the 512 SSD it's $2,600. I just can't see spending that for this. My 2011 was only $1300 at a time when a good Windows laptop was around $1000. Now, I can get a good 15" Microsoft Signature laptop for $500-800. At some point, the price difference really matters and I think Apple has hit that point; their prices are going up while the rest are going down. Besides, since upgrading my 2011 to a SSD and 16GB RAM It's working like a champ. I never see the spinning ball anymore. I might consider just buying a used 2015 model because I like my MBP, but thanks my iPad, I don't really use the MBP that often. I probably would have sprung for one if the price didn't go up or, heaven forbid, actually went down a little.

A small typo: it's 'discrete' graphics, not 'discreet'.

Is there some reason that Apple (and other manufacturers) don't create laptop screens using the same pixel density as their phones? An iPhone 7 Plus has a pixel density of 401 ppi, the new 13" MacBook is only 227. Why won't they build a laptop screen with the same density as the iPhone? The Retina display in this MacBook is actually decidedly low-res.

A 5" iPhone screen is held close to your eye, hence it needs a high pixel density, whereas a 13" MacBook screen is further away, just as a 55" 4K tv sits many feet away from your eyes. To your eyes, you can't see the pixels at either range despite the density getting less. Retina HD is pixel density relative to the usual viewing distances. Hence pretty much all manufacturers do this.

At the end I was so sad, just kept hoping to hear 'one more thing'... a surprise or something. More news about the Mac Pro or Mac mini or some new desktop dream computer. Seems like Apple is just going to continue down this road I guess where the iMac, old Mac Pro and Mac mini are what it is. With all Apple has, I just wish they had more coming out. Something more that was new. As a result, I'm just going to try to get a MacBook Air 13" next week before it disappears also. I still find comfort in the air from remember Steve Jobs on stage pulling it out of an envelope.

What are the chances we will get a Touch Bar-equipped separate keyboard? Without one, the only way to enjoy this new feature with a desktop display is to type with the laptop open, which would require a special desk. Desktop Mac users seem like an endangered species.

And how much more expensive would the apple keyboard be with the touch bar? Seems like it would be more than the current price - $150 for wireless? A new external keyboard would have at least made Oct less underwhelming, as far as lack of new hardware.

The new laptops look great and the Apple TV advance is going to be more significant than many realize as it not only enhances the usefulness of Apple TV, but further ensconces folks in the Apple TV cocoon. I was hoping to see more new hardware, e.g., , new Apple TV, , etc., and especially a new in home upgrade/replacement for the Apple wifi that has both Siri and mesh capabilities. My only solace is that what Apple is bringing us has to be significant enough that they are forced to wait until they have nailed it.

It makes no sense that I cannot connect my Apple products (iPhone 7 Plus and iPad Pro) to the newly announced MacBooks without buying a dongle! The dongle should be included in the box! Actually, we should't have to use Dongles. This is not forward thinking by Apple. To me Apple is becoming a dongle company. Not good!

I've been waiting for about a year for a new MBP. In fact I waited until Thursday evening to order a 15 inch and it cost me a week - Although it's pricier than I had hoped it would be, I plan keeping it for a while. I think the touch bar is going to a great addition, I went for a bigger SSD and best of the decidedly mid-level graphics cards - I do play some games. Anxious to try the new Final Cut and the hopefully revised logic pro to see how Apple is "raising the bar" (Copyright 2016). I don't think the dongle will be any issue for me as Aukey has been marketing a well reviewed USB C to USB 3 adapter for the MacBook (not an unwieldy cable connection) and selling on Amazon at 2 for $7.99. So 4 for $16 and I can have 4 USB 3 ports available. I'll leave the small adapter in three of them all the time. Every now and then I hook up to a projector, so I might need one more adapter, leaving the open one for the power brick.

I definitely have a love/hate relationship with Apple. This Oct 27 Mac event was a joke. Tim started the "Mac" event talking about the Apple TV App, iPhone 7 and then the Apple Watch. I am sick and tired of Apple trying to make a phone a digital SLR... How about solving the screen sensitivity issue with providing a calibration program for the phone. Not just a total reset every time I call Applecare for help fixing the problem. Sorry, I am suppose to comment on the Oct 27 Macbook Pro event because nothing was said about the desktop line. I was hoping for a Mac Pro update. It has only been 3 years. I thought for sure the iMac was going to be updated since Apple believes this is what a desktop should be. Let's not forget the Mac Mini.... the stepchild of Apple because Tim surely did. The event was only for the Macbook Pro and the great innovative way of eliminating the function keys with a OLED thing called "Touch Bar." I feel it is a gimmick. Apple spent a lot of time explaining how to use it. I thought it was cool but not really necessary. You spend more time looking at the "Touch Bar" then at the beautiful improved Retina Display. Instead of improving the RAM situation. (Not being able to upgrade in the future because it is soldered on the motherboard) or even allow for battery and/or flash storage replacement. This computer is not able to be upgraded in the future. That is not good. I will not be buying this Apple product because of these limitations.

I just read Mr Schiller said the reason for the 16 GB RAM limitation was heat dissipation. Apple did this, (soldering the RAM to the Motherboard and limiting the RAM) around 2012 or 2013. You mean, after 3 to 4 years of working on the MBP, Apple could not figure out how to solve this ''heat'' problem. I do not believe that at all. It's all about keeping their sales margins high and maintaining this thinness craze for notebook computers. No one I know has ever said, Wow this computer is so thin... Most want power and computing speed.

I am sorry. I was incorrect. Mr Schiller said it was for battery power not heat. Still, all those years of "research" and nothing. I do not believe a thing Mr. "Innovate my ***" Schiller has to say.

So...René (or anyone) would be so kind to tell me where to find those amazing wallpapers?? SPECIALLY the colorfull flowers?? it looks splendid!!

Those aren't wallpapers, other than the default Sierra wallpaper. You're seeing screens of various applications in use. The colorful flowers are among a series of photos showing off the Touch Bar in macOS Photos. The other flowers (in the box among the bamboo) are from a short film in Final Cut Pro.

Ive watched many many launches, Apples, Googles, Microsofts and DJI's :P Seen the leaderships and products come and go. Personally Ive lived in each ecosystem over the years and each has its strong points and weaknesess as well as devout fanboys who would buy and defend thier technology gods until the end of time, we all know the types, they would buy a **** if it had thier favourite logo stamped on. Back to this launch. Im angry.. angry that the bean counters have taken over.. angry that Cook is a sad old salesman trying to look cool while selling iterations... angry that there is no innovation. I say this as it takes all 3 giants to keep pushing in order for everyone to benefit. As much as i like the Touch Bar, i keep saying to myself, is that it? With soo many great resources they have become a little lost and desperately need new leadership, something that Bill Gates and Apple employees are also thinking (IMO)

How can you depict as positive such an underwhelming event ? They used , I'd say ABUSED, the phrase Hello Again for such an outrageous event.... they completely missed the point, and they overpriced every single solution by a big amount of money (especially if you live outside US).
Every single configuration is $300 overpriced, and they didn't even reduce price of one year old configurations.
It is a shame.
I'm the biggest apple lover, since 1989 when most of them weren't even at Apple, but this time I won't support their policy.

I'm done with iMore. This is my last post. I'm tired of your Apple Fanboy indulging criticism to Apple. I've read you since 2009, during the old theiphoneblog.com days, when you actually were doing real tech journalism and not whatever you're doing today. Back in the day, Apple was still the emerging underdog, so it was good to have a refreshing point of view from you guys, but It's unnerving the way you have become to be so biased and blind when it comes to follow Apple and review their products and services. This has evolved into an Apple fanboy site made by Apple fanboys. Which is ok, but don't be ridiculous, all over the Internet, every serious tech journalist, even those who have advocated fiercely for Apple in the past, agree that this Hello Again event was a joke, Apple is becoming an old monolithic company, just like Microsoft was before. Curious thing, the roles have switched. The new MacBook Pros, for every real professional, are just an insult. I'm not talking about beginner professionals that just want to have everything Apple, those who can be found in every Starbucks drinking their barista coffee browsing the web, checking emails and retouching some photos taken with their iPhones, which is not inherently bad... but come on, the MacBook Pro used to be a powerful machine to do serious Coding, Photo editing, Video editing, Sound editing. It's unacceptable to have a Mac that has basically the same specs than the ones they've been selling since 2013. Come on, they're even slower. How is that "more functional and more dynamic" as you say? As a professional, a new nice to have retina touch bar it's just that. A nice to have. But where's the ESC key?. Also, we're not taking here about new processors or new core architecture. The MacBook Pro is not innovative in every important processing feature: no new Ram Architecture, same 2 year old Processors. It's not like we're early adopters and we have to pay the price. The new MacBook Pros are for people who think they're professionals, but it is not. The fact is that, for more money, you get No faster RAM, no Faster CPU's, and no longer Battery. I agree; The new MacBook Pro is a beauty. And It's fast, not because of its specs, but because MacOS. But a 2012 Is fast too. Seems to me that every previous MacBook Pro was designed future proof from... itself. Every change that Apple added to the new Pro is no reason for Apple to ask for much more money and deliver basically the same. Heck, the 13" doesn't even have the new TouchBar. And I haven't even started with the port thing. Apple does not care about its core base, the professional users who kept Apple alive between 1996 and 2001. As a big screw you, they just ditch everything in favor of a USB-C, which is ok, that's the way of the future. But why is every adapter $50 dlls? More than looking after the future, Apple look to be after the money FIRST, which, again, is not bad, but it's a shame for a company that considered itself to be the "bigger startup of the world". I could continue with other inconsistencies about the new Apple ecosystem, starting with the headphone jack or the MagSafe thing. Is it really an ecosystem when I need to use at east three adapters every time I want my iDevices to work together with my MacBook Pro? Some people say, "ok, just use iCloud if you want to have everything together without connecting anything".. come on, I can't charge my iPhone using iCloud. To finish, this is not the Apple I used to admire. This sounds more like a 2000s Microsoft. But Apple can do whatever they want, after all they're the biggest consumer company in the world. A greedy and rich company. The MacBook Pro will sell a lot.. we already know that. It will even sell better than ever, because the average consumer will think they have a Pro computer, and because the Touch Bar will look good, because Apple still knows how to create beautiful gadgets, and because they will target a broader, wider market. But when it comes to be a Tech Journalist, you need to be a real critic, you need to really say what's going on, you need to be the conscience of the object of your criticism. And sadly, every time I visit imore.com, its just to read how great and innovating and better than the others Apple is. And sorry but the opinions should be formed by us, the readers, after reading your UNBIASED reviews. Even if you love Apple, this past event was a shame. The facts talk. Goodbye iMore.

hey man like what you wrote. maybe we can make a real podcast together. reason why a lot tech journalist write positive about apple is because they get invitation to there keynotes. so they can get the review out first and even that is control by apple. so more positive you write you are first out with your review. i use imore for all these HOW TO... reviews are most of the time useless for me. just PM me and we make a podcast and talk about those things.

RE: MacBook Pro ports
I would have kept the SDHC card slot & MagSafe with 4 USB-C ports. So now without power & card reader we really only have 2 USB-C ports to use or we need to cary around a dock or lots of adapters. Drop the "Pro" from the name.

Pretty disappointed in the latest Apple announcements. Apple TV doesn't do me much good in Canada. Even if it was available, the lack of Netflix support is a deal breaker.
New Macbook Pro price point is a little alarming especially with all the dongles I would need to work with what I have. For the "Pro" monicker you'd think Apple could have thrown in a better graphics card and more RAM across the board.
The new Touch Bar might be good but it doesn't seem like a compelling reason to upgrade at this point. Think I'll save my money and hold off till next year or maybe longer. My old school 2012 Mac Book Pro does what I need and I don't have to engage in dongle anxiety.
Feeling like Apple is going off the rails with this whole Johnny Ive form over function aesthetic. He seems to be suffering from design anorexia. Can someone tell Johnny we don't need them to be any thinner at the expense of functionality!!!

All that fuss for that?!?!

is it me, or has Apple switched to 4:3 ish type displays ? My retina 2015 looks more wider.
Thank you for signing up to iMore. You will receive a verification email shortly.
There was a problem. Please refresh the page and try again.