Here's what the Apple Watch Sport looks like with a Milanese Loop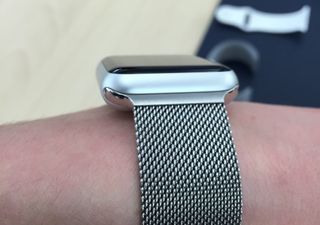 After a weekend of travel, I finally got a chance to visit the Apple Store to "officially" try on the Apple Watch. Despite having already placed my preorder — a 38mm Sport with White Sport Band, along with a separate Milanese Loop — I came prepared with a list of watches I wanted to try, just to try them.
In addition to trying on a variety of preset Watch/band combos, the in-store specialists let me actually swap out a few 38mm Watch bands on the 38mm Sport body. Here's how the Milanese looks on the Sport, along with a few other in-store comparisons (and a quick Siri test).
Even though I've gotten to play with the Watch twice before now — during the September and March events — the in-store try-on experience is a very different beast. Much less rushed, more time to experiment with different styles, and room for exploration.
Before we got to the actual try-on, my Apple Watch guide chatted a bit with me up-front about the Watch styles I was interested in. (Turns out, when you favorite Watches on the website, they also populate during a try-on appointment. This way, the specialists can know what models you've been considering.)
I mentioned I'd pre-ordered, but I wanted to see other bands and combos as well, and she was absolutely accommodating. It probably helped that I visited a smaller store in the Boston metro area — when I booked my appointment, there were plenty of other Watch try-on slots on either end of my time, so there was no urgent rush to get me in, out, and on my way.
Sport vs Watch
First thing I really wanted to do was compare the casings of the 38mm Watch vs the 38mm Sport. I picked up the Sport on pre-order for a number of reasons, but it's hard not to love the Watch's steel casing — it's beautiful from behind glass, but looks even better in person, especially when compared to the Sport.
Which isn't to say that the Sport doesn't have its own perks. Far from it. It's much lighter both in the hand and on the wrist than the Watch, and the price tag makes the cost of Apple's newest accessory a little easier to swallow. Plus, it looks pretty great with most of the Watch's bands.
The Sport and other bands
Though I got to try on several Watch band combos throughout the appointment — including the 42mm with the leather loop, both of which I was pleasantly surprised by — I mentioned my real interest being in checking out how the Milanese looked on the Sport. My Watch guide had no problem doing this, and quickly went to work, letting me play with the bandless Steel body in the meantime.
It really is a gorgeous piece of tech.
After a a few seconds, my Watch guide had everything set and ready to put on.
The Milanese remains deftly elegant when paired with the Sport, even with the slight color clash between aluminum and steel on the pins. Those scientists in the audience shouldn't worry too much about galvanic corrosion: When we've asked in the past, Apple told iMore that both Watch and band pins are coated to prevent such a thing.
Though I've also tried the Modern Buckle with the aluminum casing, I think the Milanese has a classier look as an accessory band than its leather sibling — it blends more seamlessly with the casing, and you can't beat its $149 vs $249 for leather price tag.
Though I didn't try this combination in the store, you can mix the Milanese with the Space Grey Sport and get similarly delightful results. From Franz Bruckhoff on Twitter:
Hey, Siri (and other tests)
While in the store, I also spent some time playing around with live Watch features on the demo tables. My biggest curiosity was Siri's effectiveness — it's sometimes touch-and-go on my phone, but much more crucial on the Watch for daily tasks.
Surprisingly, even in a noisy store standing several feet from the display table, Siri performed effortlessly. I asked the Watch for a few sets of directions (though it wouldn't actually let me connect to navigation, being a demo unit), dictated a few quick text messages, and even went on a long, rambling dictation to see just how well Siri picked up on very quick speech.
Answer: remarkably well. (The only mixup was "and I" in place of "where I".)
Overall, my appointment left me more excited to actually start using the Watch when it (hopefully) arrives on my doorstep next Friday. Watch try-ons are a great way to feel out how the device will actually feel and look on your wrist, and they also give you time to explore parts of the OS and system apps you may not quite yet understand. If you're considering or pre-ordered an Apple Watch, I highly recommend it.
Get the best of iMore in your inbox, every day!
Serenity was formerly the Managing Editor at iMore, and now works for Apple. She's been talking, writing about, and tinkering with Apple products since she was old enough to double-click. In her spare time, she sketches, sings, and in her secret superhero life, plays roller derby. Follow her on Twitter @settern.
Ummmm... That's an Apple Watch stainless steal in those pictures.....hmmmm. But yeah I've seen the slate black sport with that band in other pictures and it looks really cheap looking. I wish I would of gotten the stainless steal but too late now, I'm not waiting until June. Sent from the iMore App

Yeah that's what I thought too. Look at the ninth and tenth photos. One of those should have been used to headline the story. Otherwise everything looked ok except the Milanese on the space grey model. Not a good combo in my opinion Sent from the iMore App

Jumped the gun in that one... Well with the silver sport its not bad but wouldn't recommend it. Looks like you bought a watch from Walmart for $20 and you put a Rolex band on it to make it look "classy".... Nothing will beat that slate black sport with black band....although the silver sport looked nice with the black sport band... Reminds me of the 1st generation iPhone haha Sent from the iMore App

Whoops! That's my fault, I had the wrong photo selected. Fixed now!

Thanks for uploading pictures of the sport with different bands. I was definitely curious of how they would look. But now you've made my choice more difficult because I really do love the look of the aluminum casing even more now. Sent from the iMore App

you don't want to mix aluminum and stainless steel together, it will cause a reaction between the different metals and will cause a discoloration.

Serenity says she asked the Apple folks about possible corrosion when mixing - matching the different metals and they say both the band and case have been treated to prevent this. Sent from the iMore App

I would 't mix them regardless of what Apple says. I used to work in pollution control and have seen what mixing those 2 metals does. If you value your watch you won't mix metals.

I agree since there can and will be rubbing/scratches/nicks that can make contact with both metal. Even if you are supercareful sometimes things can happen.

I haven't seen a combination with the sport watch that didn't look good. Thank you for the photos, Serenity, and I hope you do get your watch on the 24, along with the rest of us.

The Sport is going to be a real surprise this year - it looks GOOD, and that is more than I can say for most smartwatches out there. Not as stylish as the Watch and Edition, but understated practicality has its own rewards (and frankly, the space gray is looking even better!

So is Siri working from a pairing with a phone or is it over wifi?

Wi-Fi, I believe, but I'll double-check.

Id like to know more about the non iPhone paired capabilities; but I guess thats only going to trickle out once they're being used...
(er not sure about the sports/milanese combo btw...)

http://www.imore.com/heres-what-apple-watch-can-do-without-iphone

Ha - you didn't even blink! Ta!

I wanted the Link band.. ended up going for the Stainless Steel with sport band. Figure a 3rd party will come out with a nice .. not as expensive, link band. I could go Aluuuuminum but I am hard on my watches, especially screens.. so a Sapphire display was really my main reason for buying the steel.. and I do like it better.. but mostly durability.. I'm not that worried about the techno-fear-mongering of having the latest.. Apple's been good at keeping their products up-to-date and relevant for 3-5 years at least. Those chewing fingernails saying next years will be better is a 'duh'.. thats always going to be the case. If you have a use case, like me, just get what you want/need now..

I thought the same thing at first, but I'm glad I went with Apple's link bracelet instead now. There is one link bracelet available from another source already, but it's just over a hundred bucks anyway and while it is of the same reasonably good quality you see on other watches, it really looks quite awful next to Apple's. You pay more for Apple's of course, but I'm starting to believe it when they say how much better made it is.

I am betting that since so much of the advanced functionality comes from pairing with a phone that we will be good to go for several iPhone upgrade cycles. Yes, eventually there will be FaceTime calls from the Apple Watch 2, but I'm not worried about obselence at these prices.

Nice! The band I'm most drawn to is the Milanese loop, but I don't want to blow a ton of money on a higher-end watch if possible.

Yep, that's my feeling too. Gen 1, plenty of time to spend absurd amounts of money later.

LOL, "deftly elegant," yeah. Just like Princess Leia in Return of the Jedi!

Thanks Serenity...I was so taken with the (feel and comfort of the) Milanese band -I didn't even think to ask for a swap - the associate was accommodating and I never felt rushed even though I tried on all the models and a few a number of times.

I tried the Milanese loop during my appointment, and now I wish I hadn't, because I'll almost certainly be buying one. Apple (and presumably third-parties) are going to make a crazy amount of money selling bands.

The blue leather loop was my favorite, but I couldn't justify the $149 price. If Apple made the same band out of fluorelastomer for $69, it would likely be popular. Sent from the iMore App

I liked the leather loops a lot too. I am kind of pissed that for some seemingly nothing reason, they didn't make them for the 38mm. I'm sure a lot of 42m people might want the modern buckle as well and are similarly out of luck. I don't really see much value in restricting a band to a certain size of watch, especially when the difference is only 4mm and every other aspect of the watch is identical. The suspicion that most people have, that this difference is just because of gender seems likely, but it's something that Apple really shouldn't be engaging in IMO.

I also wish they had the leather loop for the 38mm.

I ordered a space grey Sport, and plan to pair it with a leather loop. I'm not sure if I want the blue or the brown strap. I'd originally thought blue, but when I saw them side by side the brown looked good against the grey watch. I have a try on appointment on Thursday and hope that they'll let me try those bands on the watch. The blue band is now delayed until March, darn it.

Oh Wow!! Nice!!!
Thank you, this is awesome and appreciate all the different pics...Woohoo - come on 4/24!

Hmm, should I get the 38mm or the 42mm model? My wrists and kinda tiny, but in images the 38mm model looks too tiny for my taste. Sent from the iMore App

According to all the reviews I've read, the 42mm is best, even for people with small wrists. It will still not be too big. The 38mm model might be too small for anyone, functionally. Fashion-wise, its a toss up.

No. Only if you *don't* care about fashion and looks is the 42mm one always "the best." Fashion wise, and watch aficionado wise, you need the watch to sit on top of your wrist, but not cover the whole top of your wrist. the fact that the Apple watch is so fat or thick, makes this even more important. There is supposed to be a gap at the top and bottom where you can see the wrist. A good rule of thumb is if the strap hangs straight down at a right angle from the watch before it tucks under your wrist, then your watch is actually too big. The strap is supposed to form a circle, just like the image in the Apple store where you "shop Watches." If the watch is too big, it forms a "D" shape instead. One suggestion I've heard is to take a credit card and lay it landscape wise on your arm. If the card (the short dimension) completely covers your wrist formed to side, then you should go with a 38mm Watch. Another rule of thumb is that if your wrist is 170mm or below, you should go with a 38mm Watch. Certain straps are also exceptions, like the steel link bracelet *can* physically go down as small as a 135mm wrist, but it won't "fit" really, as the clasp is something like 40mm and at that size of wrist even the 38mm watch will stick over the sids of your wrist, and the clasp will do the same underneath. So it will look more like you are wearing a metal clamp in that case, than you are a watch strap. Edit: I should clarify that these "rules" are fashion rules and watch wearing rules. It doesn't mean you have to follow them. I'm just building on your remark that "fashion wise it's a toss-up" because fashion-wise, it isn't.

Why is there supposed to be a gap at the top and bottom where you can see the wrist? Says who? The watch police? Please remember, this isn't really a watch. (I've said that so many times in these forms I should just have it on a t-shirt.)

It's just information. You can disregard it at your convenience. I am only trying to inform people of what the "fashion police" as you call them, or the "watch people" think is right. The thing is, though you say it "isn't a watch" (debatable), it's certainly being sold as one. These are the long established "rules" for watches I'm talking about. I didn't make them up personally or anything. They have always been around and always been this way. Wear the watch any way you like but remember that we trust companies like Apple to do our design for us because of course they are better at it than we are. We also trust the "fashion and style people," to tell us what looks good and what doesn't because again, they know better than we do. This is all normal and natural and nothing to get upset about. I'm just letting people know what the "rules" are. Feel free to completely ignore them. Most folks probably will. If you care about looking good at all though, you might want to take advice form the people who know about this sort of thing.

Oh, gosh, I'm not upset or anything. I just think there is too much concern about the look of this product and not enough about function. When someone says they have problems seeing but are concerned about the 42 mm being too big on their wrist, it worries me. If you can read the screen on the 42 mm better than on the 38 mm then you should be buying the larger one, even if your watch to wrist ratio is a bit off. I truly don't believe this is just a "watch" and therefore it doesn't have to conform to the "rules" for watches. Sure, strapping a watch the size of a current iPhone 6 to your wrist would truly look silly. But I really don't believe that there is enough difference in these sizes to warrant all the concern. I know that I'm not buying this, ok I'll call it a Watch, so that people can look at it and see if it's the right size for my wrist. I'm buying it for some specific functions. Of course, that is just me...

I accidentally reported this post because I am new to this website. I thought I was liking the post :-) Please disregard :-) FWIW, I asked at an Apple Store about funtional differences between watch sizes and the answer I got was interesting and informative. The Watch interface makes much less use of the touch screen than an iPhone does. Most of the interface uses the button and the dial, the touchscreen mainly being used for press and long press. Of course this can change as new apps for the Watch are developed, but I felt it was a fair answer. The answer continued to note that text would appear smaller on the smaller watch and that the font size is adjustable. Again, a fair response. An exception to being able to adjust font size might be third party apps, but I can't say for sure. Adjusting font size on the iPhone adjusts the size in Apple's apps but not always (or ever?) on third party apps. My wife ordered a 38mm Watch.

Also keep in mind that he sport band mades the watch stick out from your wrist a bit on all sides since the band is so much thicker than the others (see Serenity's photos). I would also say that even though the size is accurate on the Apple Store App, the watch did look smaller in person.

measure your wrists. Mine are 165mm (roughly) and I found that the 42mm was fine, but the 38 looked more like a watch. I own both a standard sized Swatch and an old Swiss Army Officer's watch. Both are 38 and 42mm respectively and both look fine on me. My girlfriend has 155mm wrists and the 42mm looked silly on her. The 38 was perfect size for her.

Go try them on! I initially wanted the 42mm and then decided for the 38mm after doing more measuring. After trying them on in the store I feel like I made the right choice since both looked fine but I preferred the fit of the 38

Great look at how different bands look with the Sport and Watch Apple Watches (the Apple Watch is stainless steel, and the Apple Watch Sport is aluminum, for all that don't know). I got the Space Grey Sport 42mm (which only comes with the black sport band). I don't live close enough to an Apple Store to go try one on, but I am confident that Apple will ship me a great product (in June, apparently).

The Sport looks quite classy with the Milanese. I was sure Apple would make it difficult to mix the expensive bands with the cheaper Sports body, so kudos to them for remaining democratic in an elitist market. You don't get those options from any other watchmaker. Sent from the iMore App

thanks Serenity looked great and I can't wait till August to get iPhone and then my watch

"...Though I didn't try this combination in the store, you can mix the Milanese with the Space Black Sport and get similarly delightful results..." The tweet is being misquoted by the author of this article, it doesn't mention 'Sport'. The 'Sport' doesn't come in Space Black, it's Space Gray: https://www.imore.com/e?link=https2F2Fc2F4... Space Black refers to the stainless version, one which makes me wish I had tons of disposable income: https://www.imore.com/e?link=https2F2Fc2F4...

Apppppppppppple! Too many names. I'll fix, sorry.

It's a beautiful gadget, but $1000 for a wearable is overpriced for a piece of tech that'll be updated yearly -- IMHO, even the Sport is overpriced. Yet, I ordered one.

Great article, Serenity. The iMore team has really been nailing the Apple Watch rollout. I will definitely be getting a watch, but I still don't know which model yet. I've been to an Apple Store once already, and it was incredibly informative - photos and videos do not do these watches justice; if you can, you should experience them first-hand before deciding. (E.g., in real life, the sport band is incredibly soft and supple, and to my surprise I found I might actually get that version.) But even after one visit, I'm still not decided. So I'll go back for one more visit, with a few more combos in mind to try. (Besides, with a June ship date, I don't really see the hurry to decide and buy today.) Thanks, guys!

I thought I'd like the Milanese loop but when I tried it on it was WAY different than photos led me to believe. It did not feel as... solid I think is the word? on my wrist as I wanted. Very thin and flimsy feeling. Nor did I end up caring for the look. The sports band is just a ridiculous hassle to clasp. I was contorting and pressing my arms all over the place. Even the employee helping me took several goes at it. What I'd really like is the modern buckle. Snaps right on. But at $249, my fear is that in a version or two down the line, the body of the watch will change so much that all these multi-hundred dollar bands will no longer be compatible. So maybe, MAYBE, I'll go for the classic buckle. But only after spending my 14 day trial period with the sports band and checking out the sweat and comfort factor.

At first, I tried to slip the sport strap into the slot and then insert the pin in the slot. It's much easier to insert the pin first and then tuck the strap. Sent from the iMore App

I know it's not the most popular opinion, but I really like the leather loop. I have a conundrum though.
I have 163-165mm wrists, which puts me right in-between Apple's sizing charts for most bands. I can technically fit either size ranges in most bands. My two favorites are the Milanese Loop and the Leather loop. The S/M leather loop fits me perfectly. The Milanese Loop looks doubled over on my wrist, so the end of the strap is almost wrapped completely around my wrist. It looks like i'm a little kid wearing my Dad's watch. I love them both and would like to own both, but the only way to make the milanese loop look appropriate on my wrist is to size down the watch face. However, the Leather loop doesn't come in 38mm, and I much prefer the larger screen for my aging eyes. I'm also on the fence about getting the Stainless or the Sport models. I think the leather loop looks totally fine and feels ok on the Sport model, so that's an ok tradeoff, even if I have to buy the leather loop separate. But that goes back to my problem with the Milanese Loop. I really wish Apple would have made that band in two sizes per watch face like the Leather loop...or figured out a way to shorten the length of it like the link bracelet. I know this is a massive 1st-world problem but it's something that is seriously preventing me from making any purchase at all.

There's something wrong how the Milanese Loop turns on the other end, it curves too high and out, probably if they would've bent the insert a little bit downwards maybe it wouldn't look like that but who knows if they thought about it too and didn't work!

This may also be because the band got put on in the right-hander direction for my left-handed wrist/I didn't fasten it correctly. :)

yah the strap was installed upside down. also that 38mm watch looks huge on you! lol

Very small wrists. :) The Moto 360 falls over my wrists entirely.

I have a small (150 mm) wrist, and the 42 mm looked ridiculous on me. Fortunately I preordered the 38 mm, so I'm good. I was concerned about the font on the 38 mm being too small, but found I had no trouble seeing it, even without my (weak) reading glasses,

When I went to the Apple Store for my appointment I asked if they could put the Black Leather band on the sport watch and they said "Sorry but the Apple Watch bands cant be put on the Apple Watch sport because the magnets don't line up.". Was Apple telling me a lie and they do fit. Thanks!

Wait a minute... Didnt Christy said it can learn your strides? So if it can then through some software processing it csn then spit out your distances ran. Not sure how accurate this is compared to an actual gos but here it goes: https://www.apple.com/watch/christy-turlington-burns/week-three/#mn_p This is what she said:
After you run with Apple Watch and your iPhone a few times, the Workout app knows more about your stride. So you can run on a treadmill or outside without your phone and still get a really accurate workout summary.

David Pogue described that in detail in his review (the only place I've seen it). When you run with the phone and watch, it combines the GPS, accelerometer, and other sensor data to determine your stride length based on your speed. Essentially, it allows the watch to automatically adjust your stride length as your pace changes based on the accumulated data from the runs wth the phone.

So after pairing with the iphone for a few times then u can go without the iPhone for runs and it will track your distances right?

Stainless steel mesh bands sell on Amazon for $20-$30. Granted, they cannot be used with the Apple Watch, but they give you an idea of how much 3rd party mesh bands are going to cost. Plus, they'll probably also come in brushed metal, which will look nicer with the silver sport watch. I can understand why you want to get the watch itself as soon as possible, but wait a little before buying an extra band.

I'm in the group hoping for (well, underwriting Click on Kickstarter) a good looking space gray metal link band, BUT, yesterdays patent grant disclosures show that Apple holds patents on the locking mechanism (watch and band) so I'm afraid there will be an exorbitant Apple tax in our future, or "NO THIRD PARTY BANDS FOR YOU!"

Does the watch look and look and feel as big and clunky as it looks in the photos? It seems like you couldn't pull the sleeve of a shirt over it.

Nope. That's largely the macro photography making it look bigger than it is. If you look at some of the farther-away product shots, they look (and feel) a lot less bulky. 38mm: http://cdn.businessoffashion.com/site/uploads/2014/10/A21772x04_BEACH_AMELIA_R3-2.jpg
42mm: http://cdn.cultofmac.com/wp-content/uploads/2014/09/1410301677959_gq-apple-iwatch-02.jpg
38mm: http://images.dailytech.com/nimage/Apple_Watch_YouTube_Wide.png

You're right. I tried them on today and the 42mm was just fine. As a non-jewelry wearing guy, the biggest thing to consider was the weight. The sport model was noticeably lighter and more comfortable for me. Now the big decision: Do I actually need one of these things?!

I pre-ordered the 42mm watch with Milanese loop at 3am and still received a delivery date at the end of May. When I went in to try them on, I actually liked the blue leather loop better. I own and wear a "few" watches with interchangeable bands from Michele, so that looks simple. The watch faces are almost as large as the 42 mm, so I wasn't concerned about the size of the Apple watch. I originally chose the mesh band for a little more water resistance and thought it would be easier to clean (I'm a Nurse Practitioner and wash my hands a lot). I'm afraid if I cancel the order to get the leather loop I won't get the watch until June.

I saw the Apple Watch with the Milanese Loop in person yesterday. It looks even better than in the pictures. Super nice. Sent from the iMore App

Having pre ordered 2 Sport Watches (Black & White) & 1 Stainless Steel (Black Sport Band) & having tried all the strap combos my take is as follows : 42mm seemed smaller than expected & for me is the preferable size. Sport strap was adequate & very comfortable, leather loop easiest to get on & off but I didnt like the finish between the watch & strap & the large strap version wrapped to far round my wrist which is of average size (medium fitted perfectly), Milanese looked good & was the one the Apple Store demo guy had ordered for himself however I found it fiddly to get on when the strap had fully extended, Classic leather buckle in my opinion looked & felt the nicest to wear, Link bracelet was my least favourite being not particularly comfortable & I think to expensive. Not a great lover of the mix & match straps with the Sport model but that's person taste I guess. Will be sticking with the Silver Stainless Steel model & purchasing a Classic Leather buckle at some stage. I wouldn't be interested in a cheaper third party strap any more than I'd consider putting a £1 case on my £699 iPhone 6. All in all a great Watch.

Thanks for the great article!
I went with the Milanese loop and stainless steel and I am glad I did. I was originally going to buy the Sport and the Milanese loop as an accessory but I thought that if I went that way I would not get April 24-May 8th delivery. So I went with the stainless and Milanese loop. Now after looking at your pics it looks like stainless looks great.

But the sport watch doesn't count with a GPS function, what do you think about that?
Maybe the following version will come with this feature? Because is really important for almost every kind of sport.

The Nike Fuel band and most others never had GPS. As a runner it s not important unless you want to see where you ran, for me I run the same track and roads so it's a gimmick at best.

I just saw an stainless steel Apple Watch with black sport band. It was so classic and instantly recognizable from a distance. It's a great choice. Space grey Apple Watch Sport with black sport band also looks great. I am considering to buy the latter one.

Hey , i bought the sport edition space gray and wonder if the space gray linkband can fit to my watch.. Im already regret getting the sport... Soo does the linkband work with my watch? I use the standard sport band atm.