Here's what every Apple Watch Sport color combination looks like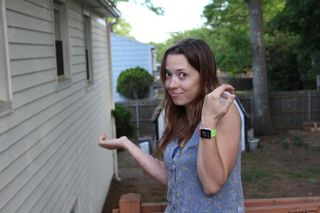 I went out and bought every single Sport band last week. In part, I wanted to look at every color in my Sport band review. But really, I wanted to do some mega color mixing. And, after an epic photo shoot, here are the 15 results from my mad scientist experiments.
15 bands in 15 seconds
If you don't want to scroll through the gallery below, here's all 15 combos in 15 seconds.
1. R2D2
My mother called it, and she's right — this is the watch band to rock if you want to salute my favorite Star Wars droid.
Image 1 of 3
2. New Skids on the Block
Named in honor of the neon-clad Montreal roller derby team, who always wear the strangest color combinations and make it work for them.
Image 1 of 3
3. Watermelon
Can you really see anything else?
Image 1 of 3
4. Cotton candy
Light, fluffy, with just the right sickly-sweet sugary edge.
Image 1 of 3
5. Green Lantern
In brightest day, in blackest night...
Image 1 of 3
6. Black swan
Goth ballerinas, unite!
Image 1 of 3
7. White and gold, or "Blue Steel"
Because in the right light, everyone looks like Zoolander.
Image 1 of 3
8. Supergirl
It's a bird. It's a plane. It's the color every Metropolis citizen wants to rock.
Image 1 of 3
9. Jade
I couldn't think of a good name for this one, but luckily, Rene was on-hand to provide a superhero option.
Image 1 of 3
10. Yin/Yang
The endless circle.
Image 1 of 3
11. Kitten pink
"But wait, Serenity" you protest. "Kittens aren't pink." I know, reader. Just go with it. Trust me. It makes sense. Kittens! KITTENS.
Image 1 of 3
12. Black steel
Back in black, and it feels so good.
Image 1 of 3
13. Green apple
Not actual apples, mind you. I'm thinking of the overly-tangy green apple flavoring you find in just about every hard candy on this planet.
Image 1 of 3
14. Sky blue
Sky, meet Apple Watch. You guys will probably get along as long as one of you doesn't drown the other in rain.
Image 1 of 3
15. Blank slate
I love my white band in all its pasty glory, but part of me hopes someone opens a website for doodling custom-drawn cartoons on this band.
Image 1 of 3
Mixing and matching without breaking the bank
Whether you get a Sport band as part of your Watch or as a separate accessory, the band comes in three pieces for proper sizing: The first piece, which contains the short metal pin, is the same regardless of your wrist girth. The second two pieces are offered in two sizes: S/M and M/L. Both pieces have seven pin holes, several of which overlap, to provide accurate sizing for in-between wrists. Here's the kicker: Generally, you're probably only going to prefer one of those two sizes. Find a friend (or a trusty website) who has a different color and a spare band, and you can swap your extra pieces. Result: Instant mix-and-match band.
What's your favorite color combo?
Think my names are silly? Got better ones? Hate this project entirely? Sound off below.
Get the best of iMore in in your inbox, every day!
Serenity was formerly the Managing Editor at iMore, and now works for Apple. She's been talking, writing about, and tinkering with Apple products since she was old enough to double-click. In her spare time, she sketches, sings, and in her secret superhero life, plays roller derby. Follow her on Twitter @settern.
I was thinking of getting a white band and match it with my black band but was going to nickname it Storm Trooper.

No 3: Yeah, definitely. Bubble-Yum watermelon was the first thing that came to mind. I still like the standard Space Grey Sport model (black band) the best though, even compared to the higher priced leather band models.

WELP, my code name is now KITTEN PINK

Truly it is the meowloveliest of colors.

We love it! Thanks for compiling all of these fun combinations. Looks like you've got the "seedless" watermelon :)

Thanks Ren! Does anyone know if the "pins" are replaceable/swappable? I have the Space Grey Sport and would like to get the blue band, but swap-in the darker Space Grey pin (rather than the lighter, standard color)...

I can't say for sure, but I just took my watch off and the pin did not want to come out easily. I'm sure it would come out with some force, but I don't know how easily the other color pin would go back in. So it's probably possible, but I wasn't willing to risk stretching the hole that holds the pin.

Two Words: Permanent Marker

Honestly, the pin itself isn't visible when the band is connected to the Apple Watch due to the fluoroelastomer going end-to-end, so it's not a big deal unless you really don't like looking at the lighter color when swapping bands. It's not nearly as noticeable as, say, the Milanese or other exposed-lug bands.

My girlfriend and I started calling the white and green combo the Kermit

black sport strap with silver/aluminum watch!

The pictures aren't showing up on my IPhone 6+. Anyone else having this issue? Sent from the iMore App

Weird. Might be an iMore app issue? I'll look into it.

Yea they show up for me on the site but not in the app. Sent from the iMore App

Who wants to swap? I have a black sport band M/L that I dont use. Would like to swap for a S/M Blue or Green...let me know, thanks Ken

Thank you for putting together the combinations...very cool.

I wear the R2-D2 combo (in fact I wore this to Star Wars weekends at DisneyWorld!). It's a super great combo, and looks even better when paired with the Solar watch face (best with White on top (holes) and Blue on bottom (peg)). That's the next step for this article, is which face to pair with each band combo...

Oh man, that's a toughie. I had enough trouble deciding which Modular colors to use!

I'm having the same problem not only with the 6+ but the both the mini and iPad Air as well. Also the iPad app needs some work. The articles aren't fitting properly. The app needs to be better optimized. Sent from the iMore App

Thanks for the feedback, we'll get our tech team on it ASAP!

I like the red and green for christmas

thanks for the article. But IMHO i think the "green lantern" one should be called be called "Matrix" or "Bash shell".
:-)

EVERYONE GO HERE!! http://www.appleband.us/ I got mine today and love my Blue/White combo. Frank is the guy who is doing this, super quick delivery and refunds!

now we just need to see all the same combos on the black sport watch ;)

Yeah -- I was curious to see what the different colors look like on the space gray watch also....

The pictures/videos don't seem to be showing up via the imore app Sent from the iMore App
Thank you for signing up to iMore. You will receive a verification email shortly.
There was a problem. Please refresh the page and try again.