Apple Watch, heart rate sensors, and wrist tattoos: What you need to know!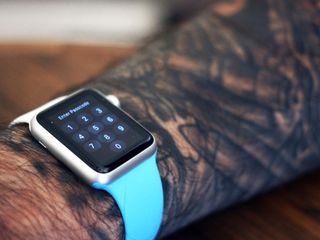 Recently, we've been hearing reports from Twitter and Reddit that the Apple Watch's plethysmograph sensor plays not-so-nicely with wrist or arm sleeve tattoos. The ink pigmentation interferes with the sensor's ability to read your heart rate — and with it, the Watch's ability to assess whether or not it's maintaining skin contact.
After some brief tests, we're inclined to agree with those early reports — if your tattoo happens to be a solid, darker color. This is has to do with the way Apple measures your heart rate. Let's break it down.
The science behind Apple's sensors
Apple's support article on the Watch's heart rate sensor explains a fair amount about its inner workings, including how it measures your pulse:
In short, Apple uses various spectrums of light to track the blood flow through your skin. Anything that reduces that light's reflectiveness — ink pigmentation within your skin, for example — can interfere with that sensor.
For those wondering: natural skin pigmentation doesn't block light the same way artificial ink pigment or even scar tissue does, so you shouldn't run into a problem if your skin is naturally darker.
The Watch and tattoos
So does the Watch run into problems with wrist tattoos? Yes and no. I spent an hour today testing the Watch's sensor reading on multiple tattoo colors, and have indeed managed to replicate some of the issues Reddit and Twitter users were having.
For disclosure: We tested the Watch's sensors against tattooed and non-tattooed sections on both the wrist and elsewhere on the body. On non-tattooed non-wrist sections, the sensors gave identical readings as when also tested on the wrist; on tattooed sections, sensor readings varied wildly depending on colors and shading.
Dark, solid colors seem to give the sensor the most trouble — our tests on solid black and red initially produced heart rate misreadings of up to 196 BPM before failing to read skin contact entirely. Tests on lighter tattoo colors including purple, yellow, and orange produced slightly elevated heart misreads of 80 BPM (compared to 69 BPM on the wearer's non-tattooed wrist), but otherwise did not appear to interfere with skin contact registration.
When it comes to patterned or variegated wrist ink, however, we couldn't reproduce the misreadings or errors other users have been seeing. This may entirely depend on the type and design of tattoo, however, along with ink and skin saturation.
It's also worth noting that prominent scars and other potential skin aberrations can trip the Watch's sensors.
But I have a wrist tattoo! Can I not use the Apple Watch?
On May 1, the company published a followup to their support document with specific information about tattoos and other changes to your skin.
That said, don't panic just yet. For one thing, most full tattoo sleeves don't extend all the way to your wrist bone, which should leave space for the sensors. Additionally, if you have a wrist tattoo that extends to where you'd normally wear a watch, I suggest trying on a working unit to get a sense of whether your tattoo and the Watch interfere or not. (I'll also point out that Apple offers a 14-day return policy, which allows you to spend a fair amount of time wearing and testing the Watch.)
For those who have issues with their wrists and still wish to use the Apple Watch, you can turn off Wrist Detection in the Apple Watch app to avoid the device auto-locking; unfortunately, that will also disable Apple Pay from use. Alternatively, you might try wearing it on a non-tattooed wrist.
Updated on May 1 at 7:17 a.m. PT with Apple's statement in the help document on tattoos. // Updated at 4:30 p.m. PT to add information about scars, skin aberrations, and what you can do if you're running into these problems.
Master your iPhone in minutes
iMore offers spot-on advice and guidance from our team of experts, with decades of Apple device experience to lean on. Learn more with iMore!
Serenity was formerly the Managing Editor at iMore, and now works for Apple. She's been talking, writing about, and tinkering with Apple products since she was old enough to double-click. In her spare time, she sketches, sings, and in her secret superhero life, plays roller derby. Follow her on Twitter @settern.