A history of Apple in the cloud: from AppleLink to iCloud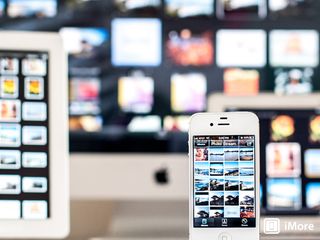 We're taking a look at cloud services this week on Talk Mobile, so now seems like a good time to take a walk down memory lane and look at the long history of Apple's foray into online services. That history stretches right back to the mid 1980s, almost to the birth of the Macintosh itself.
The rise of online
It's easy to overlook, but in the mid 1980s, "the Internet" didn't exist in the same way it does today. At that point, it was largely the domain of scientists, researchers and academics - an internetwork of mainframe computers designed using money from the Department of Defense as research into building a communications infrastructure that could survive a nuclear holocaust.
As the first wave of personal computer hobbyists bought systems, companies began to sell modems that enabled these computers to talk to one another over regular telephone lines. Many hobbyist computer users limited themselves to communicating with small bulletin board systems run by other hobbyists, sometimes connected with a bank of modems to support more than one user at a time. They'd exchange messages with one another, download files or play online games that were often variations of games developed for mainframe and minicomputers used in universities and labs. At the same time, online services like CompuServe and The Source began to attract users. These companies provided a vastly expanded array of services to subscribers.
Independent computer dealers popped up all around the country - around the world, actually - and they needed support. That's how AppleLink got started.
AppleLink
In 1985, a year after the Macintosh made its public debut, Apple launched AppleLink. The service was originally designed specifically as a way of supporting Apple employees and dealers who had questions or needed technical support. The service - accessible via dial-up using a modem, using General Electric's GEIS system as a back end - provided downloads, email and bulletin boards where users could ask questions and answer them. AppleLink eventually became accessible to software developers, as well.
AppleLink remained the rarified domain of a select group of technical sophisticates, but Apple recognized a need for a service for users, as well. So the company contracted AppleLink's developer, Quantum Computer Services, to develop AppleLink Personal Edition. That made its debut in 1988, but marketing blunders from Apple and an expensive use model (an annual subscription fee plus a steep per-hour usage fee) kept customers away in droves.
Quantum retained rights to the code it had developed for Apple, and decided to do something else with it. They rolled out a dial-up service called America Online instead.
It'd take years, but eventually AppleLink ran its course. Migrating the service's content to other places including its own web site, Apple unceremoniously took AppleLink offline in 1997.
eWorld
In the early 1990s America Online (AOL) became the way many Americans were introduced to online services. Even before "the Internet" became common parlance, people with personal computers and modems were dialing up bulletin board services and proprietary online services like CompuServe to share messages with one another, play online games and download files.
Because of AOL's Mac-friendly underpinnings, the service quickly developed a large base of Mac users. So it was little wonder that Apple would once again get in touch with AOL to develop a partnership based on their earlier efforts.
In 1994 Apple launched eWorld, a Mac-only online service with a graphical interface based around a town square concept. Users could click on individual buildings in the town square to access different content areas - a post office for e-mail, for example, a marketplace for e-commerce, a newsstand for news, and so on. eWorld's underpinnings were largely derived from the world that AOL did for Apple with AppleLink Personal Edition, so it's little wonder that the software was very reminiscent of AOL to begin with.
eWorld was doomed to failure almost from the start, thanks to the disastrous mismanagement that plagued Apple through much of the 1990s. The company did little to promote the service, though they did pre-install it on Macs, but kept the price higher than AOL. Within a couple of years it was clear that AOL was beating the pants of eWorld. By the end of March 1996 Apple pulled the plug on eWorld and moved its support archive content to Apple's own web site. It'd be several years before Apple would attempt a new service, but once they did, they'd be in it for the long haul.
iTools
In 1997, Steve Jobs returned to Apple following Apple's acquisition of Jobs' Next computer company; by the time the 90s were over, Jobs would be running Apple and Next's operating system technology would subsume Apple's own efforts. Jobs oversaw the rollout of new Mac hardware like the iMac and iBook, then in January 2000 Jobs took the stage of Macworld Expo in San Francisco and introduced OS X. It wouldn't go on sale as a public beta for several more months, but Jobs also used that fateful keynote address to introduce iTools, Apple's first attempt at an online experience for its users since shuttering eWorld.
By this time, things had changed pretty dramatically in the online world. Since the mid-90s fewer and fewer people were relying on online services; even AOL, CompuServe and other services (including eWorld) began to bridge connections to the Internet. Eventually users were connecting to the Internet directly using dial-up services or, if they were lucky enough, broadband connections through cable service providers.
iTools - aimed specifically at Mac users running Mac OS 9 - was accessed through Apple's web site, and was free. iTools offered a content filtering service aimed at families with children called KidSafe, an e-mail service called Mac.com, iDisk, which provided users with 20 megabytes of free Internet-based storage suitable for file sharing, and HomePage, a system for building your own web page hosted on Apple's own servers.
Apple would expand iTools with new capabilities and subscription-based options for users who needed more online storage. Then in 2002, they rebranded and relaunched the service as .Mac.
.Mac
.Mac expanded Apple's online service offerings and provided a tightly integrated user experience for Mac OS X users. The service cost $99.95 per year, and provided users with expanded Mac.com e-mail capabilities (more storage capacity, plus support for the IMAP protocol); 100MB of iDisk storage, HomePage, Virex anti-virus software protection, and Backup, which enabled users to archive data to their iDisk (or burn it to CD or DVD).
Once OS X 10.2 "Jaguar" was released later that year, Apple also enabled .Mac users to share calendars with each other using iCal, Apple's new calendaring software for the Mac. Apple also introduced a .Mac-based photo sharing service called Slides.
Apple would continue to enhance and refine MobileMe offerings in the next few years, but by 2008, it was time for another rebranding and relaunch. Enter MobileMe.
MobileMe
By June of 2008 Apple had diversified its product offerings to include the iPhone and iPod touch, and customers were buying them (and Macs) in droves. Apple introduced MobileMe as a redesigned and rebranded service to replace .Mac - something that bridged the gap between iOS and Mac OS X, and provided plenty more besides.
Apple's focus on MobileMe was on "push" services. Microsoft Exchange, a push-based mail, calendaring and contact management service, had by then picked up an enormous amount of mindshare. Apple wanted to counter. In introducing MobileMe, Steve Jobs called it "Exchange for the rest of us."
Rather than waiting for the user to initiate a connection to download new mail or get content, MobileMe pushed new email messages to the device and similarly kept contacts and calendar information up to date.
With the introduction of Apple's iLife software, Apple introduced an application called iWeb that could be used to create web sites - a replacement for the HomePage feature originally introduced in iTools. MobileMe supported the publication of iWeb pages.
iCloud
In June 2011 Apple unveiled iCloud. And after years of charging users for access to its mutably-named online services, Apple decided to make iCloud free, at least for the first 5GB of storage capacity.
iCloud bundled together the former MobileMe services - Contacts, Calendar and Mail - reengineered for the new service. Apple also brought together the App Store and iBookstore into iCloud - enabling you to download apps and books to all iOS devices, not just the one you bought the products on.
Apple also introduced iCloud Backup, enabling you to back up your iOS devices to iCloud whenever they're charged on Wi-Fi.
Other changes to iCloud included support for document syncing between applications on iOS and OS X that support Apple's iCloud Storage APIs (Apple's iWork applications being the most notable); Photo Stream; and iTunes In the Cloud, which allows you to download music previously purchased from iTunes. Apple also introduced iTunes Match, an optional $24.99 service that enables you to upload your entire library to the cloud and download it later if you need to, replacing your music with 256 kbps AAC files whenever they're matched with content in the iTunes Store.
The future of Apple's cloud services
Recently Apple notified former MobileMe users that a complementary 20GB iCloud storage extension they'd received as part of their transition to iCloud was due to expire; those users will either need to expand to a paid plan by the end of September, or they'll lose whatever is over the 5GB that every iCloud user is allotted by default. It'll be interesting to see if Apple spices up its iCloud services to incent customers to continue to subscribe.
More than two years later, iCloud remains Apple's state-of-the-art for cloud services. Where the future lies is anyone's guess outside of One Infinite Loop. But when it introduced iCloud in 2011 Apple noted that it had invested more than half a billion dollars in a data center in North Carolina to support "the expected customer demand for free iCloud services." Even for a company with the billions in the bank that Apple has, that's a huge investment. The company is clearly in it for the long haul.
Get the best of iMore in your inbox, every day!
Oh, man, I got in at .Mac, and totally missed out on the tragedy that was AppleLink and eWorld. I did live through MobileMe and iCloud Core Data Sync though...

Didn't miss much, Rene. Except the expectations were much lower. And why do I think my iTools email was @itools.com? I could have sworn it was, as I remember some migration, and have yet to (and won't unless I am forced to) move to @me.com or @iCloud.com Sent from the iMore App

I never subscribed to AppleLink PE - just didn't see the point, since I was able to log in to local BBS's for the cost of the phone call. Then in 1991 friends introduced me to MacTCP and cheap Internet dialup, and I never looked back. iTools used Mac.com e-mail from the start. Here's a link to Apple's original press release announcing the service: https://www.apple.com/newsroom/2000/01/05Apple-Unveils-Internet-Strategy/#mn_p

Does nobody at iMore proofread? This article is riddled with typos.

One or two typos is one thing. But the amount you see in this article, if Peter Cohen worked for me, I'd fire him. It looks very unprofessional, and doesn't help the self-image of iMore.com And yes, I realize I wrote "nobody" instead of "anybody", but this is a simple comment. When writing articles, I always proofread and fix mistakes before posting.

What a fun trip down memory lane. I skipped one or two but I've been around for all of these, even beta tested a few of them. Back in the day when Apple allowed university clients to have AppleLink accounts, they assigned usernames that were U followed by a sequential number. Mine was U01. That was always a fun one to share. Thanks for the nice article.

For me iCloud is a massive devaluation and I haven't seen too much to make me like it more than MobileMe. The shuttering of web pages via iWeb is one example, galleries another. The current shared photo streams are just pathetic in their un-Appleness. I still hope Apple will regain their drive for perfection. Now its a patchwork of lingering goodness and new silly crudeness. Like Apple Mail's imap syncing between machines, but not the mail rules, WTF!?!?

I wonder if the respected reporters & writers proofread before pushing the 'Publish' button.. Then again, how could it be that none of the readers actually cared about pointing to a couple of errors, that unfortunately crept in, by mistake. These things aside, please pay attantion to the following paragraph, taken directly from the article above: Apple would continue to enhance and refine ***MobileMe*** offerings in the next few years, but by 2008, it was time for another rebranding and relaunch. Enter MobileMe. ***mobileme should have been iTools***
So my suggestion is to rectify it, if possible.
Thanks! :)