Thanks to Apple, you'll likely want to subscribe to your next Ford
"Software-upgradable vehicles" may define the future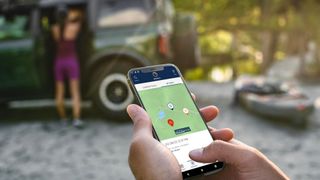 (Image credit: Ford)
The experience of buying a new Ford may change dramatically in the next 24 months -- and it's all thanks to Apple.
Ford on Monday morning announced that it had hired former Apple exec Peter Stern to head a new push for subscription services at the car giant. Stern had been vice president of Services, overseeing Apple TV+, iCloud, Apple News+, Apple Books, Apple Arcade, and more. Apple had two subscription services when he joined, Stern noted; it had over a billion subscribers when he left. Thanks to Apple's success in subscription services, other companies are looking to grow subscription revenues as well -- including Ford.
At the transportation giant, Stern will push to dramatically expand the volume of subscription services the company offers as it moves from being "merely" a car company to a software and services company. It's a massive change to the business model and a huge switch to the entire industry, explained Ford President and CEO Jim Farley.
"Everyone's focused on the switch to EVs. But I keep saying, the biggest change in our industry is to go to a digital product and digital services," Farley said.
Stern joins another former Apple exec at Ford: Doug Field served as VP of special projects at the iPhone maker and spearheaded the company's efforts to make an autonomous electric car, called Project Titan. He joined Ford in Sept. 2021. Together, the pair will head up the release of a new EV platform in 2025 and a massive software and services push.
"We will be together often and extremely close," Stern said. But he noted that the subscription services won't be limited to EVs. Indeed, the Ford F150 -- America's best-selling vehicle for ages and ages -- will also be getting the subscription system.
$5 per month for heated seats? Hardly
What exactly will subscription services look like in these cars of the future? Ford's new vehicles will be fully software-upgradeable, but does that mean you'll have to subscribe to everything? Will you need to pay to turn on the windshield wipers, for example? Farley was dismissive of these concerns.
"I would not view this as nickel and diming our customers," Farley said. "We're not going to charge for things that don't make sense to charge for." He cited heated seats and heated steering wheels as obvious features that a customer shouldn't pay for. Nor would Ford charge for e-commerce capabilities or content. "We're going in a completely different direction," he said.
So what will you pay for? The cornerstone of Stern's vision lies in BlueCruise, Ford's hands-free driving experience based on a package of driver-assistance technologies. BlueCruise and other hardware features will be built into vehicles and unlocked or enabled through subscription services.
Safety and security features will be the starting point for most customers, and a foot in the door to other services, he said; they will have "high penetration" -- due in part to a 90-day free trial, a feature the company also announced on Monday. BlueCruise's safety features will open the opportunity to sell other services that have a "significant opportunity to generate higher revenue per customer."
While many today may view the concept of subscribing to a vehicle with a gimlet eye, both Stern and Farley were insistent that this change would be welcomed and embraced.
"The more we build an always-on customer experience … the more they're going to love their Fords, and that will elevate the user experience," Farley said.
Master your iPhone in minutes
iMore offers spot-on advice and guidance from our team of experts, with decades of Apple device experience to lean on. Learn more with iMore!
After 25 years covering the technology industry, Jeremy Kaplan is a familiar face in the media world. He is currently the Content Director for iMore, where he oversees product development and quality for one of the world's largest and most respected technology publishers.
Before joining the iMore, Jeremy was Editor in Chief of Digital Trends, where transformed the niche publisher into one of the fastest-growing properties in digital media, ranking on the annual Inc 5,000 for three years running. The publisher won multiple awards during his tenure, including a sought-after Digiday Content Marketing Award in 2019. The same year, Jeremy was named to the FOLIO: 100, which honors publishing professionals making an industry-wide impact.
Prior, he served five years as the science and technology editor for FoxNews.com, where he made international news through a series of articles exposing Hector Xavier Monsegur as the head of LulzSec, revealing a months-long collaboration with the FBI, and detailing the ultimate takedown by law enforcement officials of the hacker collective. Kaplan worked for over a decade at Ziff Davis Media, publisher of PCMag.com and Extreme Tech. While there, he helped found the GoodCleanTech blog, which was a 2008 finalist in the MIN Best of the Web Awards and the Jesse H. Neal National Business Journalism Awards Competition and ultimately served as Executive Editor.
He's a sought-after tech pundit and futurist who's worked with organizations like the Consumer Tech Association to identify and highlight the world's most innovative technology. Kaplan appears regularly on television and radio, including frequent appearances on Fox Business, Reuters, Cheddar, and NPR.