Homefront: The Revolution is coming to the Mac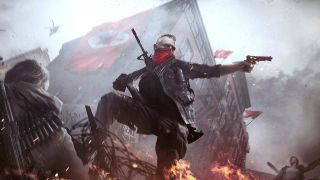 Deep Silver's upcoming first-person shooter Homefront: The Revolution will be available on the Mac. The game is all set to make its debut on May 17 on the Xbox One, PlayStation 4, and PC; and Dambuster Studio has announced that native Mac and Linux versions are in development:
While there isn't an exact launch date, there's plenty of reasons to be excited about Homefront: The Revolution, as it will be the first Mac game running on CryEngine.
The clumsiest man in tech.
The true test will be if it plays the same or better than it does on the PC.

It probably won't. 99% of games run better on Windows. But if the Mac version is good enough and only loses a few frames per second, that will be good enough for me (rather that than using bootcamp).

What's the specs it runs?

Believe it when it actually is released for Mac. Rocket League was supposed to have a Mac port early Q1. Still waiting.

Rocket League is a very good example. That said, Mac ports used to be delayed for years before...
At least it's improving! That said, never buy a game because of a Mac port promise, always wait until it really gets a port.
Thank you for signing up to iMore. You will receive a verification email shortly.
There was a problem. Please refresh the page and try again.