HomePod mini: Which color should you buy?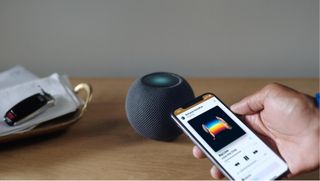 (Image credit: iMore)
During Apple's "Unleashed" event, on top of brand new MacBook Pros, the company also dropped AirPods 3 and three new colors for the HomePod mini, bringing the total number of colors for Cupertino's smart speaker to five. If you haven't bought a HomePod mini yet, now is the perfect time to buy one. But one question remains: which color should you get? Don't worry; we're here to help you out.
The most stunning color of them all
Whenever Apple releases a new color for hardware, it seems that blue is always one of the most popular choices, and this also applies to the HomePod mini. This is a deep blue hue that would pair nicely with the best iPhone, which is the blue iPhone 13, or even the pacific blue iPhone 12 Pro, if that's what you're rocking. It's also quite a neutral color that isn't black or white, allowing you to add a bit of something different to any room.
(opens in new tab)
The blue HomePod mini adds a neutral splash of color that will tie any room together.
Perfect for the holidays
Those who love the fall, especially for Halloween and even Thanksgiving, are sure to enjoy the orange color for HomePod mini. The orange HomePod mini is bold and will make a statement for any eccentric room in the house, and it would go great with your existing Halloween or Thanksgiving decorations too. Or, if you just love bright and bold colors, then orange is a great choice.
(opens in new tab)
Make a statement in the house with this bold color that is also perfect for Halloween and Thanksgiving.
It's like having a beam of sunshine in the house
Love having a shiny ray of sunshine in your home? Then the yellow HomePod mini is sure to brighten up your home, just like summer. Having this cheery yellow in a room is sure to make it stand out and bring a smile to everyone's face, just like a beam of sunlight or even a sunflower. If you pair it with the orange, it's perfect for general fall decor.
(opens in new tab)
This cheery yellow will add a fantastic summery accent to any room. Or you could pair it with orange for the fall.
The classic Apple aesthetic
Are you more of a traditionalist? Then the white HomePod mini is a tried and true classic that looks good in any room with any decor. It's a bright white that screams Apple, and it pairs with all of your other Apple hardware. What's not to love?
(opens in new tab)
White is tried-and-true, making it perfect for any Apple enthusiast's home.
Going dark
Those who want something that goes with any room, any decor, and don't want something that gets dirty easily will want the space gray HomePod mini. It's a classic color that goes with anything, and it blends in much nicer if you want to keep it subtle.
(opens in new tab)
On the other end of white is space gray. It blends in with anything, which is great if you want to keep it subtle.
What's your HomePod mini color?
While the HomePod mini is not a new product, Apple has added three new colors to the lineup, giving it a nice little refresh. It's a great little smart speaker for those heavy into the Apple ecosystem, bringing Siri to every room in the house.
Our favorite new color is the blue HomePod mini, and it goes so nicely with the new blue iPhone 13 too. It's a great in-between for color while staying neutral, and it's far from boring.
If you want to go with something bolder, then the orange and yellow HomePod minis are definitely going to stand out in any room. They're also fantastic for the holiday season or go well for summer and fall. Traditionalists will want to stick with the space gray or white colors, as those are classic, neutral, and have a subtle touch.