The hottest app in Canada right now is from a bank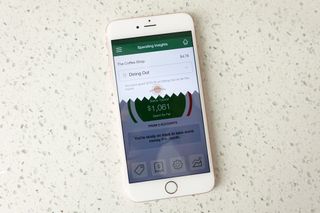 It's not often a banking app cracks the App Store's top 10 charts. But a new app from TD Canada Trust called MySpend (opens in new tab) has found a way to cross that invisible line between utility and every day necessity. And that's no accident.
"We've been on this journey for four years," says Rizwan Khalfan, TD Canada Trust's Chief Digital Officer. MySpend, which was developed by Philadelphia-based Movencorp and adapted for the highly-regulated Canadian market, provides instant access to customers' recent transactions across bank accounts, credit cards, and other TD products. Users get push notifications the moment a transaction goes through, along with insights on spending based on category and trends.
None of this is particularly new in the online banking space; what is unique about MySpend, though, is that it was developed specifically for mobile, which Khalfan says has been the key to the app's success. "Most competitors [in this space] had been offering a Banking Finance Manager (BFM) online, but we found that the maximum uptake was around 4%." He found that mobile users tend to engage with their banks nearly four times as much as those on the web, largely due to the speed at which they can log in to their accounts.
The result is an app that has quickly risen to the App Store's free apps chart, peaking at number 8 of a highly dynamic list that includes mainstays like Facebook Messenger and Snapchat. How could a banking app garner such a positive consumer reaction? To Khalfan, it was about focusing on the features that really matter to users.
"Other products [in the category] forced people to wait until the end of the month to see trends, which prevent people from making changes. I thought, 'Couldn't we make a more real-time service to help people budget?'" After working with Moven, the result was MySpend, which outlines spending trends in clear ways. You spent over $400 on entertainment this month, it says, which is $250 more than usual. What happened?
Khalfan notes that the app provides 'soft advice' and helpful hints that guide users towards corrective behaviour, rather than reprimand users for so-called spending mistakes. "You know your life best," he says. "We're not here to change you."
But working with a startup was an entirely new direction for Khalfan's digital team, which is managing the transition from retail-first to an increasingly mobile-first customer base. He says that MySpend is a plug-in that hooks into TD's growing app platform, utilizing authorization tokens from the core app to maintain security and privacy within Apple's and Google's respective silos. "We can constantly bring innovations to our customers" by unplugging older units that are no longer useful. In that way, the company saves in-house development costs and gets to navigate the mobile space with more agility than typical bureaucracy-laden institutions, other banks included.
The app's success can largely be attributed to TD's growing base of mobile users, which total over 3.5 million every month. The company has also announced support for Apple Pay, which will be coming to the iPhone in mid-June, a feature that will surely bring even more people to the fold as they realize its utility. "We have the best customer acquisition in the country," Khalfan continues, attributing the bank's success in the retail space to a sustained focus on physical and digital products, with an emphasis on customer service across both categories.
But the popularity of MySpend is likely much simpler than that. It's a great product that benefits everyone, not just those who use the core app to check account balances or deposit cheques. In that way, MySpend has graduated from being an app opened monthly to one used daily. And that gives TD and Movencorp the freedom to add features without concern users will abandon it for greener pastures — since they're the only pasture in town.
Free - Download now (opens in new tab)
Daniel Bader is a Senior Editor at iMore, offering his Canadian analysis on Apple and its awesome products. In addition to writing and producing, Daniel regularly appears on Canadian networks CBC and CTV as a technology analyst.
Great App, lousy bank. :-/ sort of the reverse of RBC

I think some of these ideas make a lot of sense. It would be nice to see something like this as a stand-alone finance app that can be used by anyone, with any financial institution. I'm not sure how many finance apps I've tried, but none have been on my devices for very long.

This is so sad. Canada get your act together. Sent from the iMore App

I wonder how this compares to Simple Bank and its corresponding app?

Conceptually I like it, but the implementation leaves much to be desired. First all the cross app authenticating that it bounces you through is silly. It should just be an optional service in the Td app itself, which is both required and already has dedicated real estate for launching myspend. Second the notifications are not intelligent at all. When my $8 Netflix payment goes through, it sends me a text saying I'm spending more than usual, which has nothing to do with Netflix and everything to do with an unrelated medical expense. Hounding me with "overspending" notifications for every single normal expense as a result is neither pleasant nor helpful. Still, hoping they can improve the experience over time.

I like the app over all. I haven't played with it much but the one thing I would like to see is being able to move retailers to different categories and not just transactions. As an example; I was at Parallel 49 brewing a few times over the weekend, and it put the money I spent there in to groceries rather than entertainment which is where I would personally like to see all beer purchases go.

For someone who doesn't care about notifications, how is this app any different from Mint?
Thank you for signing up to iMore. You will receive a verification email shortly.
There was a problem. Please refresh the page and try again.