How Apple has (repeatedly) failed at gaming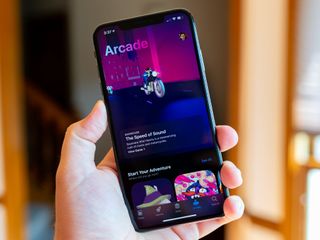 (Image credit: iMore)
The launch of the best iPhone and App Store transformed the gaming industry. While Nintendo popularized the idea of portable gaming with the launch of the Game Boy in 1989, requiring people to carry around a separate, expensive, and sometimes bulky device limited its potential audience. Having hundreds of thousands of games available on a phone continued the work done by browser games to democratize the hobby.
Even as other competitors followed Apple into the smartphone market, iOS remained the dominant operating system for mobile gaming for years. The introduction of in-app purchases in 2009 made mobile gaming intensely lucrative and pushed traditional game developers to come up with new strategies to monetize their products well beyond the initial purchase. For better and worse, Apple brought the microtransaction from a niche tactic to a dominant market strategy and paved the way to the games as a service model.
That was the last time Apple really shook up the gaming space. Since then, the company has been playing catch-up, or not even competing at this point, as the industry it helped to grow continues to innovate. While Apple executives might not think they need to appeal to gamers to succeed, ignoring the desires of a large segment of their tech-savvy audience will cost them in the long-term. But it didn't have to be this way. The fact that Apple finds itself in this situation is a result of a period of relative stagnation for the company known for huge innovations and a squandering of its early advantage in the space.
The popularity of mobile games created a problematic debate about who were really gamers, with those who primarily played on consoles or PCs dismissing the "casual" players who used their iPhones to play games, which were designed to be played on a smaller screen in the time it takes to wait in a line or ride the train. Much of those arguments were based on gatekeeping and sexism, but the divide persisted because Apple made no real attempts to court skeptics.
As Apple continued to expand its screen size and improve iOS, the iPhone became a suitable medium for earlier generation games and even current ones with a lighter graphical footprint. The iPad was briefly seen as a true hybrid, letting players play smash hit PC games like Hearthstone easily, and taking their games with them without much decline in gameplay quality. But Apple failed to cultivate a good library of exclusives, and cross-platform titles like The Banner Saga and XCOM: Enemy Within quickly began launching on both iOS and Android devices.
It's understandable that Apple would be skeptical of trying too hard to capture the gaming space. Sony's Vita and PSP largely flopped and Microsoft's attempt to get into the smartphone game failed. But Nintendo proved time and time again that demand for a solid portable gaming system could be done and the Nintendo Switch has remained one of the most popular consoles on the market, more than three years after its launch. With the ability to plug into a TV and carry on the go, the system Nintendo was exactly the type of market disruptor that Apple has traditionally been known for and would have fit neatly into Apple's goal of building a technology ecosystem.
But Apple's failings don't end with mobile gaming. The 2010 MacBook Air helped popularize the solid-state drive. The device's ability to boot up instantaneously seemed magical to many first-time users, and the technology has become a key component of modern gaming systems as it helps cut back on frustrating load times. But Apple again squandered its early-adopter advantage by not focusing on the graphic cards needed to be competitive with Windows devices.
Gaming laptops are as a rule inferior to desktops because of their propensity to overheat. They're bulkier than a standard laptop and don't offer the power you can get in a desktop. But Apple also doesn't prioritize gaming in its desktop line. The Radeon Pro Vega graphics in the iMac Pro enables gameplay at max settings, but the system is mostly designed for 3D rendering and other design projects. It's also absurdly expensive compared to the price of building your own gaming PC or even buying one of the best pre-built gaming desktops.
As a result, Apple is now treated the way other mobile operating systems were in the early days of smartphones. Most console releases come to PC, but they only come to the MacOS if the game isn't hugely demanding on hardware and the developer has the resources to cater to the Apple's much smaller audience in the space.
Apple tried to play a bit of catch-up in 2019 with the launch of its video game subscription service Apple Arcade. While the service is slightly more appealing when bundled with AppleTV+, Apple Music and other products in the Apple One package that launched last year, the $5 a month standalone service just doesn't offer enough notable titles. It's biggest selling point is just undoing the damage Apple itself is largely responsible for by letting players avoid constant barrages of ads and microtransactions.
Xbox Game Pass costs $10 a month and offers a wildly more impressive selection of games including brand new titles. Many of the games in Xbox's service aren't available on Apple machines, but even securing a single big macOS title like Hades could go a long way to making Apple Arcade more credible.
Investing in gaming isn't a surefire path to success and Apple may be leary based on the recent failures of Google Stadia and Amazon Games. But the number of people playing video games has been rising steadily, with a surge and peak during the COVID-19 pandemic. When it comes to investing in their next smartphone, laptop, or desktop, those players will consider what the best machine is for them and are likely to find Apple products underwhelming, at least when gaming is concerned.
Master your iPhone in minutes
iMore offers spot-on advice and guidance from our team of experts, with decades of Apple device experience to lean on. Learn more with iMore!
Samantha Nelson writes about gaming and electronics for iMore, Windows Central and Android Central while also covering nerd culture for publications including IGN and Polygon. She loves superheroes, RPGs, cooking, and spending time outside with her dog. You can follow her on Twitter @samanthanelson1.